Colcannon Potatoes Recipe – the perfect side dish for St. Patrick's Day. It combines creamy mashed potatoes with cabbage, onion and bacon! This traditional Irish dish savory delicious side dish and perfect served with corned beef or glazed ham.
What is Colcannon?
Ok I bet that's the first question, right? Colcannon is a traditional Irish dish made ​​from potatoes, cabbage or kale, leek or scallion and cream. Depending on the region in Ireland, it may also include ham or Irish bacon.
What's not to love… right? Mmmm!!!
And since my Irish heritage goes waaaayyyyy back, with names like Cochrane, Dougherty, McLagan and Corliss – there's a serious amount of Irish in our family! Or so I thought…
Until my brother had his DNA done – oops! We are pretty much Heinz 57 – a little bit of everything. Or All American as I like to say! 🤣
Oh well, that's ok – I've always thought I was Irish and I'm going with it!

Step by step photos to make Colcannon
Ingredients for Irish Potatoes
potatoes – russet potatoes are the best choice for this recipe. Yes you'll have to peel them but their super starchy texture makes a great mash.
cabbage – use green cabbage. Nothing fancy here!
bacon – I recommend thick cut smokey bacon. Oh my goodness, it makes the best bacon nibbles for this side.
milk and butter – to add richness and creaminess! Salt and pepper to season it just right!
What is the difference between colcannon and champ?
Let's say I've got your attention and so you google to find out a little bit more about this dish, you'll probably also come across a dish called Champ.
It's very similar, except while the potatoes are a chunky mash with colcannon, it's a smooth creamy potatoes seasoned with yummy spring onions. Delicious huh?
Can you freeze Colcannon?
I have read if you load it up with butter, then this dish freezes successfully. Having said that, I have no idea how much butter those folks used because I found after freezing the dish becomes watery when thawed.
Great news is this last three to five days in the refrigerator. On the last day I added an egg and a little flour to stiffen it up a bit. I fashioned the potato mixture into patties and fried them. Delish!!!
Steps to make this dish
Slice the the bacon into thin strips, fry until crispy, remove and drain.
Dice the cabbage and onion. Season with salt and pepper, fry until caramelized and golden brown. Remove and set aside.
Wash and peel the potatoes, then dice. Boil the potatoes until tender, drain well and return the potatoes back to the pan.
Mash the potatoes. Add the fried cabbage and onion. Add half of the bacon and mix again. Use just enough milk and butter to bring the mash together.
Top with the remaining crispy bacon and butter.
More traditional Irish Dishes
If you're planning a party here are some traditional Irish Stews!
You know I love my potatoes here on the blog!
You do too, right? Deviled Egg Potato Salad, Breakfast Potatoes, Potato Soup – seriously?!! What's not to love! More side dishes are:
I am a participant in the Amazon Services LLC Associates Program, an affiliate advertising program designed to provide a means for us to earn fees by linking to Amazon.com and affiliated sites.
Some of the items below contain affiliate links, however, I only promote things that I love and think you will love, too. For more information, please see my Disclosure Policy.
Don't forget to check out my Amazon storefront for some of my favorite products! 🛍️
When you make this please be sure to tag me on Instagram @bowl_me_over or #bowlmeover – I'd love to see your pictures! And if you get a chance, please comment and leave me a ⭐⭐⭐⭐⭐ rating below!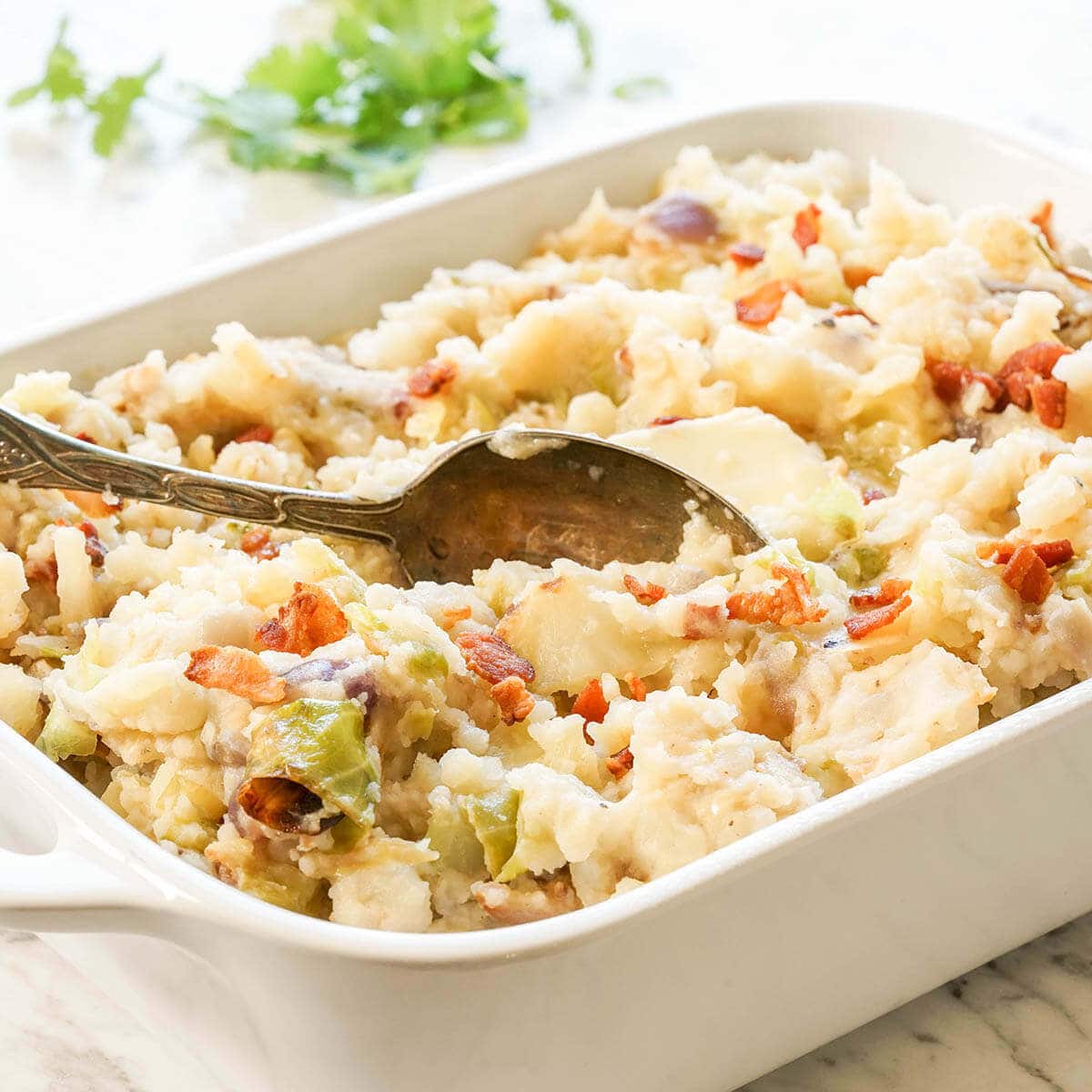 Colcannon Potatoes Recipe