There is nothing more mouth-watering than a stack of from-scratch, juicy burgers. However, if it's your first time making homemade hamburger patties, you may have more than a few questions. Not to worry! Today, we'll discuss how to make hamburger patties so delicious that you'll never crave 'em from a drive-through ever again!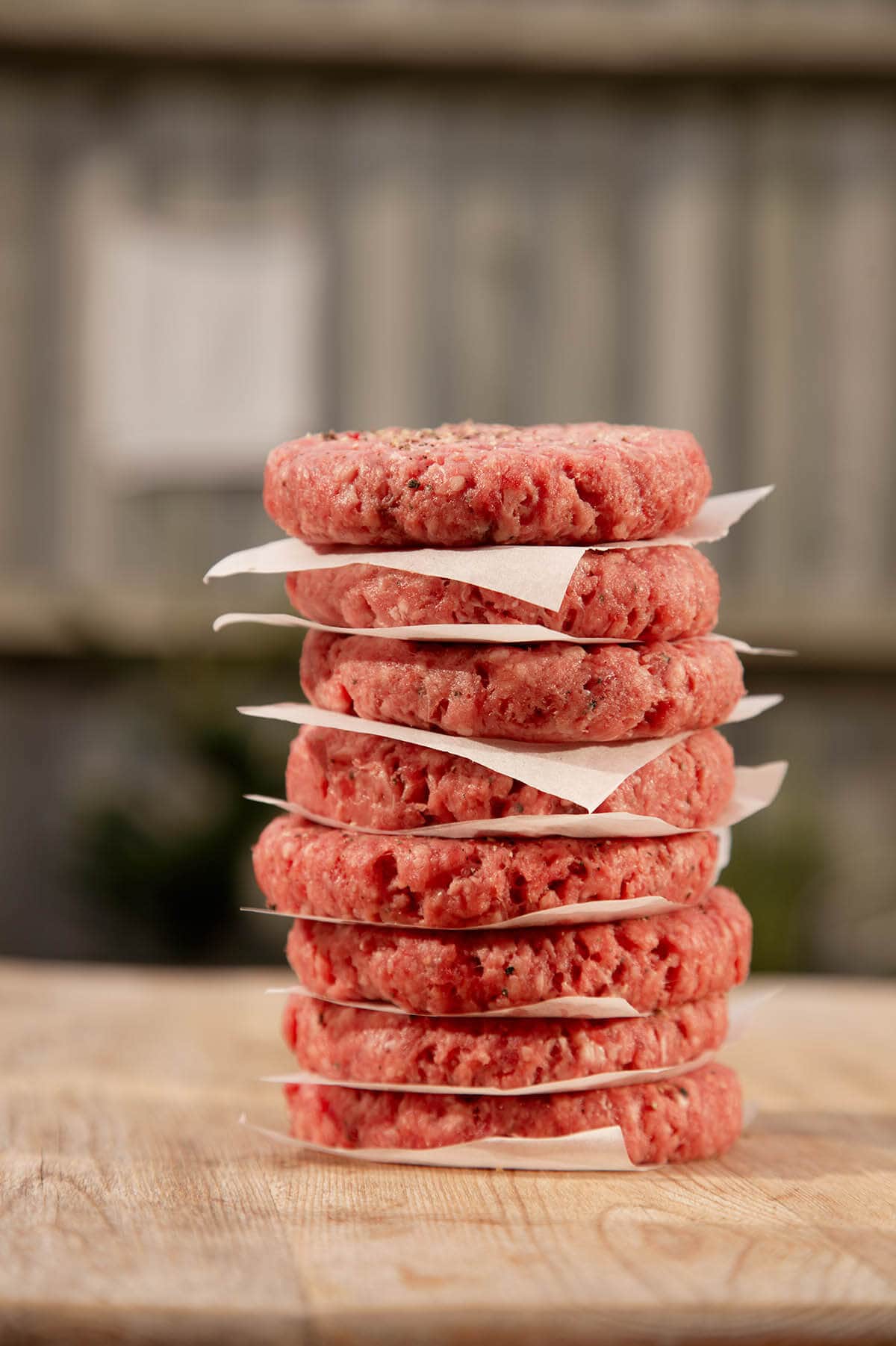 How to Cook Frozen Hamburger Patties in the Oven - burgers never have been easier (or better!).
Jump to:
How to make burgers stick together
When it comes to making a good burger, your first question may be, "how do I make the burger meat stick together?" You might think the answer is breadcrumbs. Spoiler alert: bread crumbs help a little, but they help more with retaining moisture!
Actually, the secret ingredient for making a classic burger stick together every time is fat! Yup, good 'ol fat!
Ground meats with a higher fat content will stick together well on their own. That's why many good hamburgers are made with 80% lean and 20% fat beef. Lean beef, with a lower fat content, it won't stick together as well.
However, that doesn't mean you can't use anything but fatty meat. Rather, when using leaner ground meat for hamburger patties (like ground turkey, for instance) you just need to add some fat as a binding agent: eggs!
Yes, add about one egg per pound of lean meat, or two eggs if you're making turkey burgers, to ensure your meat mixture stays together through cooking until your very first bite.
Can't use eggs? That's okay. Other fats work too. For example, mayonnaise is a great alternative. You can also add some milk. Some people even use a bit of mashed avocado! There are so many options, but they all make a great burger.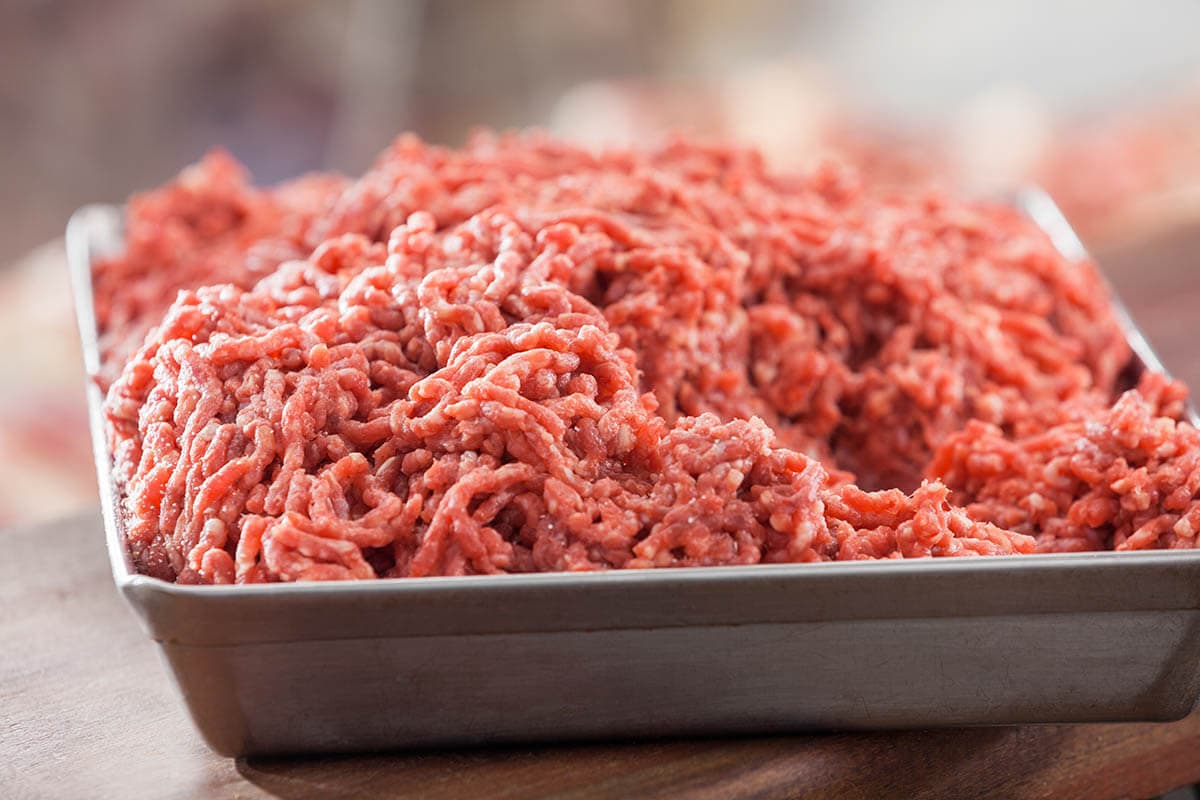 FAQ's
What is the best beef for hamburgers?
Avoid lean ground beef. Rather, opt for a fattier mixture; 20 percent fat is ideal. I'm a firm believer that ground chuck makes the best burger ever—and plenty of grill masters will back me up on that!
How to keep hamburger patties from shrinking?
Typically, meat shrinks a bit when cooked, especially fatty meat. However, you can prevent your burgers from shrinking too much by making an indentation in the center of the patty with your thumb. Some people call this a "burger dimple" and it's the trick to a perfect patty!
How to keep burgers from falling apart?
Minimal handling! Don't overwork the meat when forming the beef patties, and don't fiddle with them as they cook. Let the burgers cook on the first side, then flip them to the second side, and that's it!
Do you add egg to hamburger patties?
Yes, sometimes! However, you can enjoy delicious homemade burgers without eggs. See the "how to make burgers stick together" section for more information.
My burgers are always dry—why?
There are two culprits that might not have anything to do with actually making the burger patties. Rather, it might be what you're doing after. 1) Use a meat thermometer to prevent overcooking. Burgers are rare when the internal temperature is at 120 degrees F.
2) Let burgers rest. Biting (or cutting) into a burger straight off of direct heat causes all the juices to run right out. Resting allows the juices to redistribute throughout the burger.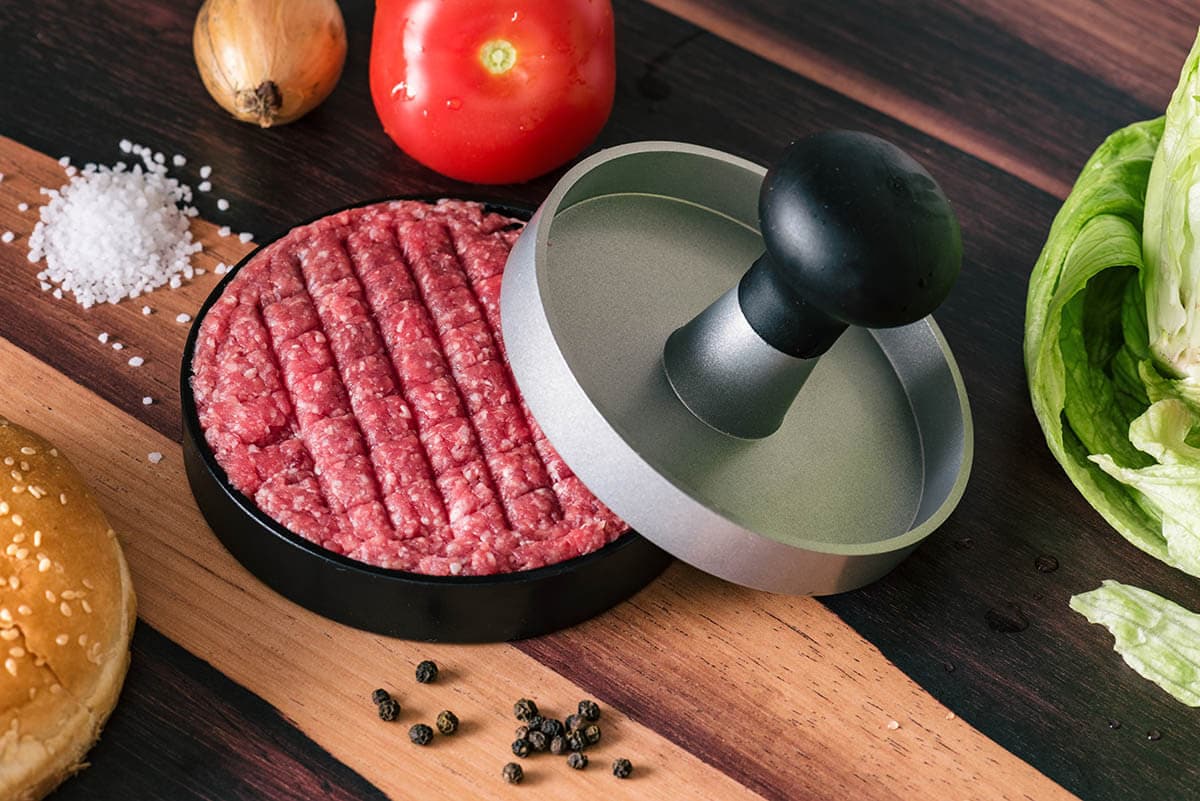 Best ways to keep burgers from falling apart
Refrain from over-handling or overpacking the meat when you shape it into patties.
Place on a plate and cover with foil. Refrigerate at least 15 minutes before frying or grilling.
Wait to flip the burger until it is cooked on the first side.
Best way to form patties
There are a few methods you can use, but this is my favorite way to make hamburger patties with one pound of meat. It'll make four quarter-pounders or eight thin patties.
Split the meat mixture roughly into quarters. You can then split each quarter in half for thin patties if you prefer.
Roll each section of meat gently between your hands until a ball shape forms.
Flatten each ball of meat into a patty shape.
Use the knuckle of your thumb to make an indentation in the center to prevent it from cooking into a dome.
Place on a parchment paper-lined baking sheet and chill.
However, if you're wondering how to make hamburger patties easily for a crowd, here are some other good ideas that will help you handle a lot of meat—without a lot of hassle.
You can use a large ice cream scooper to divide the meat into equal portions quickly.
Some people like to use a kitchen scale to weigh each portion of meat before rolling it into a patty. Just make sure to cover the scale with plastic wrap or use a bowl to prevent cross-contamination!
Looking for an easier way to form loads of burgers? A burger press can help! Plus, they'll look like restaurant burgers, too, which means more bragging rights for you!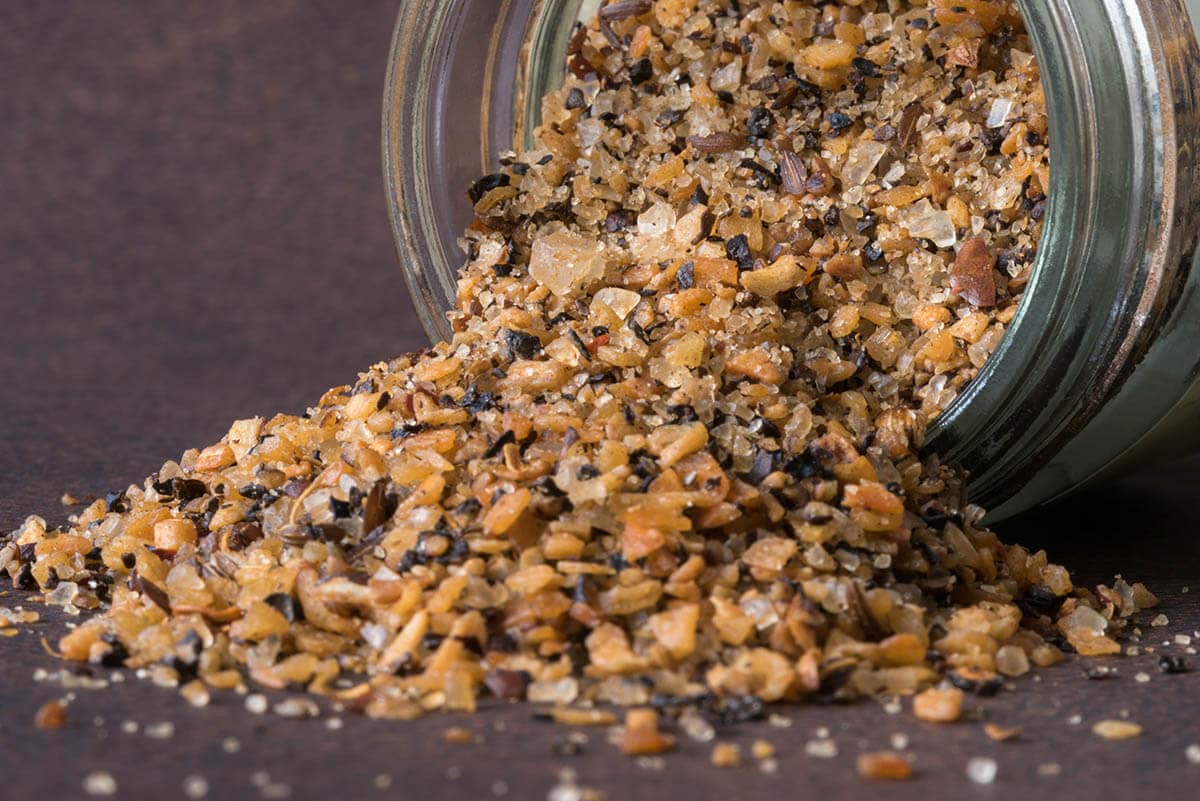 Easy ways to season patties
Some people mix all their seasonings right along with the meat in a large bowl. However, if you want juicy hamburgers—and I mean the juiciest burgers ever—season them on the outside just before grilling.
You can use any seasonings you like when creating the burger of your dreams. Here are some popular choices to get you inspired:
Coarse salt
Black pepper
Garlic powder
Onion powder
Paprika
Brown sugar
Parsley
Oregano
Chili powder
If you like to mix a little Worcestershire sauce and grated fresh onions into the hamburger patty mixture for an extra pop of flavor, that's great, too! Just use caution not to add too much liquid, or the patties may fall apart.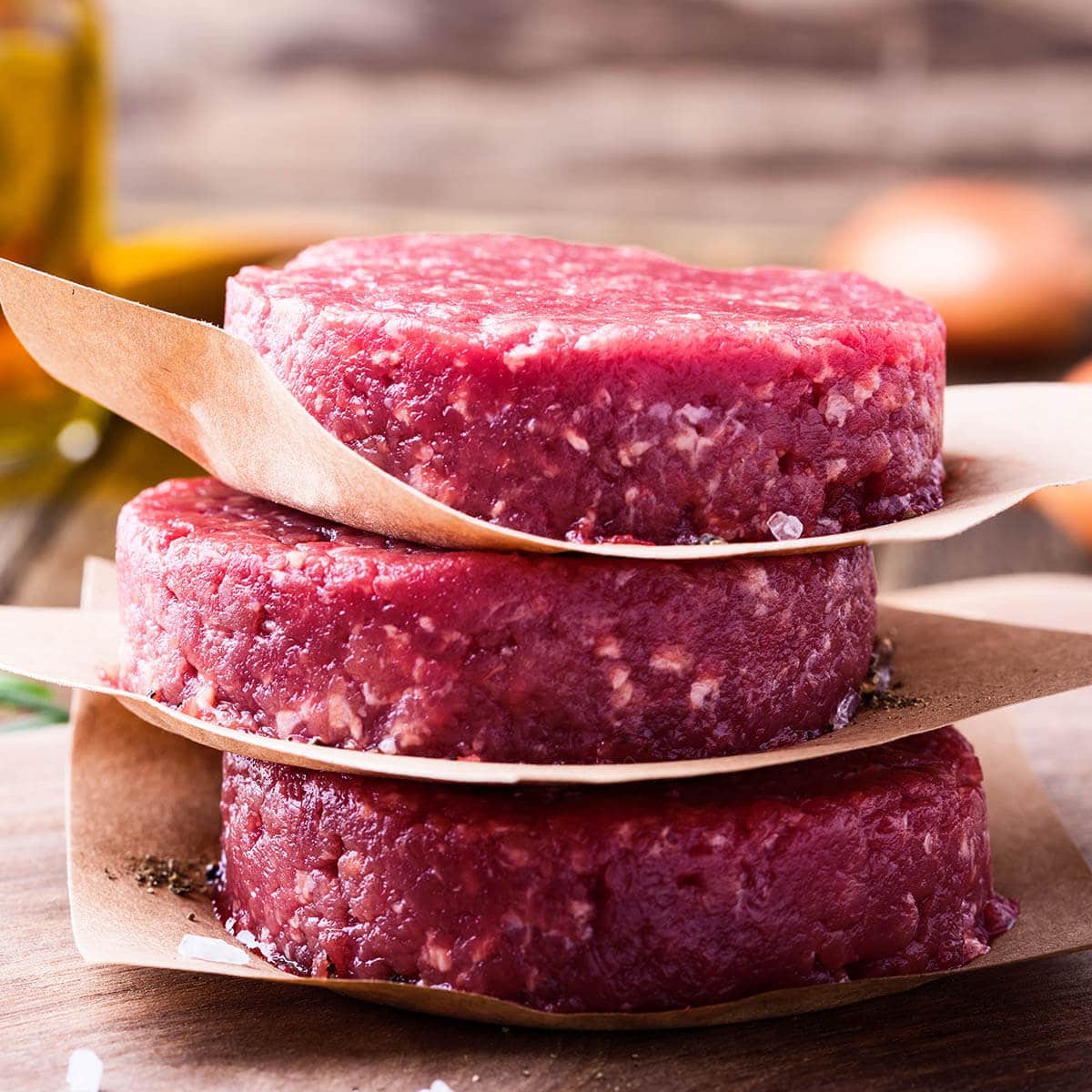 Equipment
The following are affiliate links. We are a participant in the Amazon Services LLC Associates Program, an affiliate advertising program designed to provide a means for us to earn fees by linking to Amazon.com and affiliated sites.
How to freeze hamburgers
The best homemade burgers make the best leftovers! Plus, you can freeze them raw or cooked which makes prep even easier. (Pro tip: frozen burgers are great cooked in an air fryer!)
How to freeze raw burgers
First, wrap each raw burger individually in plastic wrap, or lay them flat on a baking sheet. Freeze until solid.
Then stack them separated with layers of wax paper.
Next, wrap them in a final layer of aluminum foil for extra protection. Freeze for three to four months.
How to freeze cooked burgers
Let cooked burger patties first come to room temperature. Next, place them carefully in a freezer-safe storage container, wrap them individually in plastic, or stack them (separated with wax paper.)
Finally, place the burgers in another freezer-safe bag and freeze them for three to four months.
Tools to use for uniform-size patties
The following are affiliate links. We are a participant in the Amazon Services LLC Associates Program, an affiliate advertising program designed to provide a means for us to earn fees by linking to Amazon.com and affiliated sites.
Great burger recipes
Every good hamburger is topped with a slather of Smashburger Sauce!
Life's too short to eat anything but the best burgers!
Juicy burger patties don't need much else—simple ingredients and a few good prep tips turn a great burger patty recipe into a perfect one!
Serve them with some lettuce and tomato, and maybe a slice of cheese. Or, for a restaurant-quality burger, toast the hamburger buns with a little bit of olive oil—it really takes things up a notch!
Following these simple steps, you'll not only create burgers that the entire family will enjoy, but your whole neighborhood is sure to love them, too.
You'll become the queen of all cook-outs, and, soon, everyone will be asking you how to make perfect hamburger patties!
If you're new to grilling, learn how to season the grill here!