Who wouldn't love an easy to make vegetable stew? This recipe for Korean Glass Noodle Soup only has a handful of ingredients and takes just minutes to make!
Love these slurpable noodles? Be sure and try them in this Korean Black Bean Noodles Recipe - so yummy!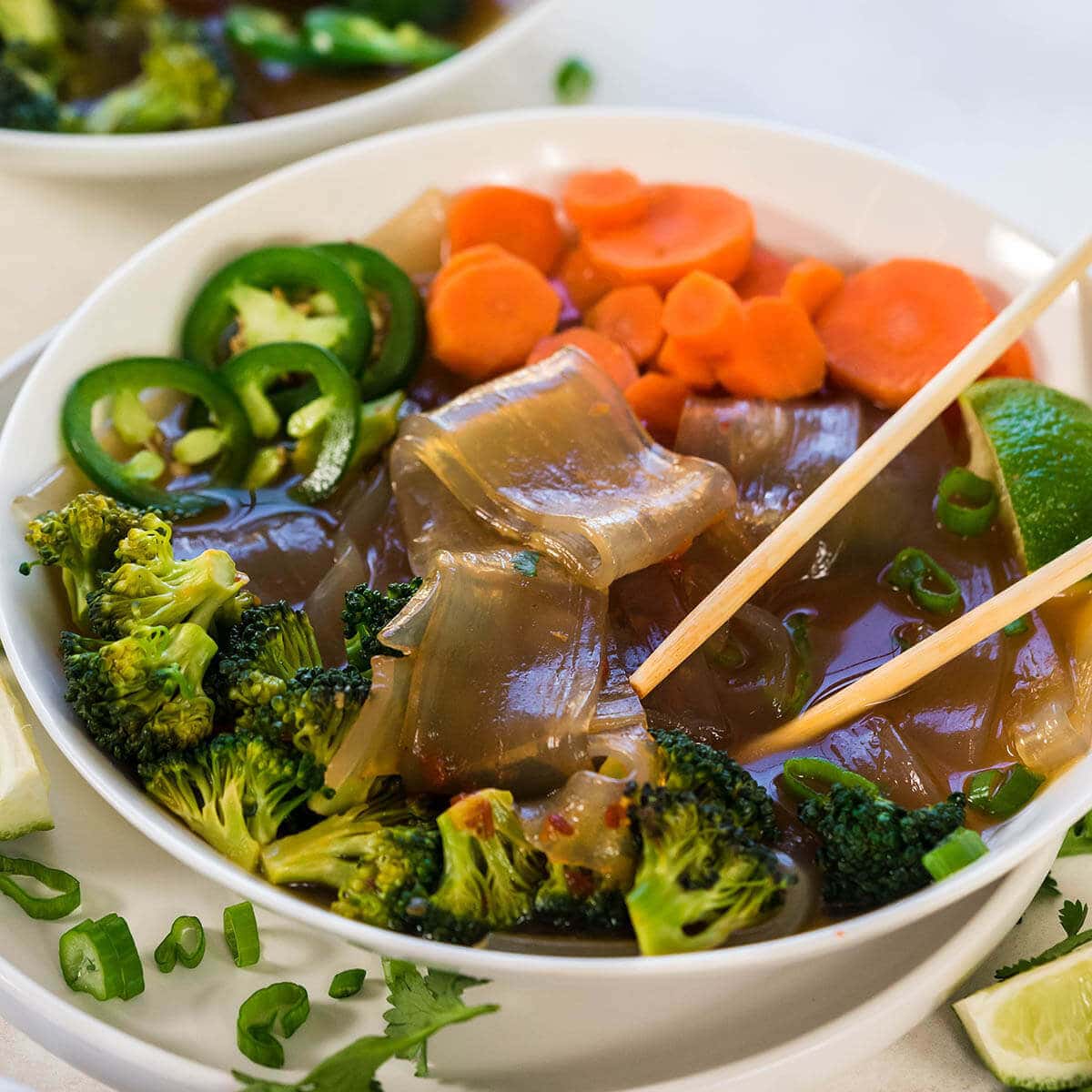 This post has been sponsored by 1ST MKFOOD Glass Noodles. All opinions are my own. I love this soup and will highly recommend this product. #ad
Jump to:
Why you'll love this recipe
A recipe that is quick and easy using a handful of ingredients. What's not to love? You're a busy person - this is an easy meal that takes is ready in a snap!
Ingredients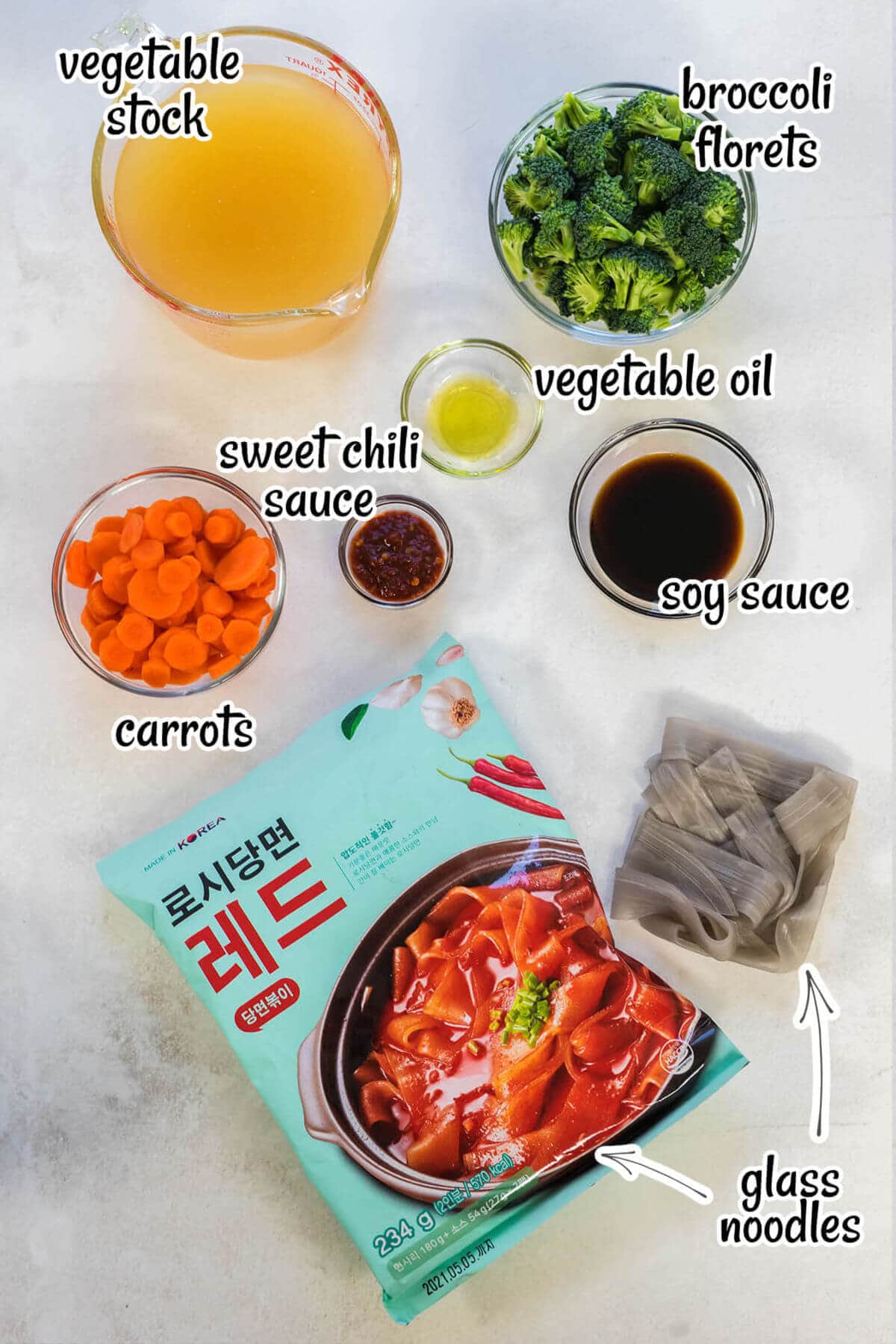 For the exact measurements, please refer to the recipe card at the bottom of this post.
8 ounces Korean Glass Noodles - a transparent noodle found in Asian supermarkets.
4 cups clear broth - use low sodium chicken broth, beef or vegetable broth. Homemade is great but let's get real... I used store bought!
soy sauce - (preferably low sodium) substitute Tamari if you have a soy allergy or are trying to avoid excess sodium.
sweet chili sauce - if you don't have any on hand, use sriracha
vegetables - broccoli, carrots, spinach, cauliflower, bok choy, Napa cabbage, asparagus, sweet onion, spring onion, bell pepper - really you can use whatever veggies you like!
protein - I kept mine vegetarian but you can use shrimp, leftover shredded chicken, ground chicken or beef, ground pork or top with a fried egg - super yummy!
Instructions
This is an overview of the instructions. For the complete directions just scroll down to the bottom!
The first step is to boil the noodles in a large pot. (For this recipe I used the regular noodles, but 1ST MKFOOD has red noodles available as well.)
When they are done, drain well. See how they turn from gray to clear?!!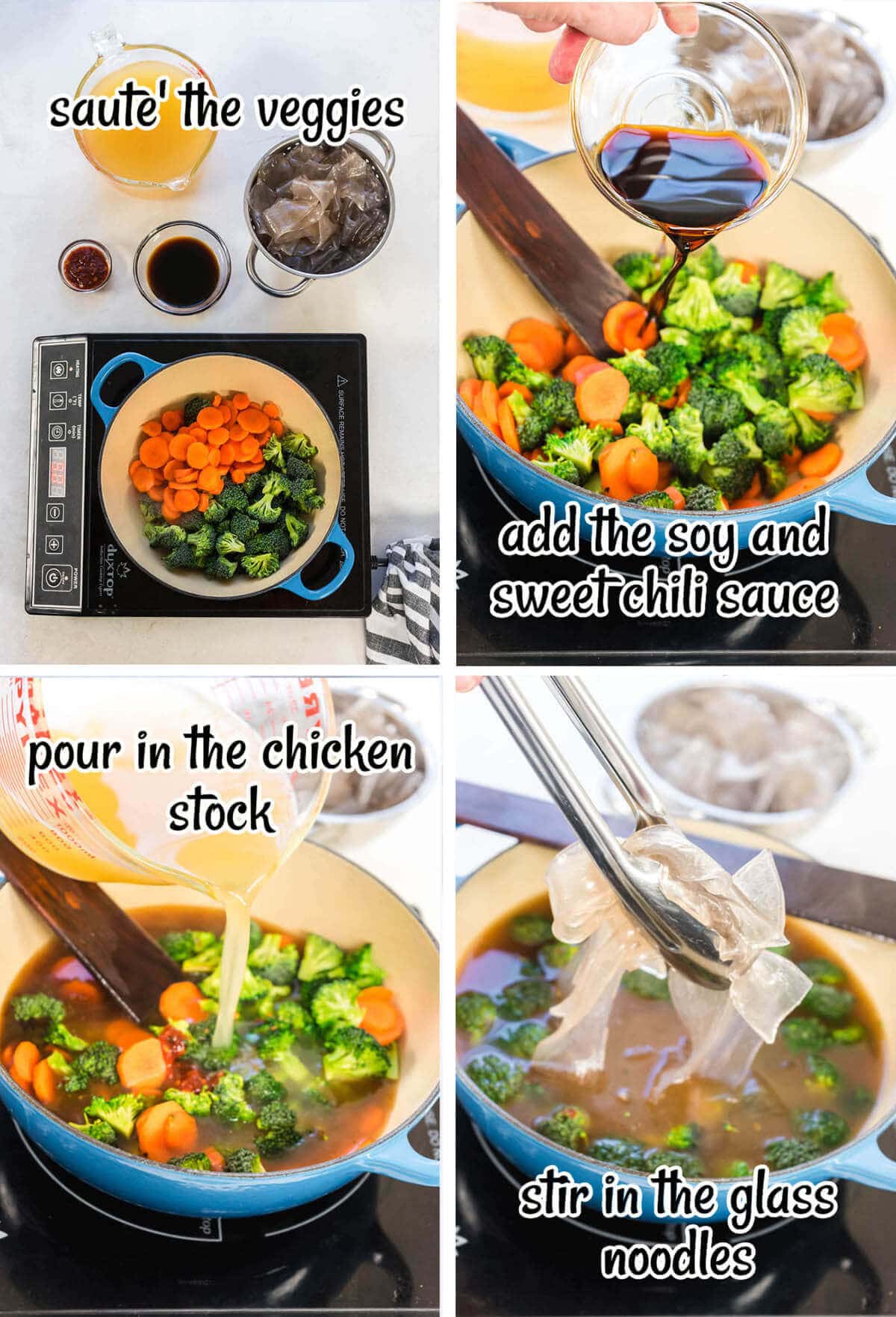 While the noodles are boiling, sauté the carrots and broccoli for just a couple of minutes.
Add the soy sauce and sweet chili sauce.
Pour in the vegetable or chicken stock and stir well to combine.
Next add the glass noodles into the hot broth, heat through.
Top with a squeeze of lime juice and the soup is done!
See how easy this recipe is to make?
FAQ's
Is there another name for glass noodles?
Yes - Glass noodles are often called cellophane noodles.
What are glass noodles?
The are super thin or thick - They start out gray, but after cooked become clear.
What are 1ST MKFOOD noodles made from?
They are made from cassava starch and are gluten free plus low calorie!
About 1ST MKFOOD Glass Noodles
I have to say these noodles are so versatile and can be used in many dishes! They are perfect for stir fry and creamy soups - even for a cold noodle salad!
These noodles are super famous! Made in Korea using the highest standards these chewy glass noodles sell-out quickly because they are so popular. Featured on YouTube and TV in popular cooking shows!
Unlike regular cellophane pastas made with sweet potatoes or or mung beans, 1ST MKFOOD Glass Noodles are low calorie and gluten free because they are made with cassava starch. They are a great healthy alternative.
The Red (Dangmyeon bokki) noodles contains two packets to use to flavor the pasta. for spicy/sweet flavor, you should try the rothy red noodle!
FDA certified you can find this product here -->> click here for link or in local Asian grocery stores.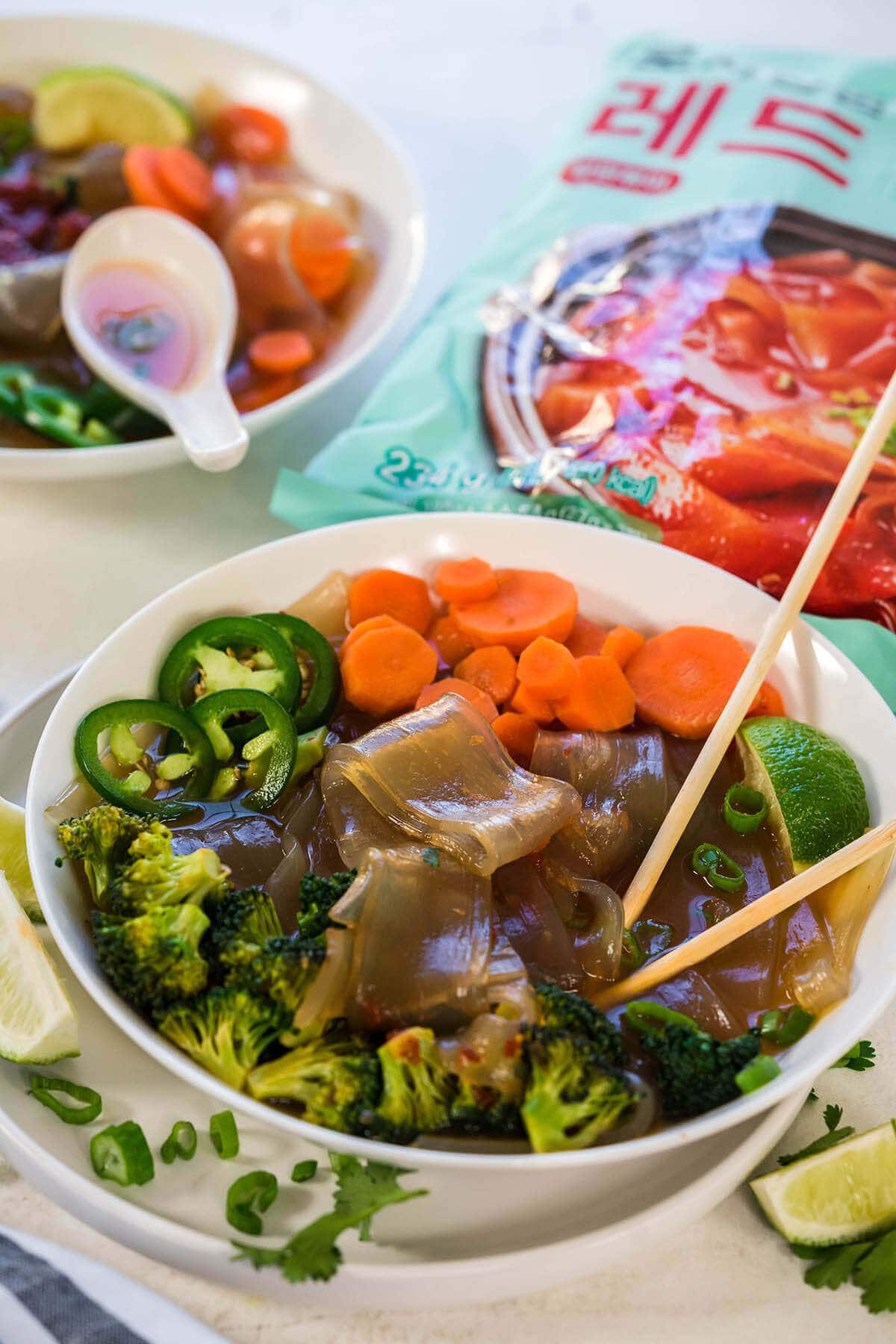 If you love a great slurpy noodle, then this is the one for you! They are super long and meaty and really a filling alternative!
If you're not a "slurper", simply chop the noodles into serving size so they can easily fit on a spoon. They are delicious and no matter what the recipe, you'll find they absorb the flavor of the sauce you're serving with them - YUM!
Tips
No need to pre-soak the noodles. Add how convenient to cook! Other dried wide noodles need to soak in the water before cooking for 4 ~ 8 hours but 1ST MKFOOD noodles don't need that step! (It is steamed product.)
The soup will keep up to 3 days in the refrigerator, but just like any pasta as it sits the noodles expand. This meal is best enjoyed when it's fresh. I do not recommend freezing this stew.
Chopping the glass noodles in small pieces will make them easier to eat with a spoon.
Variations
Add a variety of vegetables to suit your taste!
An addition of firm tofu would add flavor and protein.
Top your bowl with a drizzle of sesame oil will add nuttiness and flavor and fresh chilies for heat!
Spinach fresh or frozen - if you use frozen, be sure to allow it to defrost first, then squeeze out the excess water. Cauliflower would also be delicious! Bok choy, Napa cabbage, asparagus, mushrooms even sweet onion. The more veggies the better I say!
Leftover chicken? That would be perfect in this dish. As would thinly sliced beef or pork.
Shrimp would be great as well, sauté it first, remove it from the pot and then cook the vegetables. Add it back in after you stir in the noodles. Top with a fried egg - super yummy!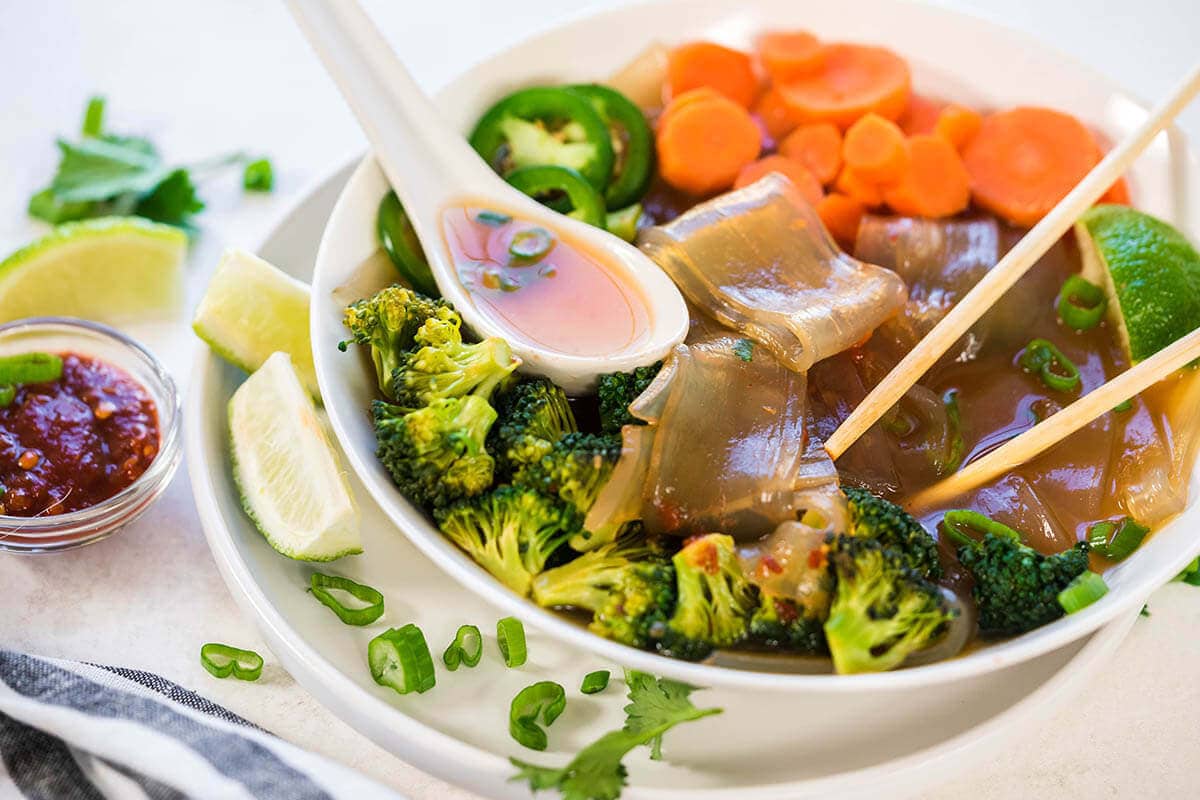 Serving suggestions
This is a light meal, but if you're looking for something more substantial, then here are some suggestions to serve alongside the glass noodle soup.
This lovely light, puffy Milk bread is a Korean staple - cut thick slices and serve it alongside the soup.
Chicken Fried rice is always yummy! Make this first and keep it warm in the oven while you're finishing up the glass noodles soup!
I love Korean food! That should be obvious by all of the yummy recipes on the blog, But if you haven't check it out - here are some of my favorites you should try soon!
Use these noodles to make Jjajangmyeon - a rich, silky black bean sauce with tender pork and packed with vegetables, it's delicious!
They would also be a great choice for a homemade ramen! I'm such a fan of quick and easy meal!
Related recipes
This Korean BBQ'd Chicken recipe is out of this world! Dress up some glass noodles in the sauce and serve it with the kabobs - what an amazing meal!
This recipe for Teriyaki Noodles is easy to make and amazing!
If you're more of a beef person then try this recipe for BBQ'd Beef - thinly sliced beef, marinated in a quick sauce and quickly grilled. It's tender and flavorful - who wouldn't love this meal?
For different flavors try Sour Glass Noodle Soup or Thai Noodle Soup!
If you love a classic Chicken Noodle Soup - this recipe is delicious and only takes 20 minutes to make! Creamy Lemon Garlic Pasta is also another quick and easy meal!
When you make this please comment below and let me know what you think! I'd love it if you tag me on Instagram @bowl_me_over or #bowlmeover - so I can see your photos!
If you love this recipe please leave a ⭐⭐⭐⭐⭐ rating!
Glass Noodle Soup
Korean Cellophone Vegetable Stew is ready in minutes!
As an Amazon Associate I earn from qualifying purchases.
Ingredients
6

ounce

wide glass noodles

3

cups

broccoli florets

2

cups

carrots

sliced

1

teaspoon

vegetable oil

corn oil will also work.

¼

cup

soy sauce

2

teaspoons

sweet chili oil

4 cups

stock

vegetables, chicken or beef - use your favorite!
I earn a commission from Instacart from qualifying purchases.
Instructions
Boil the glass noodles for 10 minutes. Drain well, set aside.

While the noodles are boiling, sauté the carrots and broccoli over medium heat for just a couple of minutes.

Add the soy sauce and sweet chili sauce.

Pour in the stock and stir well to combine.

Next add the glass noodles. Heat through and serve!

If desired garnish with thinly sliced green onions, fresh cilantro and a drizzle of sesame oil.
Nutrition
Calories:
234
kcal
|
Carbohydrates:
48
g
|
Protein:
4
g
|
Fat:
3
g
|
Saturated Fat:
1
g
|
Sodium:
885
mg
|
Potassium:
455
mg
|
Fiber:
4
g
|
Sugar:
4
g
|
Vitamin A:
11119
IU
|
Vitamin C:
65
mg
|
Calcium:
67
mg
|
Iron:
2
mg
Sign up for my recipes here!!
Don't worry, we'll never share your email.