Dress up your coffee or latte with an easy swirl of chocolate! Making fancy chocolate covered spoons is super easy and they are perfect for Brunch, Mother's Day or a great Holiday, Hostess or Teacher's gift. Simple to make chocolate dipped spoons make your favorite coffee even better!
First Published: January 29, 2019... Last Updated: October 24, 2019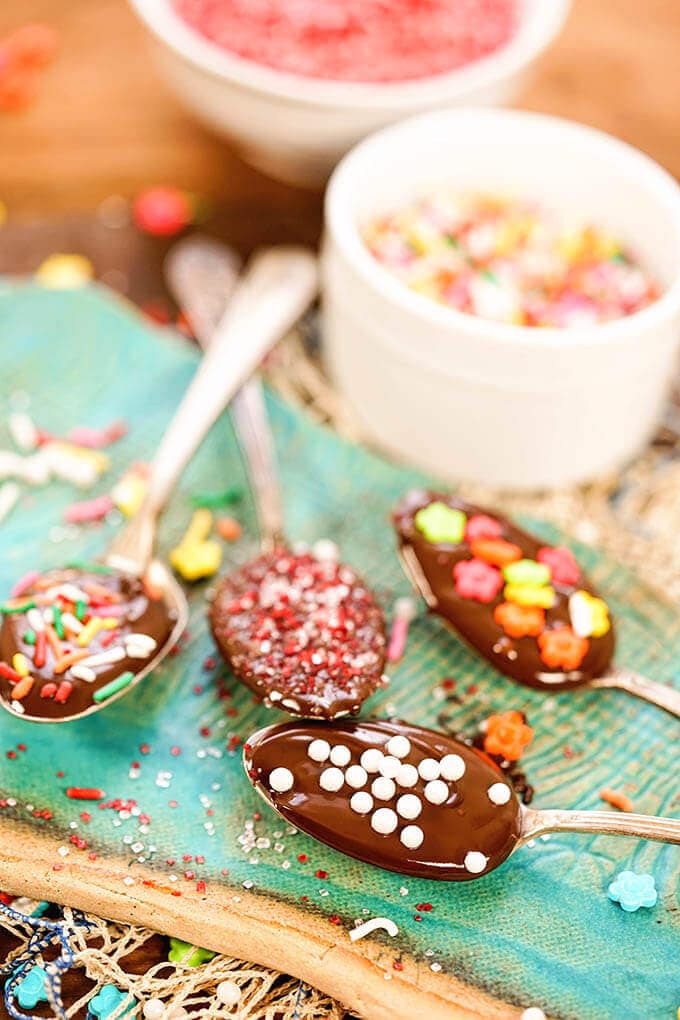 Chocolate Covered Spoons
This post is sponsored by Renato's. All opinions are my own! #ad #enjoyrenatos
We often combine my work with vacations. It's always a new place to visit, Dan goes with and we make an adventure out of it.
Last year, one of those adventures took us to Chicago. I was traveling to meet up with colleagues for planning and strategizing.
After speaking with colleagues we decided to meet in Chicago.
In January.
Freezing temperatures and record lows that weekend. Remember the polar vortex? Yes... that was the weekend we were there!
Seriously.... what were we thinking?!!!
In our defense, a member of our group is pregnant, so we picked Chicago so it would be easier for her to participate, so there's that!
I spent 10 years living in the midwest so I've lived in cold climates, but dang!
The one thing I would say though is Dan and I have fun no matter what we do. Though it was a quick weekend, we made it to the top of the Hancock building, enjoying the view on what felt like the top of the world.
From our vantage point, we watched a snow storm creep into the city while sipping espresso.
It may have been cold, but that didn't stop us! However I admit, I was counting the minutes until that plane lifted off Sunday morning. That weekend reminded of the strength and resiliency of midwestern folks!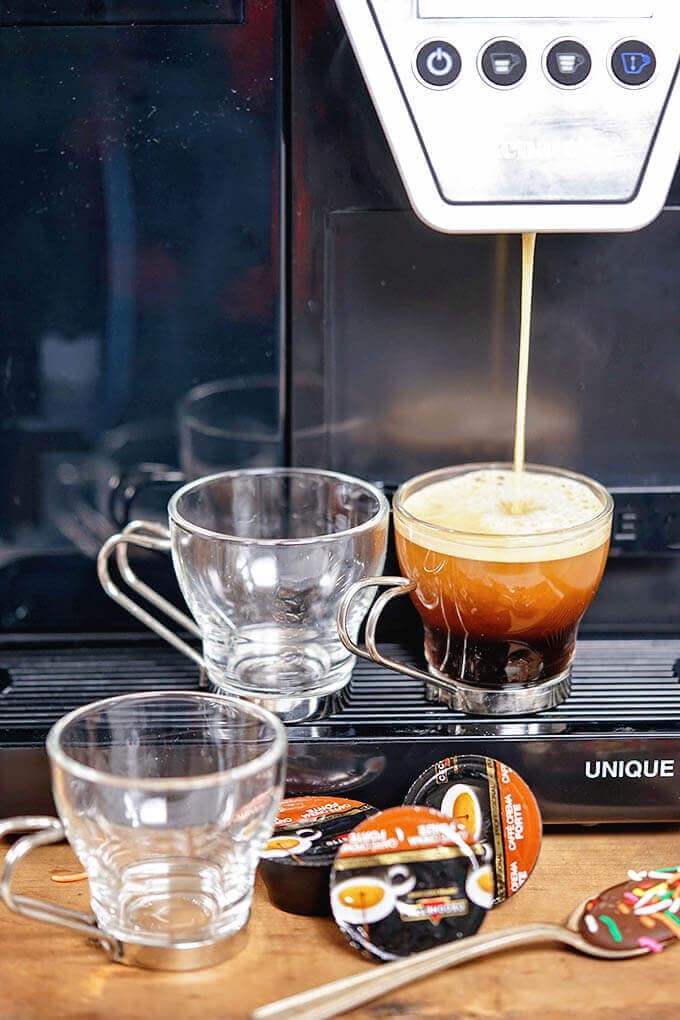 Chocolate Spoons
There was a great deal of coffee and hot chocolate consumed that weekend!
When you're cold and need to warm up, a great cup of coffee or hot chocolate is definitely the place to start! It helps when you can warm from the inside out!
Today I get to share with you my opinion of this espresso maker! I received this shortly before heading to Chicago. We were able to try it out before we left and again after coming home - here's what we love:
convenience • quality • performance
This machine does EXACTLY what it's supposed to do - make high-quality delicious coffee quickly and easily. I like the modern clean lines of the machine. It looks super sharp.
The pods are easy to use and the vessel stores the used pods so they are no stacked on the counter. Love that!
So obviously I couldn't just tell you about this coffee maker, right? I had to share a recipe you can enjoy too! I've been wanting to share how easy it is to make chocolate spoons, so now is a perfect time!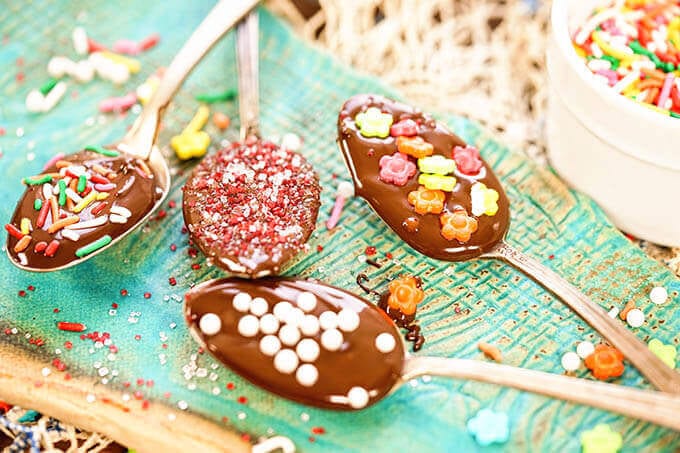 Making Chocolate Spoons
Ingredients for Chocolate Dipped Spoons
chocolate chips - dark, white or milk chocolate, use what you love best!
sprinkles - customize for the season, holiday or gathering.
spoons - you can certainly use disposable spoons, but I love using pretty vintage spoons I pick up at antique stores or garage sales
Pretty simple huh? Though the ingredients are basic, these spoons are filled with flavor!
What can I make with chocolate spoons?
Chocolate espresso, coffee or even doll-up your hot chocolate!
What kind of spoons do I use to make coffee stir spoons?
You can certainly use plastic spoons, but I purchased these beautiful spoons at a local antique store. They were four for a buck! What a steal and they look so pretty.
No antique stores nearby? Then watch for spoons at garage sales, there's always utensils they are practically giving away.
I found some at the Goodwill Store last week! I dropped off donations and found some new treasures. Total win/win for me!
They can certainly be mismatched too - mine are! I think that makes them more interesting when they aren't matchy-matchy.
Chocolate spoons are a great hostess or teacher gift and perfect for brunch OR a cold day in Chicago, wouldn't you agree? Stirring it into our espresso made it a real treat!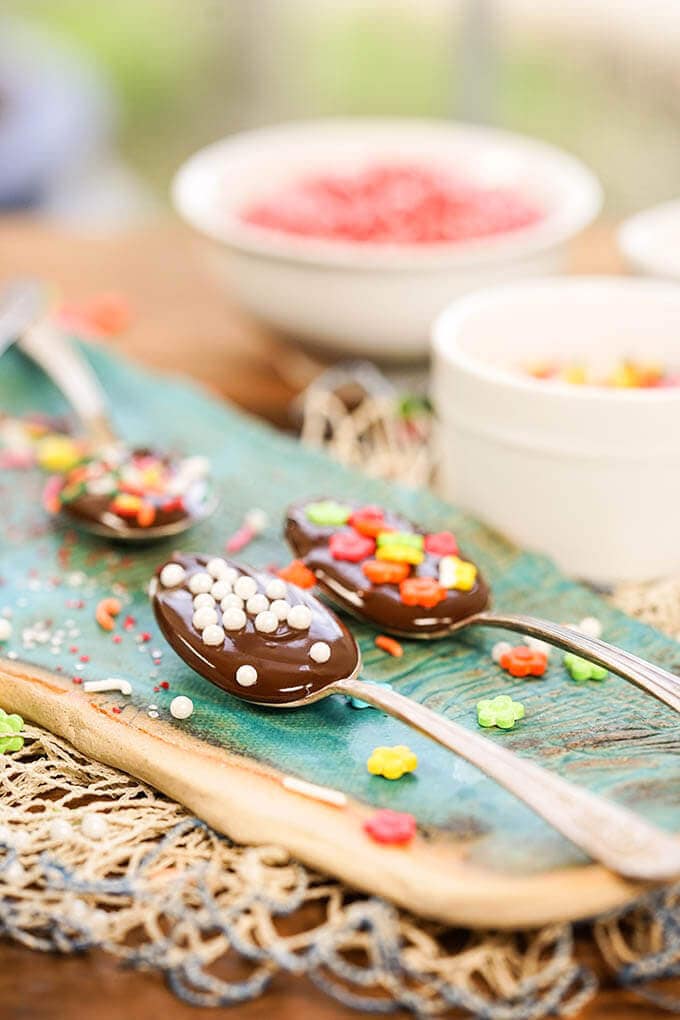 Homemade Chocolate Spoons
The hardest thing for you will be to pick out which spoon is for you! Let me tell you how easy they are to make.
How to make Chocolate Spoon Recipe
Place the chocolate chips in a microwaveable bowl.
Melt the chocolate in the microwave.
Top each spoon with about a teaspoon of chocolate.
While the chocolate is still melted, top with sprinkles.
Refrigerate to set the chocolate.
Stir into hot beverages to melt.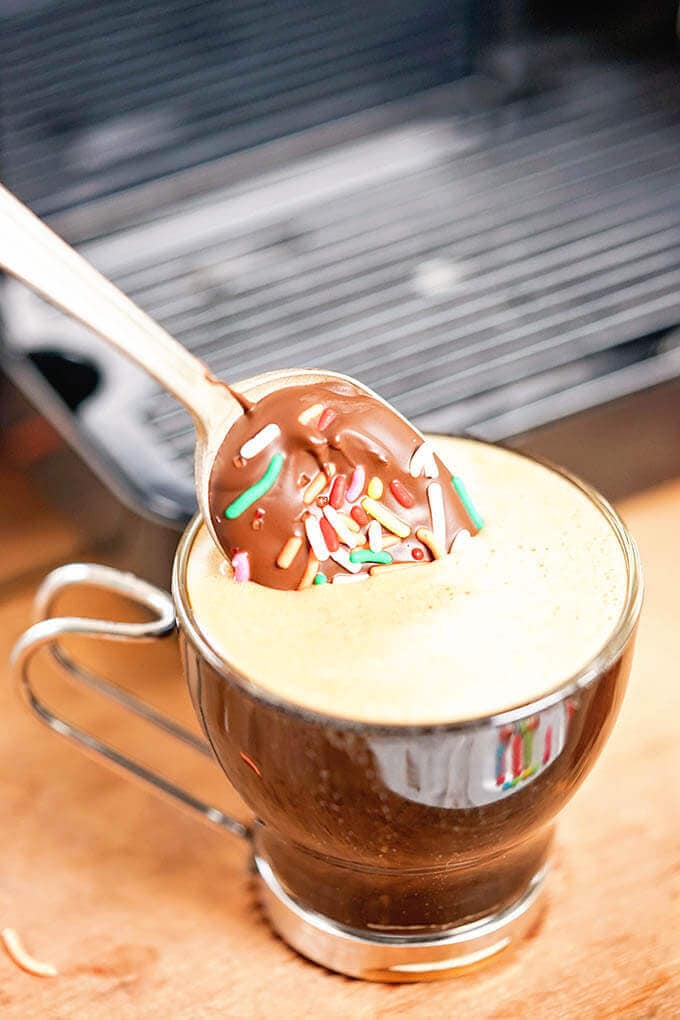 Hot Chocolate Spoons
More about Chocolate Spoon Recipe
Give as gifts by wrapping each spoon in a cellophane bag tied with a bow. So pretty and delicious!
You can also display them in an egg platter, the indent normally used for an egg holds the spoons perfectly!
Don't want to use "real spoons"? Plastic spoons work too!
When you dip the spoons, place them on parchment paper until the chocolate is set.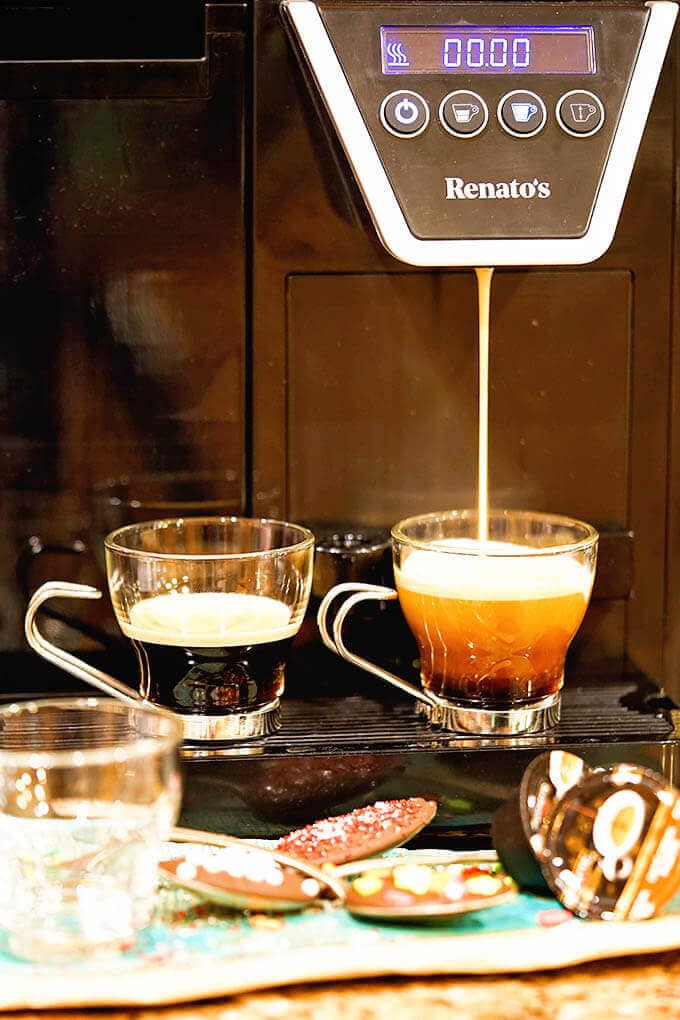 More flavored coffee options!
Orange Mocha Latte - chocolate and orange, one of the BEST combinations!
Tiramisu Latte - inspired by the classic tiramisu dessert this beverage is sweet and creamy!
If you're looking for something delicious to serve at your brunch, check out these recipes!
Easy Frittata Recipe
This is baked egg casserole is a great meal made with leftovers!
Check out this recipe
Papaya Bowl
Fresh papaya, Greek yogurt, granola with a squeeze of lime. This is a simple filling breakfast that's easy to make!
Check out this recipe
Raspberry Orange Breakfast Strata
The raspberries and hint of orange are just the right amount of pop for a Saturday morning. The center is creamy and like a custard while the top of the strata is crunchy. It's by far one of the best things I've made.
Check out this recipe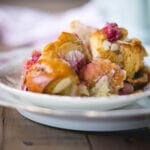 Granola and Yogurt Parfait
An easy make-ahead breakfast parfait. This is a great breakfast all week long!
Check out this recipe
Homemade Cranberry Granola Recipe
Perfect for breakfast or brunch homemade orange granola tastes 100 times better than store-bought.
Check out this recipe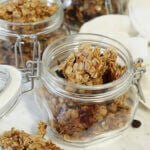 Some of the items below contain affiliate links; I am a participant a variety of affiliate programs, including in the Amazon Services LLC Associates Program, an affiliate advertising program designed to provide a means for us to earn fees by linking to Amazon.com and affiliated sites. However, I only promote things that I love and think you will love, too. For more information, please see our Disclosure Policy.
Here are the espresso cups I used!
Chocolate Spoon Recipe
Dress up your coffee or latte with an easy swirl of chocolate! This fancy chocolate spoon recipe is easy to make and they are delicious!

As an Amazon Associate I earn from qualifying purchases.
Ingredients
½

cup

chocolate chips

2

tbsp

sprinkles
I earn a commission from Instacart from qualifying purchases.
Instructions
Place the chocolate chips in a small bowl.

Microwave at 15-20 second intervals to melt, stirring at each interval. Continue melting and stirring until the chocolate is easy to drizzle.

Place the spoons on a plate or platter, balancing the handle so the spoon is level.

Fill each spoon with chocolate. Immediately top with your favorite sprinkles!

Refrigerate to set the chocolate. Stir into your favorite hot beverage and enjoy!
Nutrition
Calories:
67
kcal
|
Carbohydrates:
10
g
|
Fat:
2
g
|
Saturated Fat:
1
g
|
Cholesterol:
1
mg
|
Sodium:
7
mg
|
Sugar:
9
g
|
Vitamin A:
25
IU
|
Calcium:
13
mg
|
Iron:
0.1
mg
Sign up for my recipes here!!
Don't worry, we'll never share your email.