Perfectly sweet with just a touch of heat Bam Bam Pomegranate Jam is delicious topping off bread & butter or your favorite PB&J. I use jam to make delicious homemade salad dressings too - it's so versatile!
For another great fall treat, try the Crock Pot Pumpkin Butter Recipe!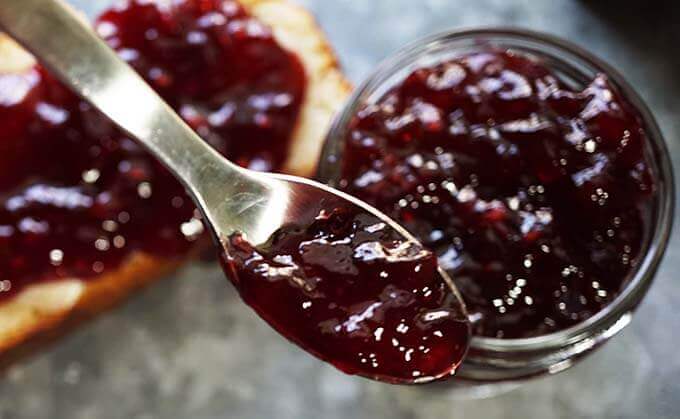 Here's how Bam Bam Pomegranate Jam came about. My hubby and I went for a walk in our neighborhood. Around the corner and about half a block away, our neighbors were unloading buckets and buckets of pomegranates!
Living here in the Central Valley makes for an abundance of fruits and vegetables all year long!
Anyway, back to our walk - you know I make friends wherever I go, so of course I struck up a conversation with the neighbors. Long story short, I came home with all of the pomegranates I could carry.
Big red orbs of deliciousness draped in my t-shirt which got completely stretched out of shape.
I was a happy gal!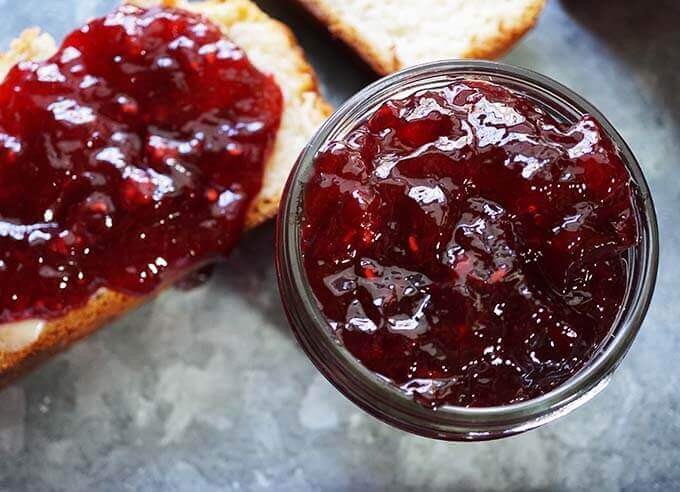 My favorite thing I made with those pomegranates was this jam. I've made it several times now. I've played with the amount of "bam" in the jam and now like Goldilocks and the Three Bears, this recipe is just right!
The "bam" in this recipe comes from chili powder and chili flakes. Not too much.... not too little. It took some experimenting.
The final jam is the perfect balance of sweet and warmth. It's not hot. It's not even spicy - the combination of spices adds a warmth to jam that is simply delicious!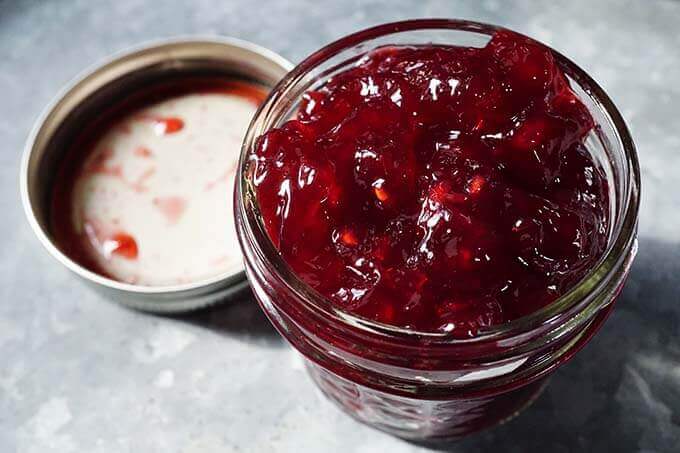 To the pomegranate juice I added raspberries. The sweetness from the berries balances that light tart taste from the poms. Yep, this is my new favorite jam! It's low sugar too which makes it that much better.
It's a jam I shared with my family at Thanksgiving, I mean we had to have plenty of taste testing, right? Tough job, but somebody has to do it! 😉
If you want to make this jam to give as gifts, it's truly easy enough. If you want to save it until after the Holidays (and keep it all for yourself) you'll be happy you did! 😀
It's a wonderful jam to make in the winter. Pomegranates are in season at your market too - be sure to pin this one for after the craziness of the holidays.
This jam is delicious for toast & jam or PB&J's!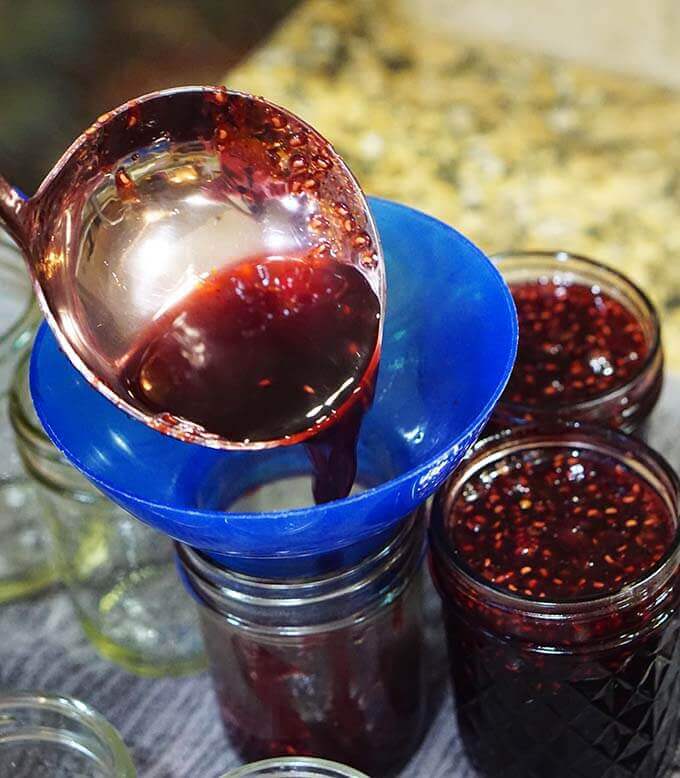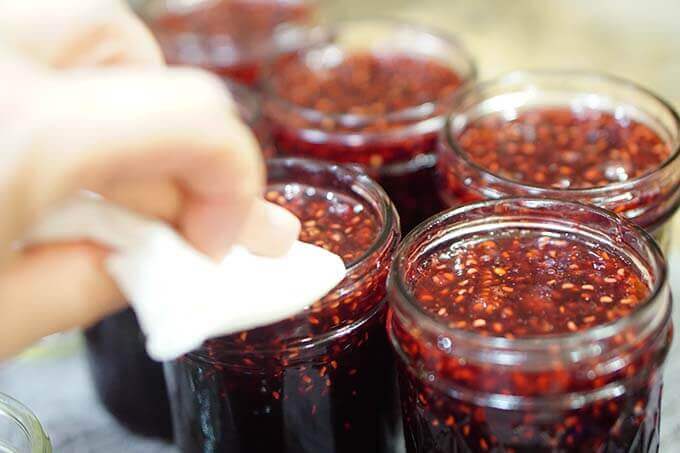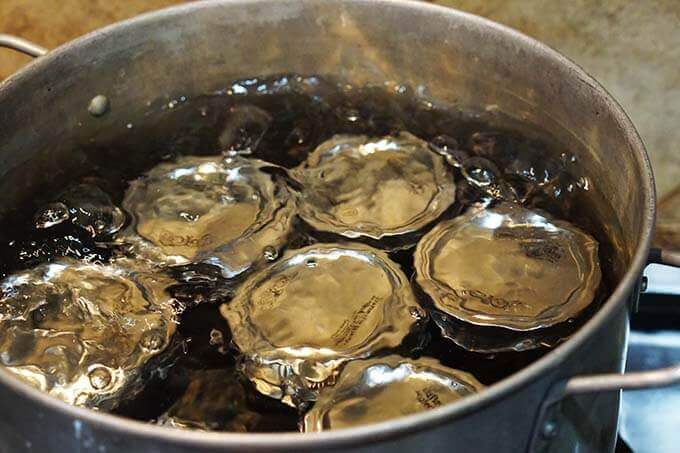 Serving suggestions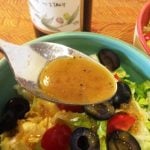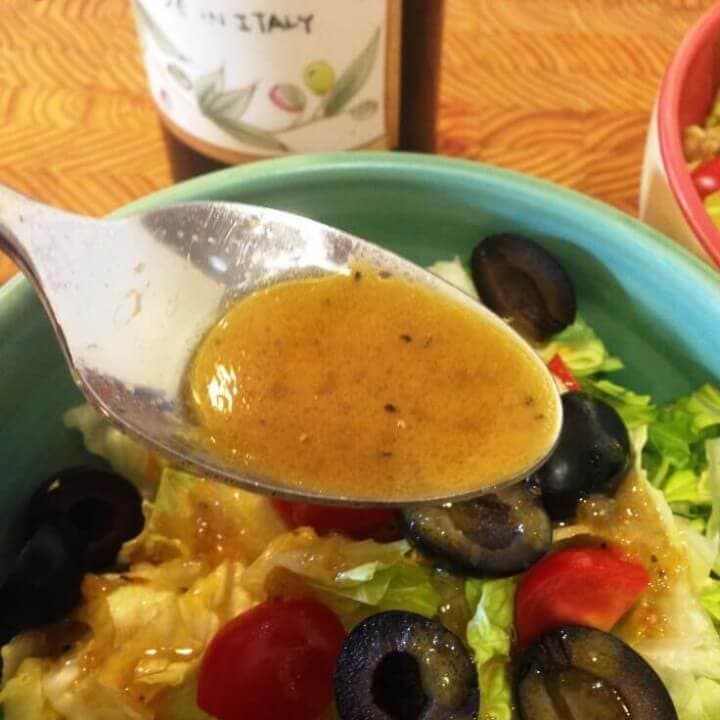 Did you know this? You can use jam to make the BEST homemade salad dressing. It adds a ton of flavor. Big shortcut and it tastes 100% better than what you buy at the store!
Here's one of my favorite recipes for salad vinaigrette. Instead of using marmalade just sub the pomegranate jam you made - yum!
I think you'll really love this Pomegranate Jelly Recipe - it's a delicious homemade jam that is packed with flavor.
Jam is a wonderful Hostess Gift and a great gift all year long! Everyone loves homemade gifts and one you can eat too, even better! YUM!
More Homemade Jam and Jellies to try!
To learn how make the BEST Homemade Jam please click here!
Bam Bam Pomegranate Jam
Perfectly sweet with just a touch of heat Bam Bam Pomegranate Jam is delicious topping off bread & butter or your favorite PB&J. I use jam to make delicious homemade salad dressings too - it's so versatile!
As an Amazon Associate I earn from qualifying purchases.
Ingredients
3 ½

cups

pomegranate juice

1

cup

mashed raspberries

1 ½

teaspoon

chili powder

½

teaspoon

chili flakes

¼

teaspoon

salt

4

cups

sugar

1

teaspoon

butter

optional - the butter will keep the jam from foaming.

1.75

oz

low sugar Sure Jell

Be sure to use the pink "low sugar" package
I earn a commission from Instacart from qualifying purchases.
Instructions
Juice the pomegranates. You'll need 3 ½ cups of juice. Depending on the size of the poms, you'll need about three. Measure out exactly 3 ½ cups.

Clean the raspberries mash them well. You'll need exactly 1 cup.

Place jars, rings and lids into a pan, cover with water, bring to a boil and boil for three minutes to sterlilize, keep warm.

In a heavy stock pot, place the pomegranate juice, raspberries, chili powder, chili flakes, salt & butter (if using). Mix everything together well.

Measure ¼ cup of sugar and mix it with the contents of the Low Sugar Sure-Jell. Sprinkle it into the pomegranate/raspberries mixture. Mix well again and set it on the stove on high and bring to a boil, stirring constantly.

When it comes to a hard boil (a hard boil is one you can't stir down with spoon) add the remaining sugar.

Continue stirring constantly and return it to a boil and when it comes back to a hard boil, continue boiling it for exactly one minute. (Set a timer to make sure you get it for a full minute).

Remove from the stove & immediately ladle into sterilized jars. Place lids on jars, screw on tightly. Process in a hot bath (boiling water) for 10 minutes to seal the jars.

The seeds of the raspberries rise to the top of the jars. If you want to spread the seeds thru-out the jar, flip them over every 20 minutes for about an hour. As the jam begins to set & jell the seeds will be distributed thru-out the entire jar, rather than just at the top.

Makes 6-7 eight oz. jars.
Notes
This makes 6-7 8oz. jars
What if you don't have a juicer? Remove all of the pomegranate seeds and place them in a food processor, blender or your Vitamix. Add just enough water to get the mixture going. Pulse the blender just a couple of times to break up the seeds. Then pour them into a sieve to strain and remove the seeds. Lightly press the pulp against the side of the sieve to extract the juice. 
Pure pomegranate juice can be used to make this jam as long as there are no additives. 
The butter will help the liquid from foaming as the jelly boils. There's nothing wrong with the foam, it's just not as pretty. If you prefer to not add butter, just skim the foam off the top of the jam.
Nutrition
Calories:
607
kcal
|
Carbohydrates:
155
g
|
Sodium:
122
mg
|
Potassium:
350
mg
|
Fiber:
1
g
|
Sugar:
152
g
|
Vitamin A:
200
IU
|
Vitamin C:
5.4
mg
|
Calcium:
21
mg
|
Iron:
0.4
mg
Sign up for my recipes here!!
Don't worry, we'll never share your email.
Recipe backstory
Ok! I know Christmas is in just three days but I have one last recipe for you!
Wait, please don't delete this email. Pomegranates are in season. You can make this after the holidays!
But because it is the Holidays and this just is just so gorgeous, delicious and festive - I want to share it with you today.