Tomato Tart with Goat Cheese and Capers has amazing flavors! Bright fresh tomatoes , robust stone ground mustard, salty capers with smokey gouda and tangy goat cheese. YUM! If you're tired of the same old grilled cheese sandwich, dress up dinnertime with a Tomato Tart.
Next time make some Cuban Sliders - another great soup/sandwich combination.
Jump to:
Why you'll love this recipe
✔️ The flavors are amazing. Bright fresh tomatoes, robust stone ground mustard, salty capers with smokey gouda cheese and tangy goat cheese.
✔️ It uses everyday ingredients.
✔️ It's just as delicious fresh out of the oven as it is served cold.
You all know I'm a big soup/salad/sandwich kinda gal, even in the summertime. I definitely keep meal time as uncomplicated as possible, but sometimes you're looking for just a bit more.
Ingredients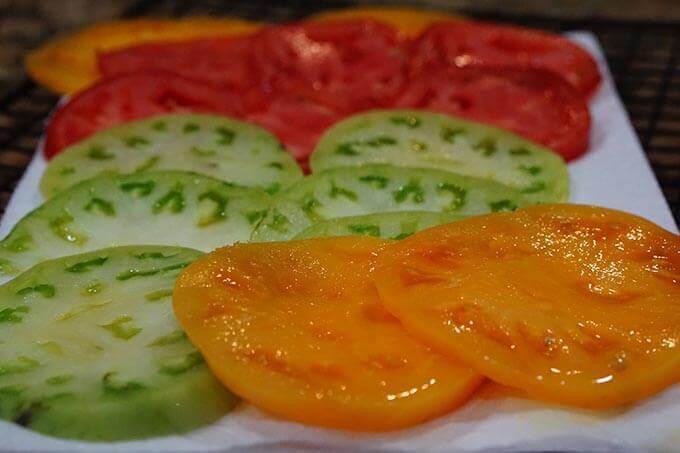 puff pastry
stone-ground mustard
pesto
capers
tomatoes (preferably organic!)
gouda cheese
goat cheese
Instructions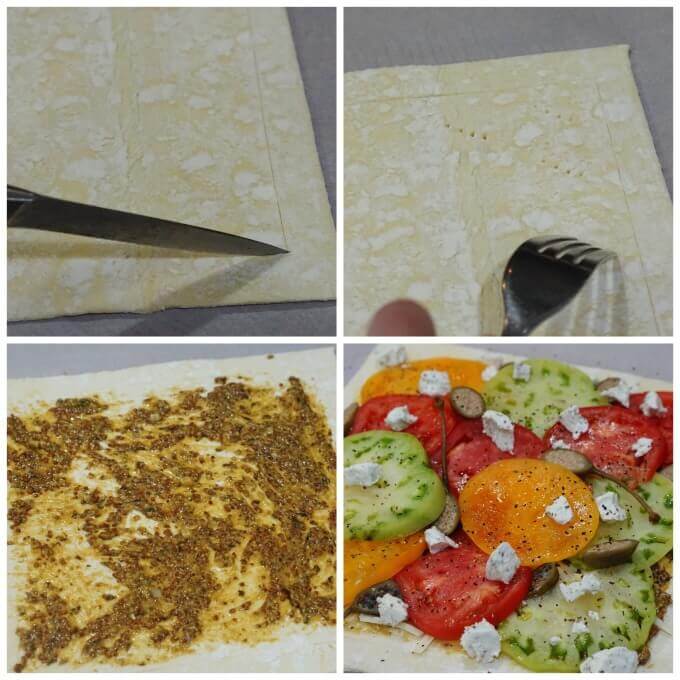 This is an overview of the instructions. For the complete directions just scroll down to the bottom!
Start by slicing the tomatoes super thin, place them on a couple of sheets of paper towels so they can drain.
Lay a couple more paper towels over the top of the tomatoes and blot the excess water. Removing excess water will keep your tart from being soggy and concentrate that yummy tomato flavor!
Lay out the pastry dough and roll it out to remove the creases.
Next score a "frame" around the outside of the pastry dough with a knife, as pictured below. Then using a fork, prick the inside of the frame. When baking the outside will puff up & the inside will stay flat.
Slather the mustard pesto mixture on the inside.
Top with cheese, tomatoes, capers and goat cheese.
Bake until puffed and golden brown.
Equipment
The following are affiliate links. We are a participant in the Amazon Services LLC Associates Program, an affiliate advertising program designed to provide a means for us to earn fees by linking to Amazon.com and affiliated sites.
Click here for my favorite baking sheet!
FAQ's
Why use organic tomatoes?
When they are the star of the show, using homegrown or organic tomatoes will make this tart even more flavorful. They are more intense in flavor.
Do different varieties of tomatoes taste different?
Different varieties of tomatoes have different flavors - meaty, creamy, even spicy - mixing it up will make this taste even better.
Do you have to seed the tomatoes?
No, seeding the tomatoes isn't necessary, however use a paper towel to remove any excess moisture from the tomatoes before adding them to the tart.
Things to know
Roll the tart out on parchment paper. That way, after assembling, you can easily transfer it to a cookie sheet.
Using parchment paper will make it easier to serve and it will not stick to the bottom of the pan.
Organic tomatoes will make this taste that much better!
This is terrific serve hot or cold.
Storage
Refrigerator - Allow to cool completely. Store leftovers covered with plastic wrap or in an airtight container up to three days.
Reheat in the oven or air fryer for best results.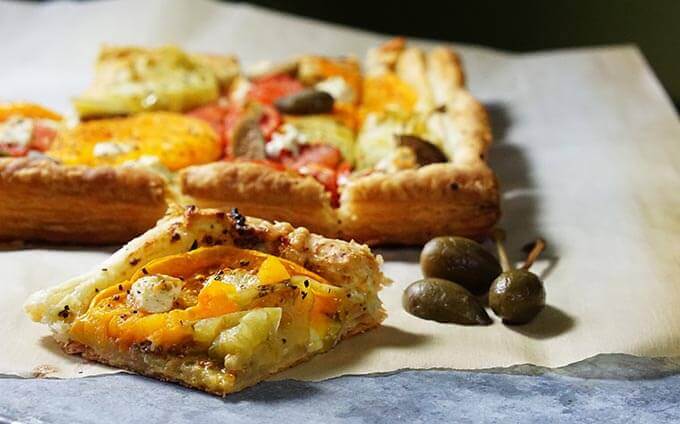 Serve with
This is terrific serve with your favorite soup - I especially like it with this creamy zucchini soup or this yummy asparagus soup!
Fantastic with a green salad as well.
Don't forget to make a batch of oatmeal cookies for dessert!
If a toasted cheese sandwich and a tomato were the best of friends, this is what they would look like when they hung out together! 🍅
Don't forget to check out my Amazon storefront for some of my favorite products! 🛍️
If you love this recipe please leave a ⭐⭐⭐⭐⭐ rating!
Tomato Tart Recipe
Easy and delicious this is a great side dish and perfect for a brunch or buffet.
As an Amazon Associate I earn from qualifying purchases.
Ingredients
1

puff pastry sheet

2

tablespoons

stone-ground mustard

1

teaspoon

pesto

½

cup

grated gouda cheese

3

slices

tomatoes cut into thin

2

tablespoons

capers

1

ounce

crumbled goat cheese

¼

teaspoon

salt & ¼ to ½ teaspoon freshly ground black pepper
I earn a commission from Instacart from qualifying purchases.
Instructions
Preheat oven to 400 degrees.

Slice the tomatoes and place them on a paper towel to drain. Place a paper towel on the top also and lightly press to remove the excess water from the tomatoes. Allow to drain for 20-30 minutes.

Fold out the thawed puff pastry on to parchment paper. Lightly roll it out to smooth out the creases. Using a knife, score a frame around the edge of the pastry about ½ inch away from the edge. 

Next, take a fork and prick the inside of the frame several times - this will keep the inside from rising when it bakes.

Combine the pesto & mustard and slather the inside of the frame with this mixture. Sprinkle with grated gouda cheese and top with the tomatoes. Keeping all the ingredients inside the "frame" of the pastry.

Sprinkle the capers around the tart and top with the goat cheese. Season lightly with salt and freshly cracked black pepper.

Transfer to a cookie sheet. Bake at 400 degrees for 20-25 minutes until the pastry is golden brown.

Cut into 12 pieces and serve. Can be served hot or cold.
Nutrition
Calories:
152
kcal
|
Carbohydrates:
9
g
|
Protein:
4
g
|
Fat:
10
g
|
Saturated Fat:
3
g
|
Cholesterol:
10
mg
|
Sodium:
245
mg
|
Potassium:
41
mg
|
Vitamin A:
135
IU
|
Vitamin C:
0.9
mg
|
Calcium:
65
mg
|
Iron:
0.7
mg
Sign up for my recipes here!!
Don't worry, we'll never share your email.
Recipe backstory
My visit to the roadside stand this week brought the first tomatoes of the season!
Yup, locally grown, not the perfectly round, symmetrical tomatoes you find at the grocery store. Some are big, some are small, they aren't perfect but they smell and taste incredible!
I nabbed two baskets of tomatoes just to take in this tomato-ee deliciousness! I pictured the week filled with tomato sandwiches, BLT's and more!
And I was right!