Tomato Tart with Goat Cheese and Capers
Tired of the same old grilled cheese sandwich?  Dress up dinner-time with a Tomato Tart.  So easy it's perfect for a weeknight meal, but looks super fancy, delicious too!  Shhh….just don't tell anyone it wasn't hard at all.
You all know I'm a big soup/salad/sandwich kinda gal.  I definitely keep meal time as uncomplicated as possible.  Often times it's just a bowl of soup and a sandwich.  But sometimes you're looking for just a bit more.
That's where this delicious Tomato Tart comes in!
I'm not gonna lie.  I baked this today and we won't eat it until this evening. It will be cold when it's time for dinner, but that's where the great part comes in.  It's just as delicious fresh out of the oven as it is served cold.
So not only will this be wonderful for dinner tonight, it would also be great for brunch or on a buffet.  Anything that can be made ahead works for me.  Plus it's gorgeous and festive!
The flavors are amazing.  Bright fresh tomatoes (I'm still getting them from the farmer's market, but if you can't choose organic tomatoes).  Robust stone ground mustard, salty capers with smokey gouda cheese and tangy goat cheese. YUM!
This is perfect served with Zucchini Parmesan Soup – YUM!
Equally as yummy with a great salad like my Fall Harvest Salad!
Assembling the tart is easy.  Start by slicing the tomatoes super thin.  Place them on a couple of sheets of paper towels so they can drain.  Lay a couple more paper towels over the top of the tomatoes and blog the excess water.  Draining the water will keep your tart from being watering and concentrate that yummy tomato flavor!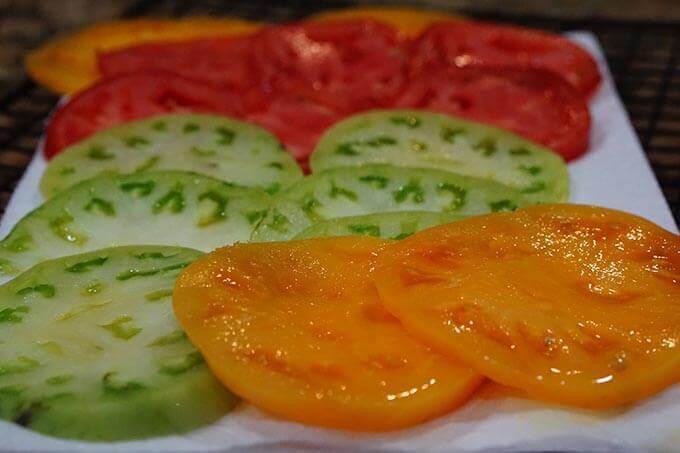 Lay out the pastry dough and roll it out to remove the creases.  It's easiest to roll it out on parchment paper.  That way, after assembling, you can easily transfer it to a cookie sheet.
Next score a "frame" around the outside of the pastry dough with a knife.  Then using a fork, prick the inside of the frame.  When baking the outside will puff up & the inside will stay flat.
Slather the mustard pesto mixture on the inside.
Top with cheese, tomatoes, capers and goat cheese.  Into the oven it goes!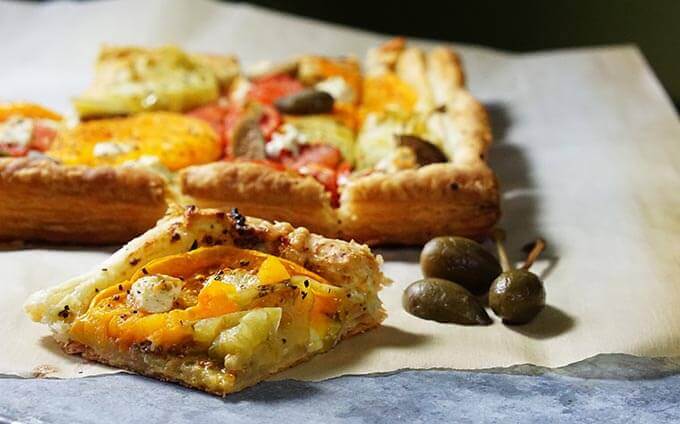 It's that easy and that good too! I love simple ingredients and this is soooo good!
Come on, I know you want a bite!  Ok – let's get cooking!
Tomato Tart
Tomato Tart - The flavors are amazing. Bright fresh tomatoes, robust stone ground mustard, salty capers with smokey gouda cheese and tangy goat cheese. YUM!
Ingredients
Preheat oven to 400 degrees.

1

puff pastry sheet

2

tablespoons

stone-ground mustard

1

teaspoon

pesto

1/2

cup

grated gouda cheese

3

slices

tomatoes cut into thin

2

tablespoons

capers

1

ounce

crumbled goat cheese

1/4

teaspoon

salt & 1/4 to 1/2 teaspoon freshly ground black pepper
Instructions
Slice the tomatoes and place them on a paper towel to drain. Place a paper towel on the top also and lightly press to remove the excess water from the tomatoes. Allow to drain for 20-30 minutes.

Fold out the unthawed puff pastry on to parchment paper. Lightly roll it out to smooth out the creases. Using a knife, score a frame around the edge of the pastry about 1/2 inch away from the edge. Next, take a fork and prick the inside of the frame several times - this will keep the inside from rising when it bakes.

Combine the pesto & mustard and slather the inside of the frame with mustard, sprinkle with grated gouda cheese and top with the tomatoes. Keeping all the ingredients inside the "frame" of the pastry. Sprinkle the capers around the tart and top with the goat cheese. Sprinkle lightly with salt and freshly cracked black pepper.

Transfer to a cookie sheet. Bake at 400 degrees for 20-25 minutes until the pastry is golden brown.

Cut into 12 pieces and serve. Can be served hot or cold.
Nutrition Facts
Tomato Tart
Amount Per Serving
Calories 152
Calories from Fat 90
% Daily Value*
Total Fat 10g 15%
Cholesterol 10mg 3%
Sodium 245mg 10%
Potassium 41mg 1%
Total Carbohydrates 9g 3%
Protein 4g 8%
* Percent Daily Values are based on a 2000 calorie diet.