Butterscotch Haystacks Recipe – Filled with crunchy noodles, peanuts and butterscotch and peanut butter morsels, these take only minutes to make. Topped with a pinch of salt these bites become the perfect salty-sweet treat!
Butterscotch Haystack Cookies
A few years back Mom shared her Chocolate Covered Cashews Recipe and let me tell you, they have been super popular ever since!
Ahem…. especially with my husband.
Mom knows the key to his heart goes right through his sweet tooth and somehow those rich treats show up every time we're visiting.
Dan knows he's loved!!
Because he's got such a sweet tooth, I had a (foodie!) brainstorm and thought hmm…. What if I take Mom's recipe, switch out the flavors and make haystacks?
TOTAL winner! Easy to make and completely delicious these treats are perfect to satisfy a sweet tooth and also fantastic for a cookie exchange!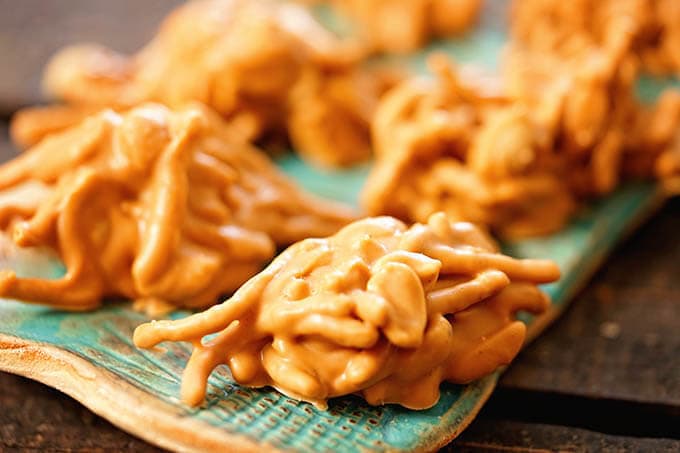 Everything you need to know to make Haystacks!
What are haystacks made of?
Haystacks are made with simple ingredients – butterscotch and peanut butter morsels, chow mein noodles and peanuts. No noodles? Use crushed pretzels or Wheat Chex cereal!
Why are my butterscotch chips not melting?
Butterscotch, peanut butter, even chocolate chips are made with stabilizers. They hold their shape until they are stirred. When you're melting the chips continue to stir them until it's smooth and silky.
Another method to melt candy is with a double-boiler. Double boilers use the steam from the hot water in the bottom pot to heat the top pot. Be sure the boiling water doesn't touch the pot on top or it will scorch the candy!
How do you fix seized butterscotch?
Butterscotch will seize when a small amount of moisture has gotten in the mixture. Adding hot liquid back into the mixture will return it to a fluid state. Read more about fixing it here.
Ok, having said this – I've tried this method and was not successful. Perhaps I wasn't patient enough?
Moral of the story… Don't allow any water in the mixture and continue stirring while it's melting.
How do you thin out butterscotch chips?
As mentioned above, the chips melt from the inside out. Continue stirring the entire time you're melting the chips. This will allow them to get smooth and silky and avoid scorching.
How do you make Butterscotch Haystacks Recipe?
Ingredients for Haystacks Recipe
butterscotch and peanut butter morsels – using the chips makes this recipe so quick and easy to make!
chow mein noodles – the crispy noodles add a ton of crunch!
peanuts – dry roasted, lightly salted nuts
canola oil – helps the chips easily melt so the coating is smooth and silky.
parchment or wax paper – to drop the cookies on. Makes for easy clean-up!
Steps to make these cookies
use a non-stick pan over medium-low heat
add both bags of chips along with the canola oil to the pan
stir often until the candies are melted.
stir in the peanuts
fold in the chow mein noodles
drop by small spoonfuls onto a sheet pan covered with parchment paper.
top with a pinch of sea salt (optional)
refrigerate until firm.
Variations for this treat!
Swap out the chow mein noodles for pretzels or cornflakes.
Replace the peanut butter or butterscotch morsels with white chocolate or dark chocolate chips!
Change it up and add mini marshmallows or coconut flakes.
Sprinkles can make them festive for any occasion!
More sweet treats? I got you covered!!!
Perfect for Cookie Exchange!
I am a participant in the Amazon Services LLC Associates Program, an affiliate advertising program designed to provide a means for us to earn fees by linking to Amazon.com and affiliated sites.
Don't forget to check out my Amazon storefront for some of my favorite products! 🛍️
When you make this please be sure to tag me on Instagram @bowl_me_over or #bowlmeover – I'd love to see your pictures! And if you get a chance, please comment and leave me a ⭐⭐⭐⭐⭐ rating below!
Butterscotch Haystacks Recipe