Summer is here, and you've found yourself with a ton of zucchinis from your own garden, a wonderful neighbor, or an irresistible farmer's market. We've all been there! Now, what do you do with all that zucchini? Try one of these ground beef and zucchini casserole recipes!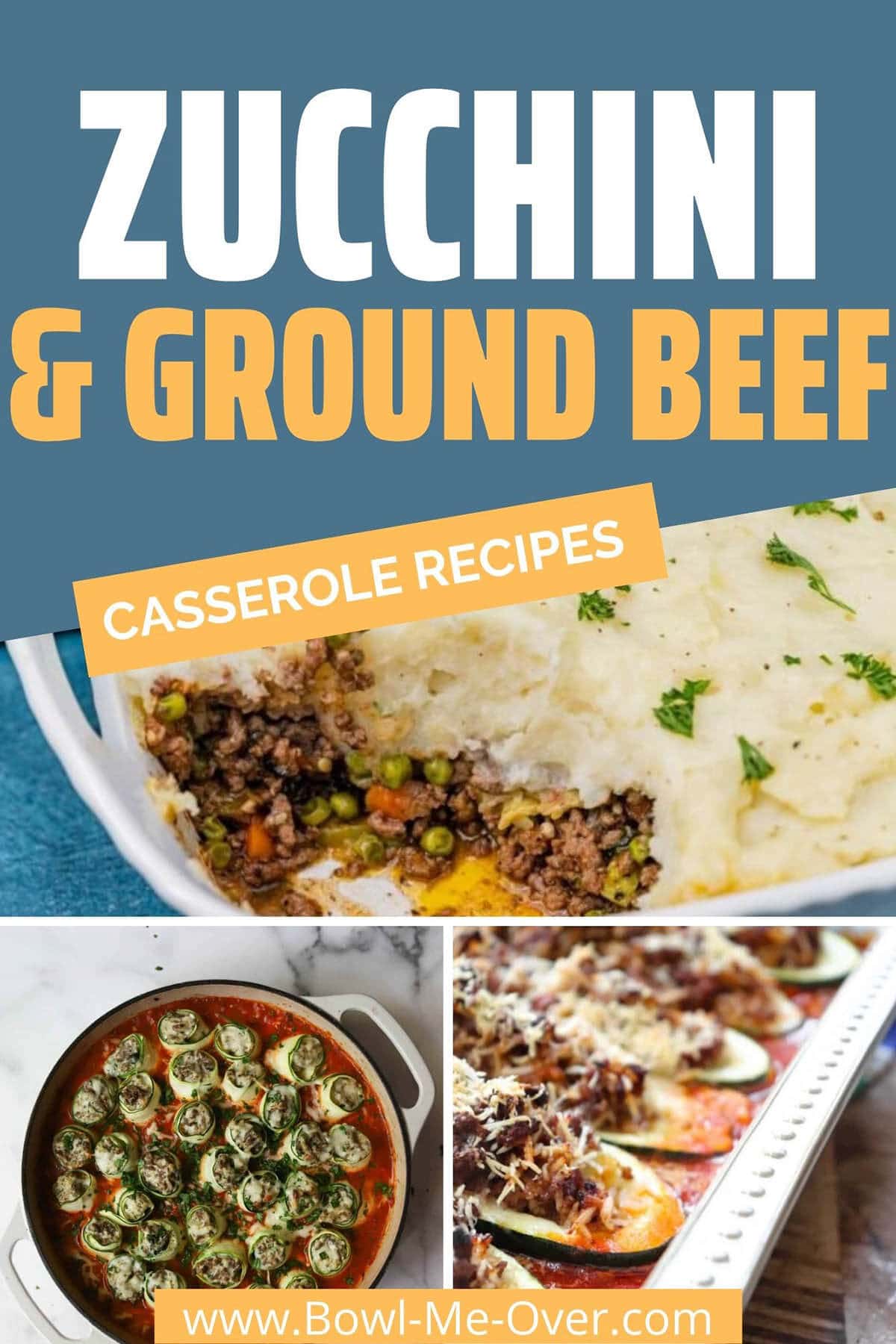 Jump to:
Delicious Ground Beef and Zucchini Casserole Recipes
Not only are they delicious and nutritious, but many of the recipes below are low carb and keto-friendly as well. Zucchini and ground beef go great together when making low carb lasagna, pizza casserole, or zucchini boats.
But you don't have to watch your carbs to enjoy these meals on your dinner table! The shepherd's pie is pure comfort food, while the rice stuffed zucchini is incredibly filling and tasty.
Whether you're looking for healthier meals or a way to use up all that zucchini you have, these zucchini and ground beef recipes are total winners.
Choose a recipe or two to try this week, and let us know how it turns out!
1. Zucchini Lasagna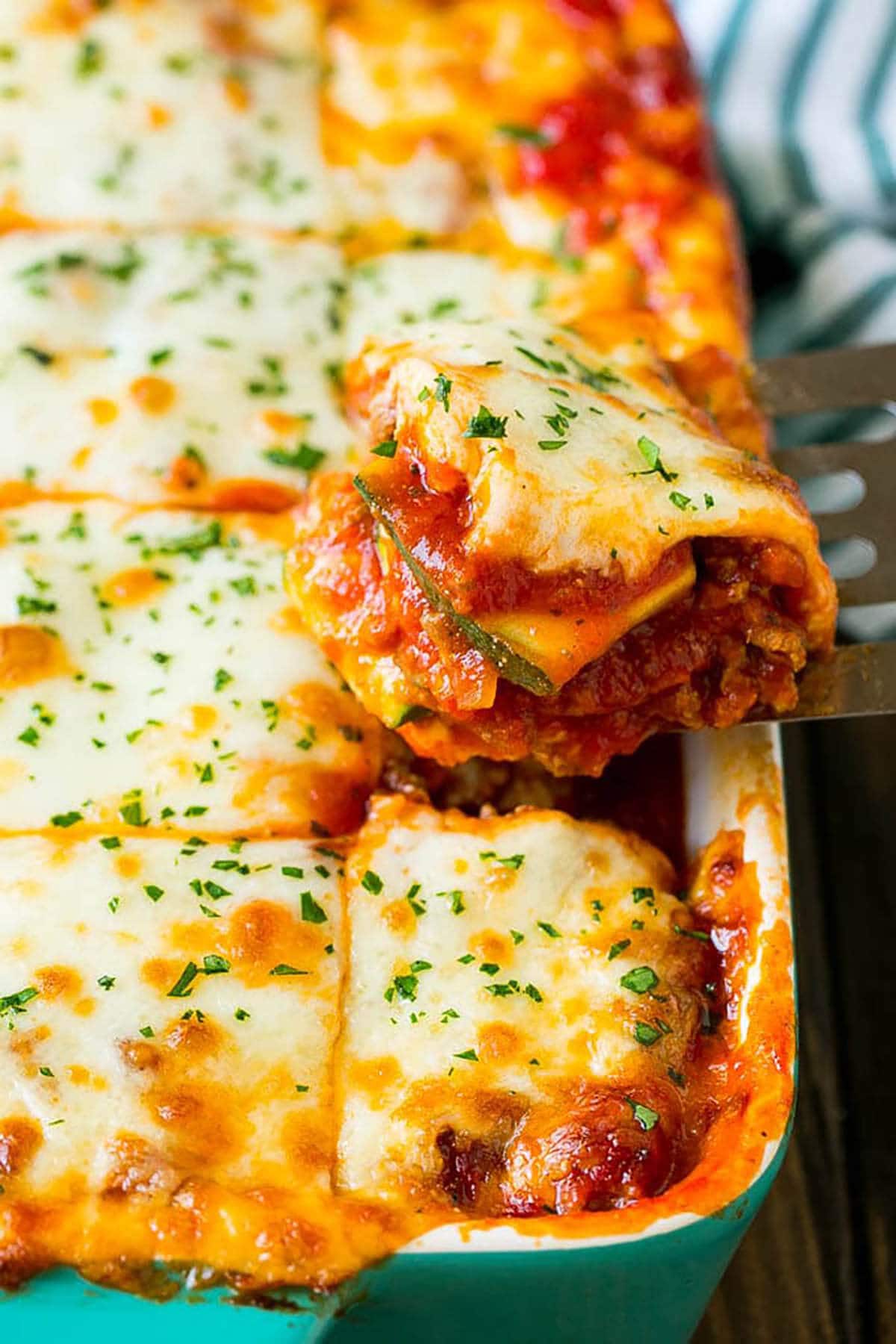 Zucchini lasagna is a delicious and healthy alternative to traditional lasagna. Made with layers of thinly sliced zucchini instead of pasta, this dish is low in carbs but high in flavor.
To make zucchini lasagna, simply layer thinly sliced zucchini with your favorite lasagna toppings, like plenty of cheese and a meaty sauce made with ground beef.
This recipe uses a combination of ricotta, parmesan, and mozzarella cheeses, but you can use any combination of cheeses that you like.
Make sure you use a low sugar marinara sauce if you're watching your carbs. Once you've assembled your lasagna, bake it in a preheated oven until the cheese is melted and bubbly.
This dish is best served hot out of the oven, but leftovers can be stored in the fridge for up to five days. Even the kids will love this low carb recipe!
This is the BEST Zucchini Casserole!
2. Ground Beef Zucchini Skillet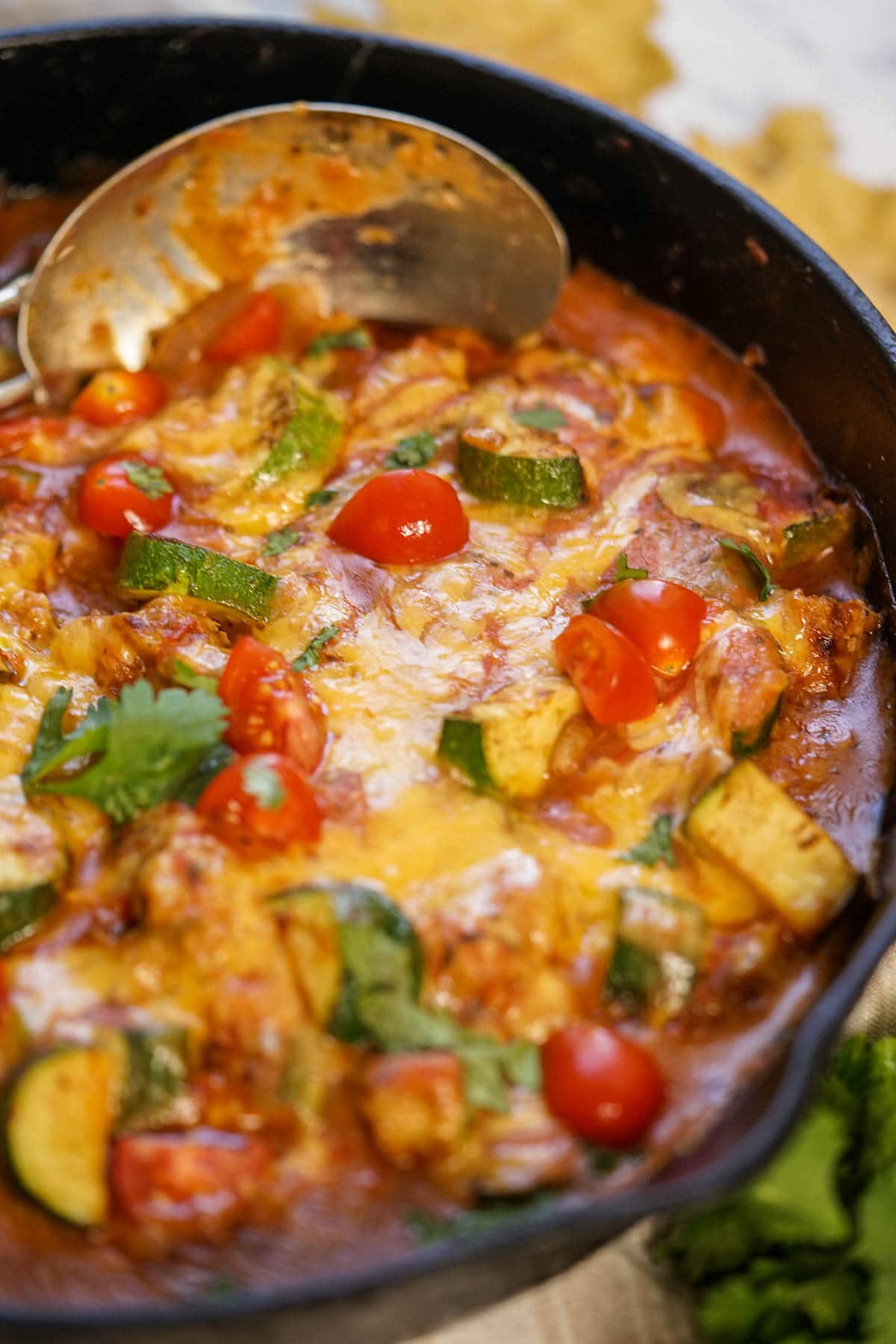 Ok, well technically this uses ground chicken, but just go ahead and substitute that for ground beef! The cheesy beef and zucchini version is mighty tasty as well!
This recipe for Tex Mex Zucchini Skillet is just the best combination of flavors. It's a hearty, quick meal for busy weeknights! I bet you'll love the combination as much as we do!
Check it out and let us know ok? Enjoy!
3. Zucchini Roll Ups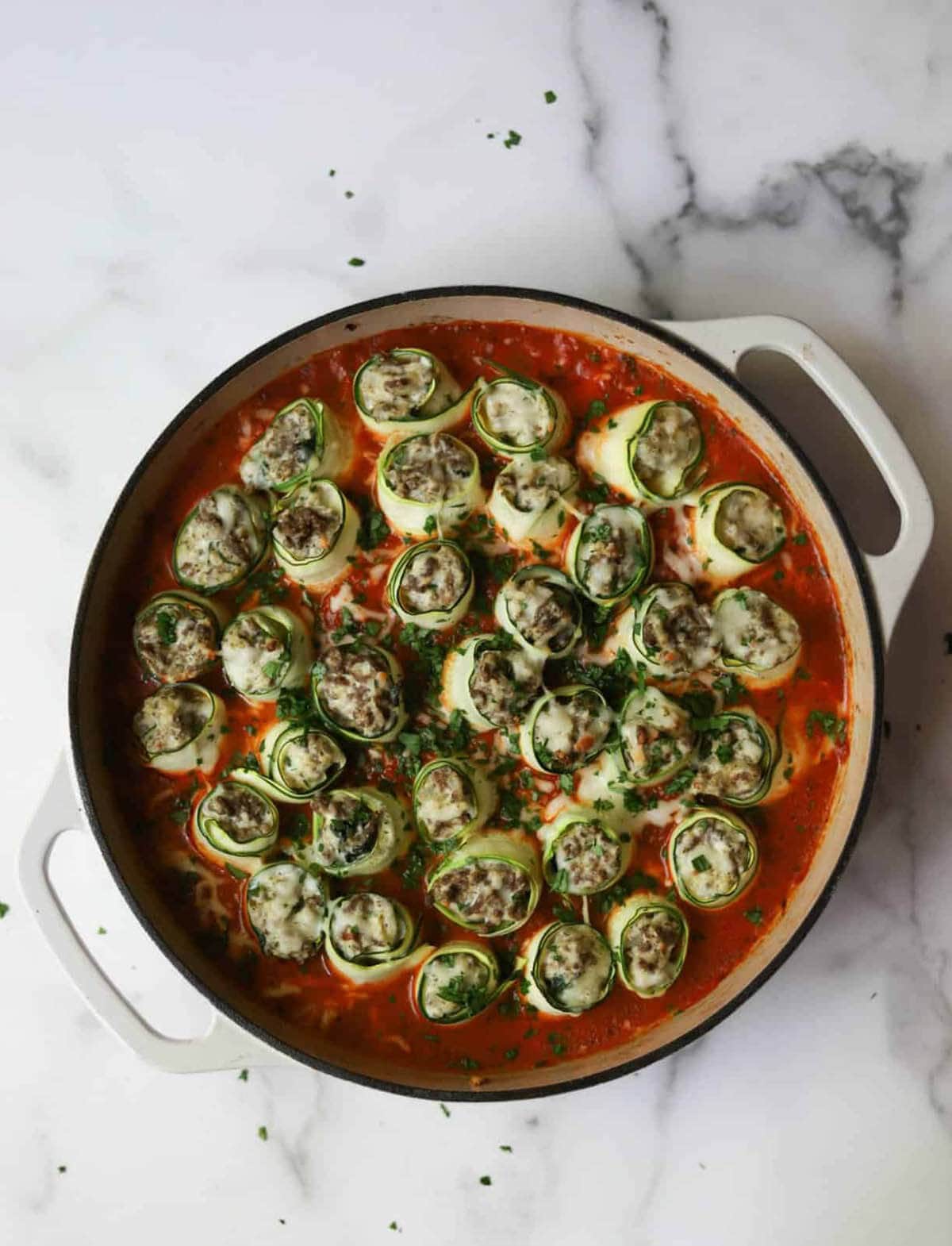 This easy recipe for ricotta and beef zucchini roll ups is very similar in flavor to zucchini lasagna but in a fun roll-up format! Ground beef is sautéed with garlic and seasonings and stuffed into thinly sliced fresh zucchini.
Then the cheesy, beefy roll ups are baked in your favorite marinara sauce. You can certainly use a jarred sauce if you'd prefer!
The recipe has added greens in the form of spinach, so it's a great recipe for sneaking extra veggies in for picky eaters.
It's a delicious combination of ricotta, mozzarella, and parmesan cheese. Try it once, and this meal will quickly become one of your favorite recipes.
4. Rice Stuffed Zucchini Casserole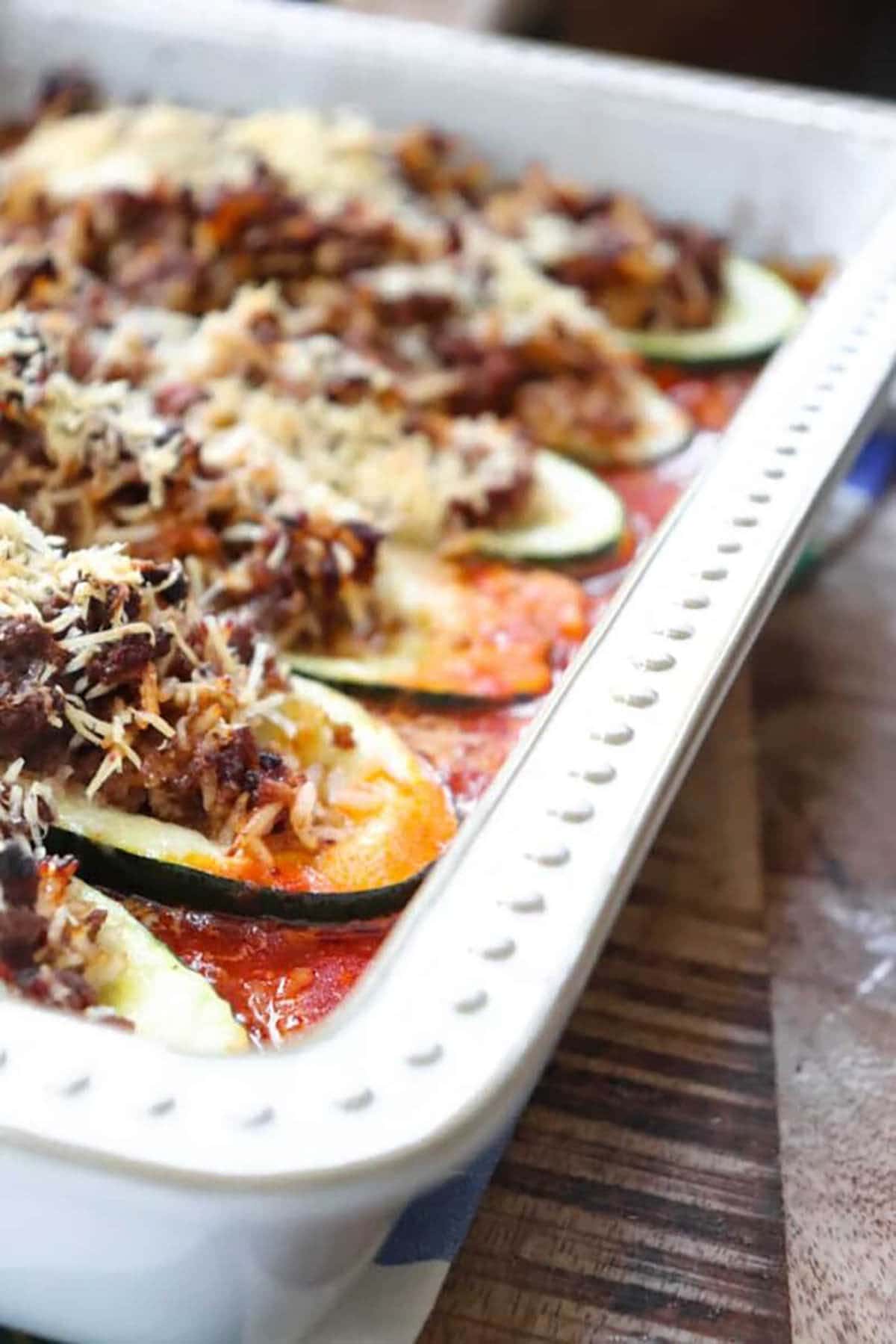 This healthy and flavorful rice stuffed zucchini casserole is a great way to use up summer produce. It's gluten-free, easy to make, and full of flavor!
You'll need a 9x13 casserole dish for the zucchini boats. And if you've never made zucchini boats before, they're so easy. Simply slice them in half lengthwise, and scoop out the seeds.
Brown the lean ground beef and onion over medium heat, adding marinara, uncooked rice, water, and spices. The combination of garlic powder and allspice is so fragrant and flavorful!
After the rice has soaked up the liquid, fill the zucchini boats and top them with freshly grated parmesan and pop them in the oven until the zucchini is tender and the rice has finished cooking.
While this recipe calls for basmati rice, you can use brown rice or wild rice instead. Just make sure you cook the brown rice first since it takes longer to cook.
5. Zucchini Pizza Casserole
This is another of those easy dinner recipes that's perfect for using up all that fresh zucchini from your garden. But don't fret—you can use frozen zucchini, too.
This low carb zucchini pizza casserole will quickly become a go-to when you want a meal that's healthier yet still feels like comfort food. Plus, it's totally customizable. Bonus? The leftovers are terrific for lunch!
Zucchini is combined with eggs, parmesan and mozzarella cheeses, and seasonings to make the crust for the pizza casserole. The trick to it is making sure you get all the water out of the shredded zucchini first.
For best results, use fresh produce, but f you're using thawed frozen zucchini, let it sit for a couple of hours in a colander first.
Then, for either fresh or frozen, combine it with a teaspoon salt. This will help draw out the water.
You'll bake the crust for 20 minutes, then top with a meat sauce made with your favorite pizza sauce and ground beef. Ground sausage would be tasty in this pizza casserole, too!
6. Keto Taco Casserole
This keto taco casserole is a delicious, easy-to-make, and family-friendly meal! It's packed with flavor, and makes a great weeknight dinner. The best part is that it's made with simple, healthy ingredients like summer squash, though you can definitely use zucchini in its place.
Ground beef is browned and then cooked with tomatoes and homemade taco seasoning (or your favorite packet seasoning). For a leaner version, try ground turkey instead.
Layer the zucchini with seasoned beef and topped with shredded cheese to bake until bubbly. Serve with your favorite taco toppings like pico de gallo, sour cream, or chopped green onions. This dish is sure to please even the pickiest of eaters.
7. Italian Stuffed Zucchini Boats
The whole family will love these Italian-style stuffed zucchini boats ! First, the scooped zucchini boats are sprinkled with Italian seasonings like oregano, rosemary, thyme, and salt. Then, the ground beef is browned, combined with sauce, and cooked with delicious red pepper (or green pepper), onions, and garlic.
Once you pile the meat mixture into the zucchini boats, top them with loads of mozzarella cheese, baking until zucchini is soft and cheese is bubbly. YUM!!
8. Paleo Shepherd's Pie
Here's a delicious casserole that's comfort food at its finest. Shepherd's pie (or technically cottage pie) is made with ground beef and plenty of veggies like garden-fresh zucchini, carrots, peas, and kale and topped with fluffy mashed potatoes.
You'll have plenty of leftovers if you're just feeding two, but it's easily scalable to feed a crowd, too.
9. Baked Zucchini Casserole
You can't go wrong with this hearty baked zucchini casserole that serves 8 — enjoy leftovers later in the week! It's packed with pasta, ground beef, 2-3 medium zucchinis (or a combination of zucchini and yellow squash), and green chilis.
Creamy and dreamy thanks to the sour cream, this will become one of your favorite easy dinners.
Once the ground beef mixture is combined with the pasta and sour cream and layered in the casserole dish, top with shredded sharp cheddar cheese. Pepper jack cheese would be delicious on top, too.
Want an even creamier dish? Add about 4 ounces of cream cheese along with the sour cream. Get the recipe for this zucchini ground beef casserole from Organized Island.
10. Mexican Zucchini Boats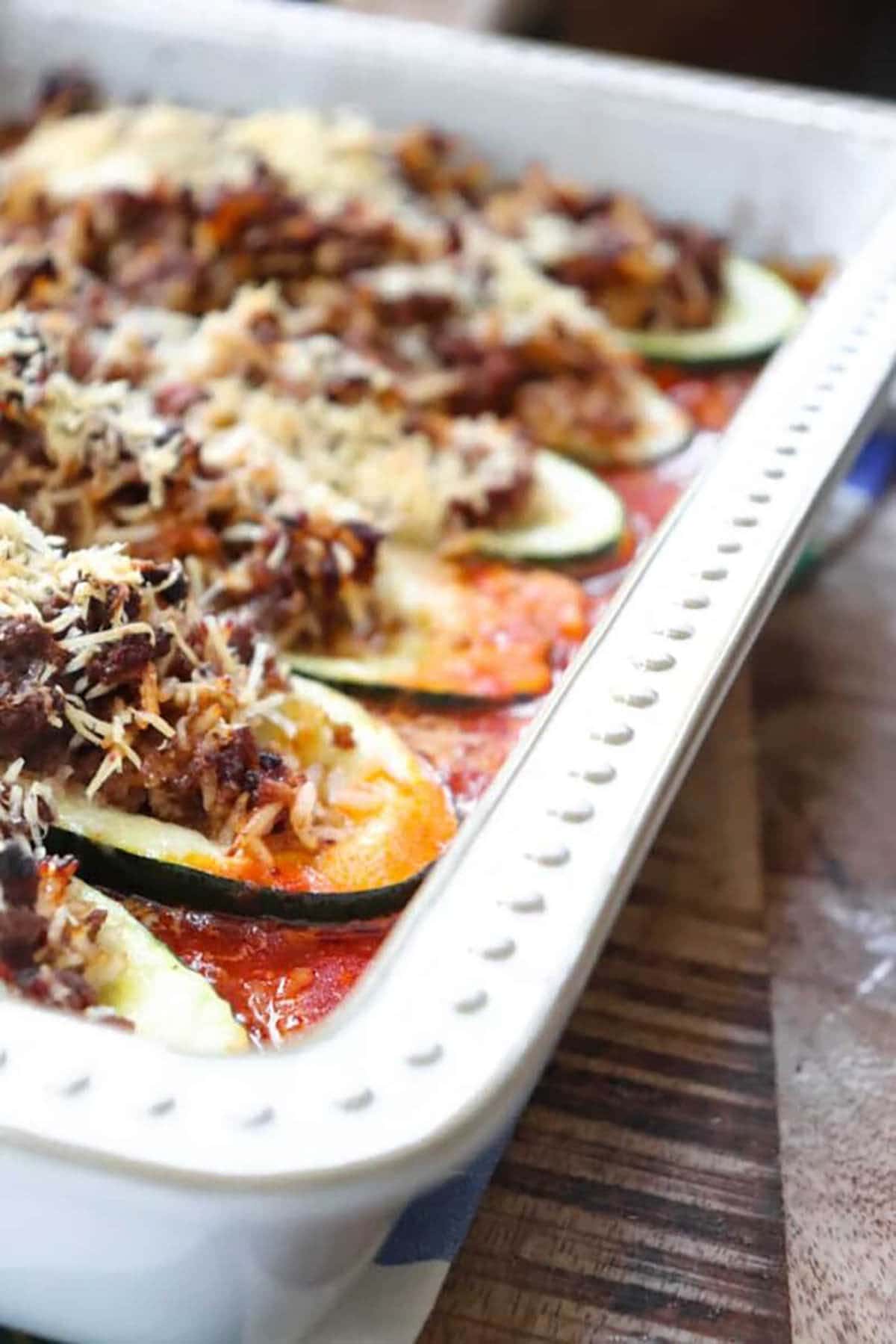 Switch things up on Taco Tuesday. Instead of your go-to taco recipe, try these scrumptious Mexican Zucchini Boats. They're packed with good-for-you ingredients, full of flavor, and super easy to make.
While this particular recipe calls for ground turkey, a leaner ground beef will work fine, bringing even more flavor to the table. Combine the browned meat with black beans, sweet corn, onions, bell peppers, and shredded cheese.
Once they're baked and the cheese is gooey and melted on top, serve these taco zucchini boats with light sour cream, salsa, and a sprinkling of chopped fresh cilantro.
11. Savory Oatmeal Bake
Sometimes, I'm taken by surprise by the creativity of my fellow foodies! That's how I felt when I spotted this savory oatmeal bake. While oatmeal is a delicious and nutritious breakfast, sometimes you just want something savory.
And you can have it even if you want oatmeal for your morning meal! That's right — you can beef up your oats, and you'll love every bite.
Oats don't have a lot of protein, so this dish really saves you a bit of time from having to add meaty sides to your breakfast. If you're wondering what this tastes like, think meatloaf!
Oats are a common ingredient in meatloaf, after all, so it should come as no surprise that the two go well together. This time, however, you get a higher volume of oats than meat.
Shredded zucchini, eggs, cheese, jalapenos, soy sauce, and seasonings all go into this protein-packed casserole to lend flavor and make it more filling. Ketchup or BBQ sauce, bacon pieces, and fresh chives are sprinkled on top for an additional pop of flavor.
12. Ground Beef Zucchini Casserole
Dinner doesn't have to be fussy. This zucchini hamburger casserole from Whole Lotta Yum is incredibly simple and ready in just 30 minutes. Plus, you can cook it all in a large skillet on the stove top and then transfer to the oven, saving yourself some time on washing dishes.
Zucchini tips
To remove excess moisture from zucchini place it in a strainer, lightly salted.
You can also place sliced zucchini on a paper towel.
Zucchini noodles are easy to make and you can save a ton of money by making them yourself.
More zucchini recipes
If you still have some zucchini from the garden, here's even more recipes to enjoy!
What's your favorite zucchini casserole recipe. Share it with us in the comments!