Golden Lentil Soup - #30minutemeal filled with warms spices & great flavor. A satisfying soup that will become a family favorite!
Golden Lentil Soup is a hearty, wholesome meal. Filled with earthy lentils and vegetables, this is a quick and easy meal. Rich and flavorful it will become your go-to meal again and again!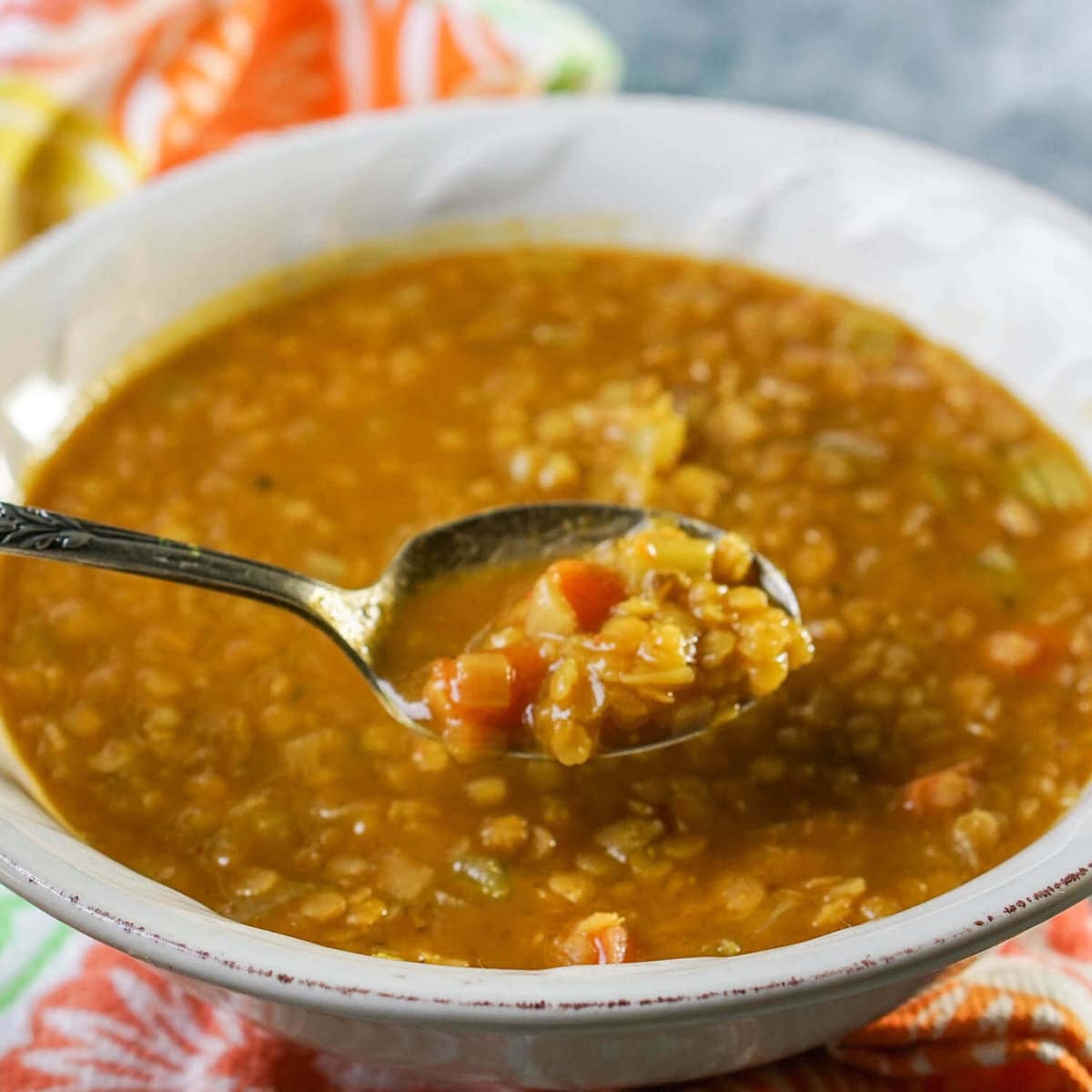 Golden Lentils
This Golden Lentil Soup is another great choice for a delicious wholesome meal. It also only takes 30 minutes to make and at the end of the day though when you're tired, it's always good to have a simple go-to meal that you can enjoy in a snap!
The flavors are bright and warm with cumin and coriander and chili powder and with a quick chop of celery, carrots and onion - you'll have dinner or lunch together in no time.
Finish it at the end with a squeeze of fresh lemon juice and it's a delicious soup and definitely one of our favorites!
Ingredients for Soup Recipe
orange lentils - though you can use brown or green lentils the orange lentils are quick cooking.
onion, celery, carrots - great vegetables to balance out the flavors.
chicken stock - though you can substitute water or vegetable stock, I like the flavor combination using chicken stock.
cumin, chili powder, salt, coriander, turmeric, yellow curry - loads of great warm spices for this comforting soup.
olive oil - for sautéing
lemon - optional addition at the end - it's the best way to finish this soup!
Frequently asked questions about Lentils
What are golden lentils?
Golden or orange lentils are members of the legume family. They are small in size, only about ¼ inch in diameter. Their flavor is mild and buttery.
Is lentil soup healthy?
Lentils are high in fiber and low in calorie - they are wholesome and Harty!
How long will lentil soup keep?
In the refrigerator this soup will keep for three to five days. Frozen it will keep up to three months!
Do lentils need to be soaked?
No need to soak them, they cook in a short period of time.
Are lentils healthier than beans?
They are actually part of the same family as beans. Great choice for a healthier lifestyle.
Steps to make Golden Lentil Soup Recipe
Start by chopping & dicing the onion, carrot & celery.
Sauté the vegetables for about 5 minutes - then add the spices and lentils. Stir everything together and next add the liquids.
Bring to a boil and then reduce the heat and simmer for 15 minutes, stirring occasionally.
Remove it from the heat and finish with a fresh squeeze of lemon.
More delicious Soup Recipes from the blog!
I'm such a fan of lentil soup, I've developed a couple for the blog. If you like this one, be sure and try my Instant Pot Lentil Soup - great flavor and so delicious! Another is Lentil and Sausage Soup. The earthy flavor of the lentils goes so well with sausage!
Here are a few more of my favorite soup recipes!
Chicken and Sweet Potato Curry
Chicken and Sweet Potato Curry AND it's made in the slow cooker!
Check out this recipe
Chicken Tetrazzini Soup Recipe
Creamy and rich this stew is filled with tender chicken, earthy mushrooms and creamy jack cheese. It's savory and delicious! Get dinner on the table in 30 minutes or less!
Check out this recipe
15 Bean Soup with Ham
15 Bean Soup - Smoky, rich and flavorful this soup has beans, hambone, carrots, celery, onions, cherry tomatoes, spinach and a TON of great flavor!
Check out this recipe
Golden Lentil Soup
Golden Lentil Soup - #30minutemeal filled with warms spices & great flavor. A satisfying soup that will become a family favorite!
As an Amazon Associate I earn from qualifying purchases.
Ingredients
1

cup

dried orange lentils

1

cup

chopped onion

½

cup

chopped celery

½

cup

chopped carrots

4

cups

chicken stock

or vegetable stock

1

cup

water

2

teaspoon

cumin

1

teaspoon

chili powder

1 ½

teaspoon

salt

1

teaspoon

coriander

½

teaspoon

turmeric

¼

teaspoon

yellow curry

1

tablespoon

olive oil

½

lemon

optional
Instructions
Dice the onion, carrots and celery.

Heat a heavy stock pan over medium heat. Add the olive oil and the vegetables. Sauté for 4-5 minutes until they just begin to soften.

Next add the spices. Stir them in and mix well with the vegetables - add the lentils and sauté for another minute and add the stock & water.

Increase the heat to high and bring to a boil, reduce to medium low and continue to simmer the soup, stirring occasionally. It will take about another 15 minutes until the lentils are completely cooked.

When the lentils are cooked, remove from the heat and finish by squeezing the juice of half a lemon into the soup, stir to combine and serve.
Notes
Serving suggestions for Lentil Soup
Nutrition
Calories:
207
kcal
|
Carbohydrates:
28
g
|
Protein:
12
g
|
Fat:
4
g
|
Cholesterol:
4
mg
|
Sodium:
836
mg
|
Potassium:
580
mg
|
Fiber:
10
g
|
Sugar:
5
g
|
Vitamin A:
1970
IU
|
Vitamin C:
9.2
mg
|
Calcium:
43
mg
|
Iron:
3.3
mg
Sign up for my recipes here!!
Don't worry, we'll never share your email.