Heavy winter snow and the spring thaw sends water gushing over Yosemite Park Waterfalls! Springtime and early summer is the perfect time to view Mother Nature's powerful display in the National Park!
Yosemite Park Waterfalls
Today instead of posting a recipe I'm sharing one of our favorite places to visit just outside of Fresno, Yosemite National Park!
Living so close to Fresno, packing up the FJ and heading up the hills is something we don't do often enough!
Have you ever been to the park? The waterfalls are breathtaking! If you're looking to see amazing falls, spring and early summer is the best time to visit!
The snow-pack was over 150% of normal this year. This means the melt-off that feeds the falls results in a stunning, powerful display!
Popular Waterfalls at Yosemite
Some of the most popular Yosemite National Park Waterfalls are Yosemite Falls, Bridalveil Falls, Vernal Falls and Horsetail Waterfall which puts on a stunning fire display in February.
Fire Fall Waterfall
What is the best month to visit Yosemite National Park?
Spring is the best time to view the powerful waterfalls. If you're looking for uncrowded viewing, fall is my favorite time to visit the valley. It's less crowded with stunning views, so amazing!
What activities can you do at Yosemite National Park?
see the waterfalls, of course!
visit Glacier Point - so beautiful!
drive up and over Tioga Pass, picnic at Tuolumne Meadows
continuing on Tioga dropping into Mono Lake in the Eastern Sierras
visit the giant forest
gaze at the majesty of El Captitan
rock climbing and camping, there is something for everyone!
Can you drive into Yosemite National Park?
Of course! There are five entrances into Yosemite. The most stunning view into Yosemite (in my opinion!) is by entering Yosemite from Hwy 41 from Fresno which takes you to Tunnel View.
El Capitan on the left and in the distance, you can see Halfdome a popular hiking destination!
What should I bring to Yosemite National Park?
everything you need to eat. The eating establishments are few, far between and limited. We always bring in picnics for day trips.
if you're going to do any hiking, dress accordingly. Great hiking boots that are comfortable, along with shoes to change into when you're done.
proper clothing - where it may be 85-90 degrees (or more!) in the San Joaquin Valley, temperatures in Yosemite will be cooler. The elevation ranges from 4000 in Yosemite to over 10,000 feet on Tioga Pass. Layers of clothing are best!
because you're at a higher elevation, sunburn is an issue! Be sure and bring plenty of sunscreen, a wide-brimmed hat and sunglasses.
don't forget your camera, there is beauty everywhere you look!
How much does it cost to get into Yosemite National Park?
A day pass for your vehicle is $30 dollars. We purchase a yearly pass every year that gets us into all National Parks in the United States - $80 dollars. Great value!
Bridal Veil Falls, Yosemite
Bridal Veil showers water year round. In the spring when the water is pounding over the falls, it's a great way to cool off because you will get wet from the spray!
My big concern is always my camera. A DSLR and water don't get along! Just be careful and cover your camera from the spray.
Vernal Falls
Vernal Fall is a 317 feet waterfall on the Merced River just downstream of Nevada Fall and is visible from Glacier Point.
This waterfall also runs year long. By the end of summer it is reduced in volume and can split into multiple strands, rather than one curtain of water.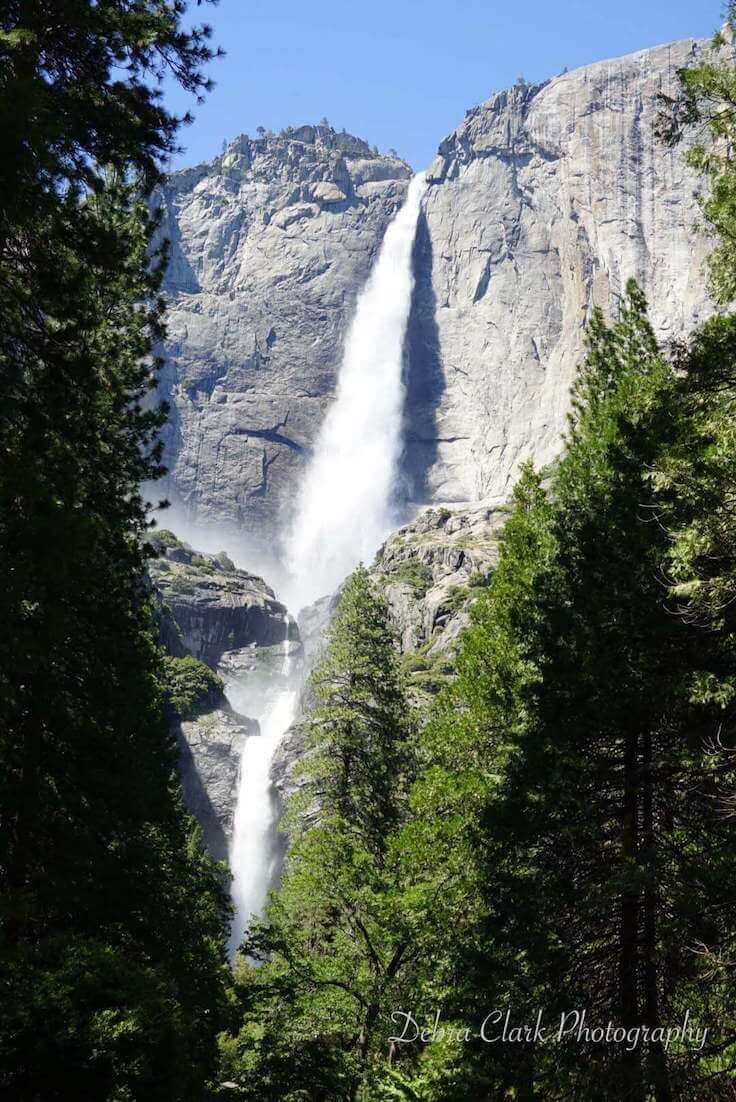 Yosemite Falls
My favorite falls and the crowning glory of the Park is Yosemite Falls! It is the highest waterfall in Yosemite National Park, dropping 2,425 feet from the top of the upper fall to the base of the lower fall.
The walk up to the falls is an easy stroll with an absolutely breathtaking view! If you're inclined and dressed properly, (and well trained for the hike!) you can even hike up to the top of the falls for another spectacular view!
If you'd like a glimpse of the power of the waterfall right now, click here for the Yosemite Falls webcam.
I hope you enjoyed this tour of Yosemite National Park! It's one of my favorite places to visit! If you've toured the park, tell me what you loved most! click here for more information from the National Park Service and Yosemite Park Waterfalls.
Great ideas for a picnic when visiting Yosemite!
Bow Tie Pasta Salad - this is the perfect picnic salad - no mayo and absolutely delicious!
Picnic Sandwich - don't let the simple name allow you to overlook this sandwich! It's a pressed sandwich, made ahead with a roasted red pepper and pepperoncini spread - it's amazing!
A handful of peanut butter oatmeal cookies to share would be a great and simple dessert!
Bring plenty of bottled water, at high elevation you'll get dehydrated more quickly.
Here are several more adventures on the blog you to check out!
What's your favorite vacation spot? Please comment below!