Today is a holiday often spent relaxing with friends and family - grilling, visiting, and enjoying a three-day weekend. However, Memorial Day was created to remember those who have died while serving in the American Armed Forces.
Jump to:
Honoring Memorial Day
The holiday started after the Civil War to honor both Union and Confederate soldiers who died in battle. It became an official holiday in 1967.
Many of my family members have served in the military.
My Dad served in the Army from 1959-1962.
Dan's Dad was in the Navy and served during the Korean War. His uncles also served in the military as well.
My Uncle Gene was a Marine and served in Vietnam.
Uncle Jerry was in the Navy and on the U.S.S. Lake Champlain when Astronaut Alan Shepard was plucked from his space capsule when it splashed into the ocean!
Great Grandpa Guy
My Great Grandpa Guy was also in the service. He served in the Army during World War I.
Private Guy Marker was 22 years old when he served with the 30th Infantry Division, Regiment 119th Company M.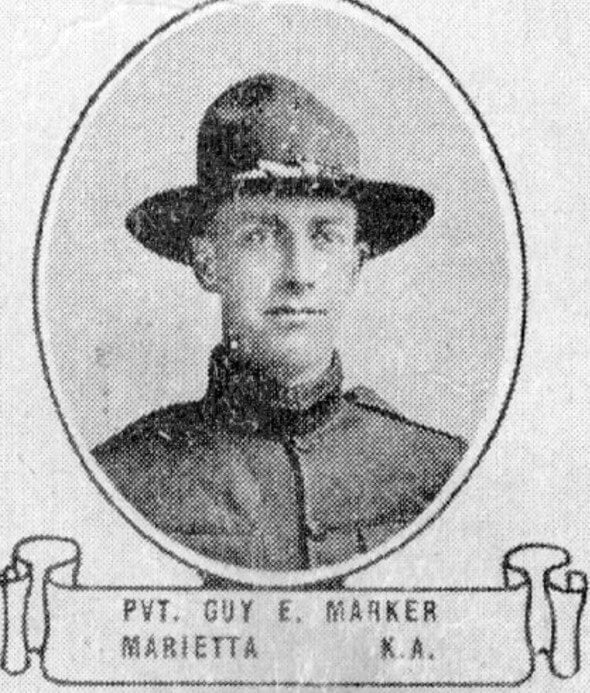 K.A., in the above photo, stands for Killed in Action.
Memorial Day Remember and Honor
This Division was one of two U.S. Army Divisions assigned to the Hindenburg Line in the Battle of St. Quentin Canal. Total casualties were 8,415 - Killed in Action were 1,237.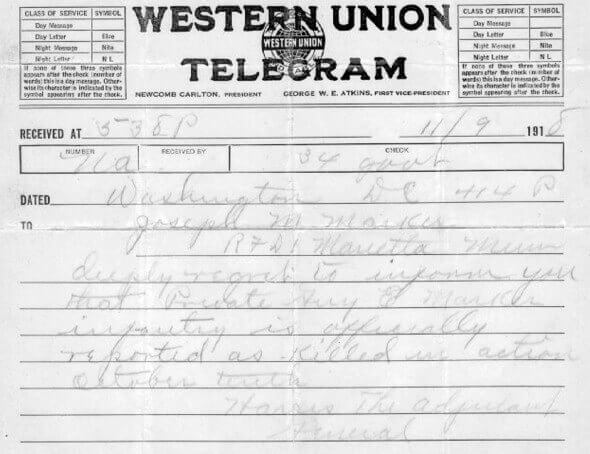 Who is Honored on Memorial Day
This is a copy of the telegraph his parents received on November 9th, 1918. It reads;
"Joseph (Guy) E. Marker, R7D1 Marietta Minnesota. Deeply regret to inform you that Private Guy E. Marker Infantry is officially reported as Killed in Action October tenth, 1918."
The family was devastated, but imagine how elated they were just days later when they received a letter from their son!
He wrote them from the hospital in England where he was recuperating. He explained he was shot, but he'd be returning home after he recovered.
The telegram was sent in error!
After being discharged from the Army, Guy Marker went on to marry, had four children, grandchildren and great-grandchildren before passing away at the age of 73.
Honor Memorial Day 2022
This is a picture of Grandpa Guy & Grandma Ester at his retirement party. After serving in the Army, he worked for the U.S. Postal Service for 30 years before retiring.
Below is a great picture of my brother & I with Great-Grandpa Guy & Grandma Ester in 1963.
Quite the story huh? I try to put myself in his parents' shoes when they received that telegram. How would I have reacted?
Do you have a story to share about the Veterans in your family? Please comment below, I'd love to hear it!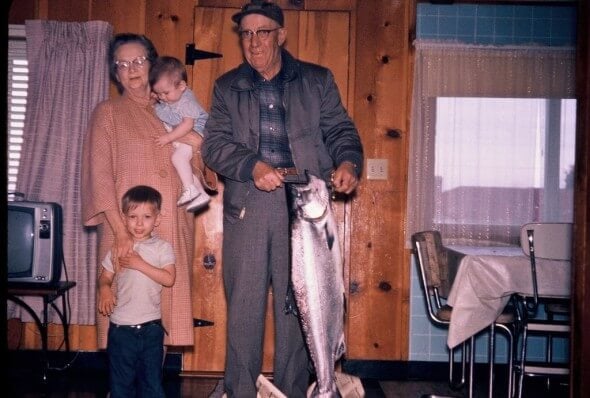 I always enjoy time with family & friends on long weekends, but I also remember why we celebrate Memorial Day.
Ways to Honor Memorial Day 2022
Honor the dead by supporting living Veterans - volunteer.
Fly a United States Flag.
Attend a Memorial Day Parade.
Thank a veteran.
Visit a cemetery and decorate the graves of fallen heroes.
Pause in remembrance, consider the true meaning of this holiday.
Watch the National Memorial Day Concert - a service for the entire nation.
"All gave some; some gave all." Howard William Osterkamp, Korean War Veteran, Purple Heart Recipient.
If you're having a cookout to honor the holiday, here are a few of my favorite recipes to consider! Grilled Ribs or Instant Pot Ribs, Corn on the Cob, Deviled Egg Potato Salad with Strawberry Shortcake for Dessert!
Related content
For more family adventures and fun, be sure to check out these blogs: