This recipe for over-the-top Brownie Bundt Cake with Strawberries uses an easy shortcut to make an amazing dessert. Rich chocolatey brownies, topped with strawberries, ice cream and macadamia nuts and finished by drizzling with fudge and caramel. Unbelievably delicious!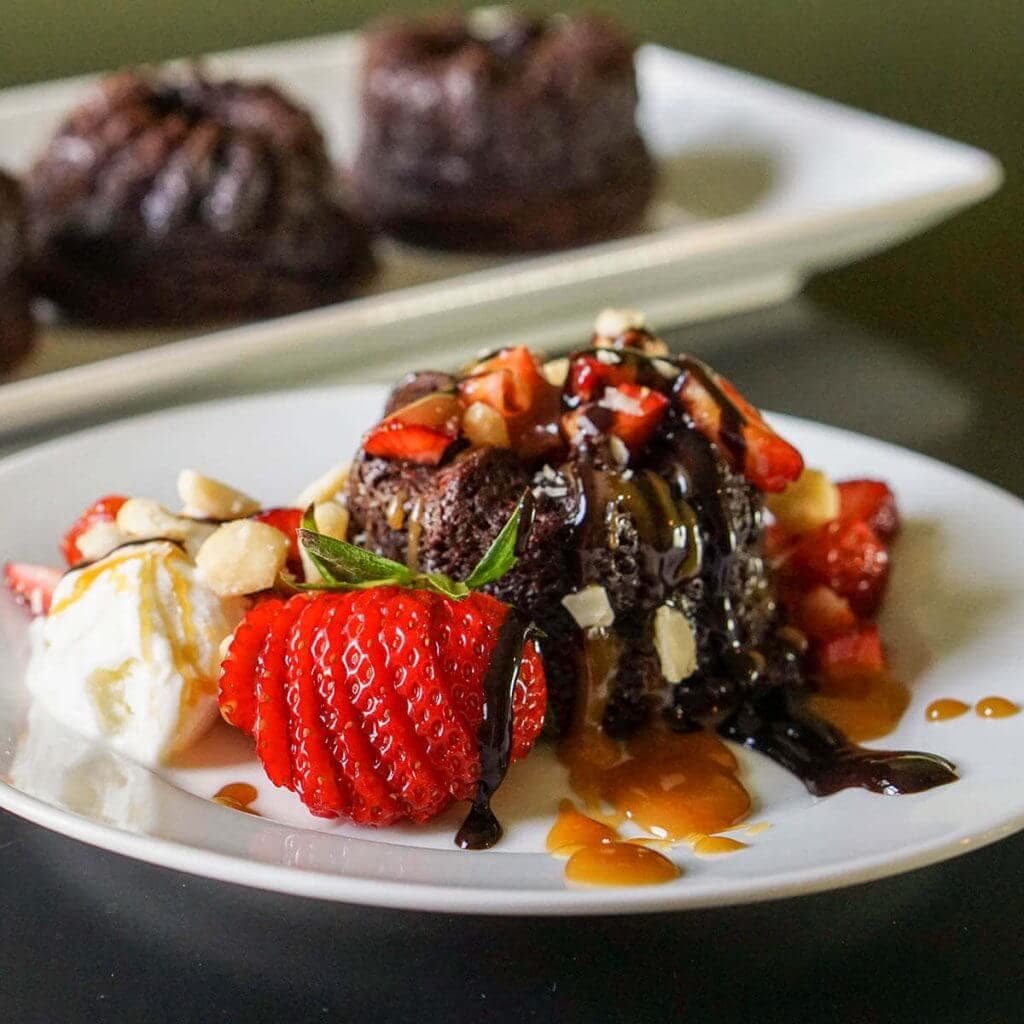 Chocolate Brownie Bundt Cake
When I lived in Minneapolis my Grandma would fly back from New York (where she wintered) to Minneapolis in the spring. She'd fly in and stay with me for a week or two and then I would drive her out to the family farm.
This was a special time, because I would get to spent one-on-one time with Grandma. We'd laugh and visit, do some quilting together and enjoy each other's company.
One day, before I left for work, I told her that we had reservations at a really nice restaurant in Minneapolis. Manny's Steakhouse serves excellent food and they are pretty fancy! I said – make sure you're hungry Grandma, because it is super good!
I got home from work at 4:30 and Grandma was sitting on the couch with her purse in her lap and her coat on. She immediately announced that she hadn't eaten since dinner (dinner in the Midwest is the midday meal – supper is in the evening) and she was very hungry and we should leave immediately. Ok I said and we were off!
Manny's served everything family style so we had asparagus and mashed potatoes and each of us ordered a steak. Grandma had a ribeye steak and it was incredibly delicious and ridiculously large.
I would be darned if my tiny Grandma didn't eat the whole thing! So when they brought around the dessert tray – I was pretty sure we would all pass, there was no way we could eat any more!
Well that's where I was wrong. Grandma looked at that dessert tray and hemmed and hawed and just couldn't decide.
Finally she looked at the waiter and said, I can't decide between strawberry shortcake or the brownie brunt cake. Can you make me both? With a big smile, I nodded to the waiter and off he went.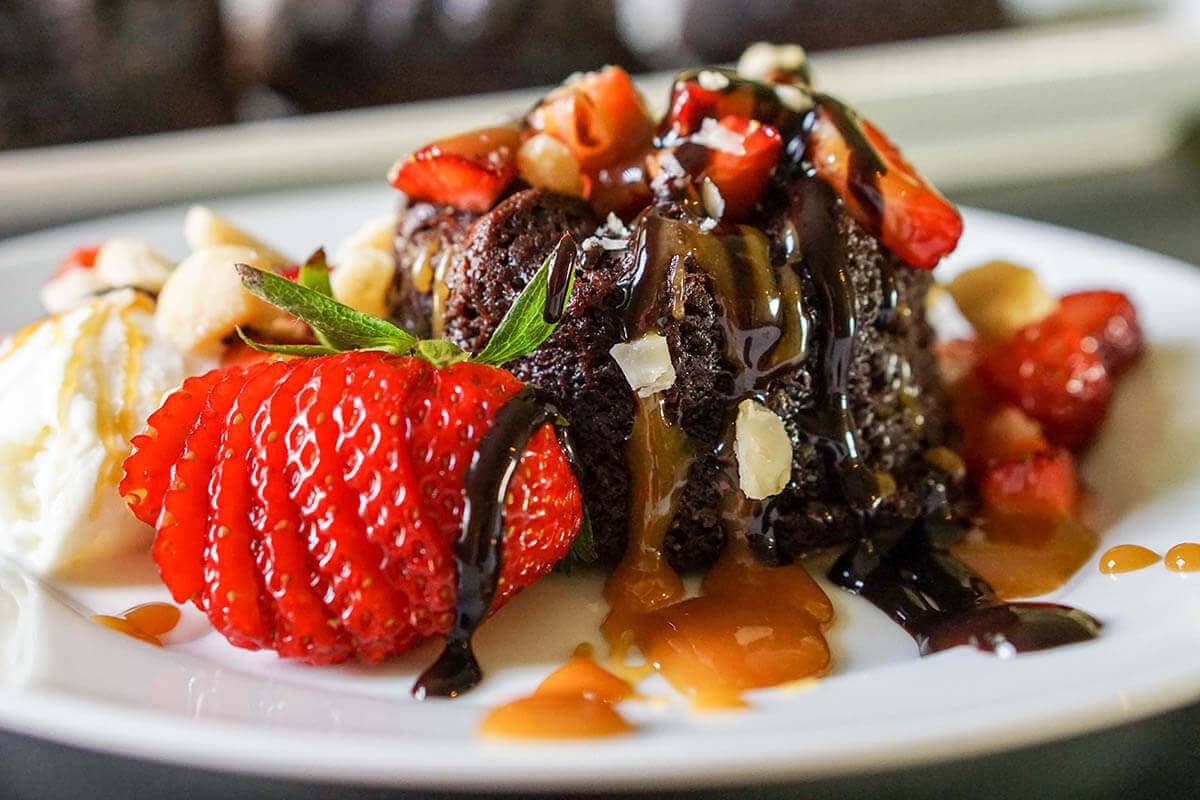 Easy Semi-Homemade Dessert
While we were waiting for dessert, we were engaged in conversation and realized that entire restaurant had fallen silent. That's because the waiter was bringing out our dessert. It had literally stopped conversation!
They made a special dessert for my Grandma – the Brownie Bundt Cake was topped with ice cream, sliced strawberries, caramel, hot fudge and macadamia nuts, then a second layer of brownie was on and piled with same toppings! Truly the most incredible dessert I have ever had. And I'd be darned if my tiny little Grandma didn't eat two huge slices! It was outrageous!
Ingredient list
brownie mix – use your favorite box mix.
strawberries and sugar – sliced and sprinkled with sugar, it makes the strawberries extra sweet.
chocolate and caramel sauce – how made is great, but store-bought works just fine!
macadamia nuts – now's the time to splurge, with these delicious nuts!
Why do brownies have a flaky top?
As brownies cool, the air bubbles shrink causing the top to crack and be flaky. In this case though it doesn't matter – the top will be drizzled with sauce and no one will be the wiser!
What if I don't have a bundt pan?
No worries, you can certainly bake the brownies in a pan and just stack and layer the dessert. That will work nicely too!
I've included a link below, if you're looking for a mini bundt pan.
Steps to make this dessert
This is super easy to make and it really makes a statement. Fancy dinner or date night dessert? YES! This will be perfect! Here's how it's done!
Spray bundt cake molds well with non-stick spray.
Prepare and bake the brownie mix according to package directions. When a toothpick comes out clean, remove the cakes from the oven, allow to cool.
Clean and slice the strawberries, sprinkle with sugar and set aside.
When you are ready to assemble, slice the cake in half horizontally, layer the cake with ice cream, sliced strawberries, chocolate and caramel sauce, top with chopped macadamia nuts. Top with second layer and repeat.
Brownie Bundt Cake from a Brownie Mix
More Sweet Treats to enjoy!
This from scratch Strawberry Bundt Cake, has me swooning! Or how about chocolate Moon Pies for your sweet tooth or a delicious light Blueberry Parfait? Here are a few more treats to enjoy!
I am a participant in the Amazon Services LLC Associates Program, an affiliate advertising program designed to provide a means for us to earn fees by linking to Amazon.com and affiliated sites.
Some of the items below contain affiliate links, however, I only promote things that I love and think you will love, too. For more information, please see my Disclosure Policy.
Mini Bundt Cake Molds – perfect to make individual cakes!
Don't forget to check out my Amazon storefront for some of my favorite products! 🛍️
I'd love to see your dessert! When you make this please be sure to tag me on Instagram @bowl_me_over or just use the hashtag #bowlmeover. I can't wait to see your cake!
Brownie Bundt Cake