Made with a Devil's Food Cake mix. Doll'd up with caramel sauce, topped with Cool Whip, chocolate and crushed candy bar bits, this delicious cake is seriously over the top! And THAT's why it's called the best Better than Sex Cake Recipe! 😋
Be sure and try this recipe for Strawberry Shortcake Brownie, it's over-the-top as well! This is one of the best decadent dessert recipes!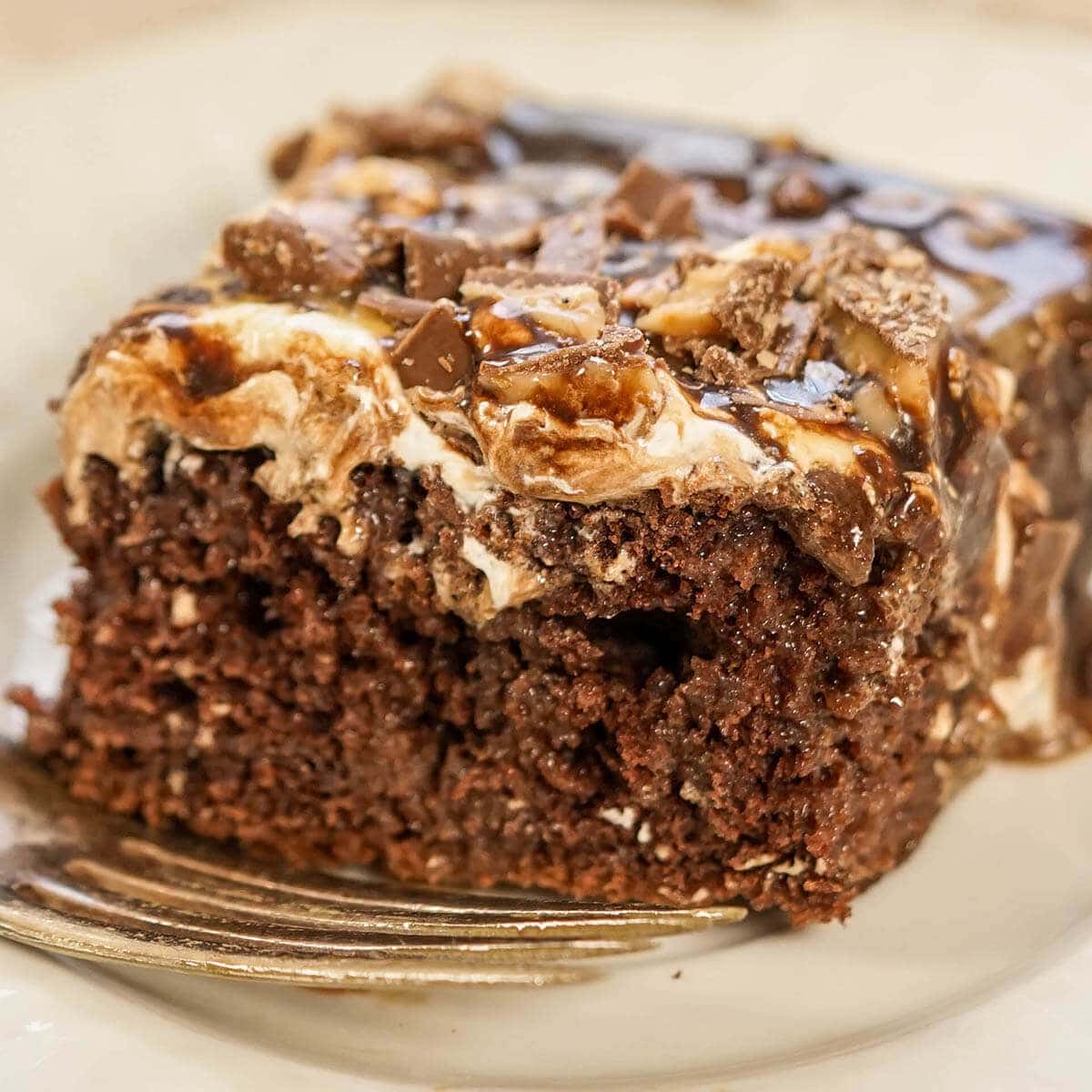 Jump to:
Why you'll love this recipe!
Dan (the most experienced food taste tester ever!) totally agrees! I know when he goes back for thirds... I definitely have a winner!
And yes he totally went into a food coma after eating three pieces BUT he said it was worth it. Let me tell you.... you NEED this cake in your life!
Bonus? This is an easy chocolate cake mix recipe that starts with a boxed cake mix!
Deb... you're saying... seriously now... Better Than Sex Cake Recipe? Yup! You know I like my over-the-top chocolatey desserts and this one takes the cake - pun intended!! 😋
Ingredients
For the exact measurements, please refer to the recipe card at the bottom of this post.
Ingredients
Devil's Food Cake Mix - or German Chocolate cake mix, or make a homemade chocolate cake! Of course you can use a yellow cake mix if you think it's too much chocolate... (but isn't that why we're making this cake?!!)
eggs
butter
milk or half and half
For the toppings you'll need:
chocolate syrup and caramel sauce - you want the drizzly kind! Now by all means, if you want to make homemade caramel sauce and chocolate sauce you can, but I used store bought.
sweetened condensed milk - one whole can
cool whip - yes, I used sugar free. Kinda seems crazy but it worked just fine. Regular works well too.
Heath bars - 3-4 candy bars, if you like super crunchy texture, use four bars. You can also use Heath toffee bits.
Instructions
This is an overview of the instructions for the bts cake. For the complete directions just scroll down to the bottom!
In large bowl, combine the cake mix with butter and milk.
Add the eggs one at a time, mixing between each addition.
Pour batter into the pan, bake cake mix as directed.
When it's done baking, immediately poke holes all over the hot cake with the back of a wooden spoon. No need to let the cake cool.
While it's still warm, pour the sweetened condensed milk over the cake.
Next pour caramel sauce over the cake and refrigerate.
Chop the candy bars into small bits.
Remove from the refrigerator, top with Cool Whip, drizzle with chocolate and remaining caramel. 
Sprinkle with candy bits!
Tips
This cake is perfect for a potluck and it's best when made ahead!
I cut it into squares and we feasted with a slice every night. Usually Dan had two pieces. YUM!!!
Make a better box cake mix
As you may (may not?!) know, I do a lot of volunteer baking for Cake4Kids.org making birthday cakes for foster children. I've learned how to take an ordinary cake mix and take it to the next level.
How?
By upping the ingredients for the box mix!
Substitute butter for oil, milk for water and add an extra egg!
This makes the cake more moist, decadent and delicious. Like a fancy bakery made it - but you baked it at home!
Kid you not, it makes all the difference in the world!
Best shortcut?
Cool Whip.... yes, you can certainly whip your own cream, but honestly cool whip is perfect and it tastes great!
FAQ
What is a poke cake?
It's a cake that you poke holes in after baking, then it's filled with an amazing pudding. They are easy to make and delicious! If you like chocolate, you'll love this!
What do you use to poke the holes?
You can use the end of a wooden spoon or a small dowel. Whatever you use, it should be about the size of a pencil. If you have kids, they will love to help you with this part!
What pan is best?
Use a 9x13 baking dish, either glass or metal is fine!
Does it need to be refrigerated?
With all of the amazing chocolate and caramel pudding mixture, this cake needs to be refrigerated and is best served cold.
How long does it last?
We had it in the refrigerator for 5 days before slicing it into squares and freezing it. Wrap the slices individually and freeze. They will store for at
Can you freeze it?
Absolutely! It will be best if you slice it first prior to freezing. W
Equipment
The following are affiliate links. We are a participant in the Amazon Services LLC Associates Program, an affiliate advertising program designed to provide a means for us to earn fees by linking to Amazon.com and affiliated sites.   
Baking Must Have's for My Kitchen!
Variations
There's a variety of combinations you can use to make this recipe!
crushed chocolate toffee bars
reese's peanut butter cups
or mini chocolate chips
you can use heavy cream and make your own whipped topping.
Related Recipes
What I've learned
Poke cakes are easy desserts! They were popular cakes in the sixties and seventies for a reason. They are super easy to make and the best cake to feed a crowd. They are absolutely delicious! There is very little effort for a serious WOW factor!
I hope you give this recipe a try soon!
Better Than Sex Cake
Heath Bar Cake Recipe - this over-the-top box mix cake is rich chocolate perfection!
As an Amazon Associate I earn from qualifying purchases.
Equipment
Kitchen Aid Mixer

Measuring Cups

Measuring Spoons
Ingredients
1

Devils Food Cake Mix

***I used Pillsbury however you can use any box mix, see note below.

1

cup

milk

or half 'n half

½

cup

butter

melted

1

cup

caramel sauce

divided

14

ounce

sweetened condensed milk

½

cup

chocolate sauce

3

Heath candy bars

use anywhere from 2-4

8

ounce

whipped topping

I used cool whip - don't even ask why it's sugar free, LOL!
I earn a commission from Instacart from qualifying purchases.
Instructions
Preheat the oven to 350 degrees.

Spray the pan with non-stick cooking spray, set aside.

Start with the box mix, add the butter and milk, mix to combine.

Add the eggs, one in a time - mixing between each addition.

Bake as directed according to the package directions.

Remove from the oven and while it's warm, using the end of a wooden spoon poke holes all over the cake.

Remove the cake from the oven, immediately poke holes over the entire cake. I used the handle of a wooden spoon.

Pour the sweetened condensed milk over the top of the cake.

Next drizzle three fourths of the caramel sauce over the cake.

Allow to cool on the counter for an hour to room temperature. Refrigerate for two hours.

While it's chilling, chop the candy bars into small bits.

Remove the cake from the refrigerator, top with Cool Whip, drizzle with chocolate and remaining caramel.

Sprinkle with candy bits!

Serve and seriously enjoy! Cover with plastic wrap, refrigerate leftovers.
Notes
***I used a Pillsbury cake mix. If you use another mix - say Duncan Hines, just switch out water and butter for milk and butter. Make it a direct swap, in other words if that box mix calls for ¾ cup water, use ¾ cup milk. Add an additional egg.
This is a great make-ahead dessert. Make it the day before and keep it refrigerated. It's perfect for a potluck or party. It is the mostly chocolatey of all chocolate treats!
Nutrition
Calories:
277
kcal
|
Carbohydrates:
39
g
|
Protein:
3
g
|
Fat:
13
g
|
Saturated Fat:
7
g
|
Cholesterol:
17
mg
|
Sodium:
373
mg
|
Potassium:
162
mg
|
Fiber:
1
g
|
Sugar:
18
g
|
Vitamin A:
225
IU
|
Calcium:
82
mg
|
Iron:
1
mg
Sign up for my recipes here!!
Don't worry, we'll never share your email.