Easy Spaghetti Sauce Recipe
Ordinary jarred spaghetti sauce gets and update with this easy recipe!
Be sure and try this chicken spaghetti recipe next, it's one of the most popular on the blog!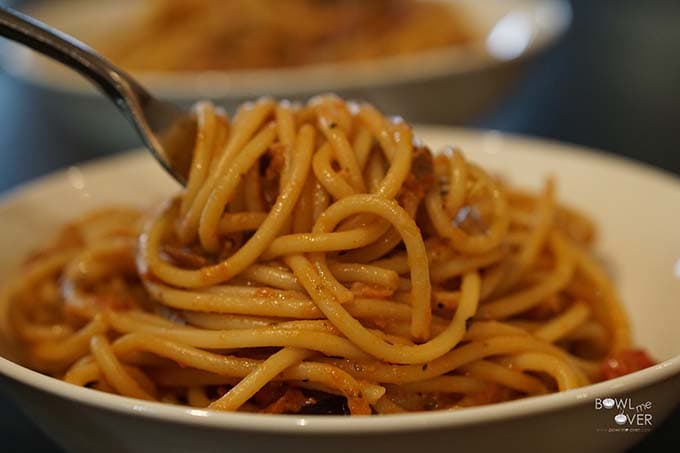 I have a super easy recipe for you today and... we're going to take a shortcut. I figure since I don't have all day to cook a weeknight meal - pretty sure you don't either! So I'm sharing one of my fav meal shortcuts. You know when it's been a crazy busy day, but you still want to serve something wonderful to your family at dinnertime. Using simple pantry & staple ingredients, you can have this one on your table in 30 minutes!
Easy Spaghetti Sauce starts by sautéing onions & sliced mushrooms (don't have fresh, use canned - just drain them first) add in some garlic, red wine and a jar of your favorite red sauce.
Want to bump up the veggies? Include shredded carrots and/or finely chopped celery, bell peppers or fennel. You can also add some sliced olives, sun dried tomatoes or roasted red peppers, that will deepen the flavor of the sauce.
Then I added 1 25 oz. jar of marinara sauce & some water and chopped olives, roasted red peppers and peperonicini, then simmered it for about 20 minutes. At the end I added some heavy cream and that's it, it's done!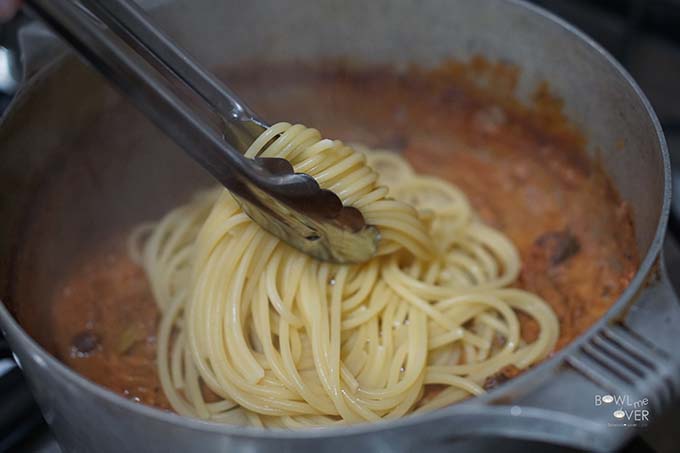 Use your favorites noodles - I used bucatini noodles -they are long noodles with a hollow center, love how they carry and hold the sauce.
Mix everything together well and it's time to eat, YUM!
With this I served some garlic bread and that's it, kick off your shoes, dish up a plate and sit in from of the TV or hangout with your sweetie - open a great red and enjoy! This is easy enough for a simple, flavorful weeknight meal!
Often I will make a large batch of this and tuck a quart away in the freezer as it freezes really well. And later this week I'll share another shortcut to use leftover sauce. Easy, quick and delicious this simple meal is perfect and something you'll be proud to feed your family!
There's a whole list of What to serve with Spaghetti here - tons of great ideas!
More delicious pasta recipes to enjoy!
Easy Spaghetti Sauce #MeatlessMonday
Easy quick and delicious this simple meal is perfect is something you'll be proud to feed your family!
As an Amazon Associate I earn from qualifying purchases.
Ingredients
1 25

oz

jar marinara sauce

½

cup

red wine

½

cup

water

1

yellow onion

1

cup

sliced mushrooms

1

clove

garlic

minced

½

teaspoon

salt

½

teaspoon

pepper

¼

teaspoon

red pepper flakes

optional add-ins

shredded carrots, chopped celery, chopped fennel, bell peppers, olives, sun-dried tomatoes, roasted red peppers

¼

cup

heavy cream

1

teaspoon

butter

1

teaspoon

olive oil

pasta of choice
I earn a commission from Instacart from qualifying purchases.
Instructions
Place a large stock pot over medium heat. Add the butter and garlic - when hot and bubbly, add the chopped onions and mushrooms, season with salt, pepper and red pepper flakes. Sauté for 5-6 minutes until the vegetables are soft. Add the garlic and continue cooking for another minute or so.

Increase the heat to medium high and add the red wine and scrape the bottom of the pan to remove all of the bits on the bottom, when most of the wine has cooked off add the jarred sauce and water. Bring to a boil and then reduce the heat to medium low and simmer uncovered for 20 minutes.

While the spaghetti sauce is simmering - cook the pasta - add directly to the sauce pan when done and finish by topping with a bit of parmesan cheese if desired.

Please note - if you are using additional add-ins - cook raw vegetables with the onions & mushrooms, during sautéing - if you are adding canned foods such as olives, sundries tomatoes or roasted red peppers, add them when you add the jarred sauce. Super simple & super good!
Nutrition
Serving:
1
g
|
Calories:
108
kcal
|
Carbohydrates:
11.7
g
|
Protein:
2.1
g
|
Fat:
5
g
|
Saturated Fat:
1.9
g
|
Cholesterol:
10.9
mg
|
Sodium:
693.1
mg
|
Fiber:
2.6
g
|
Sugar:
7.6
g
Sign up for my recipes here!!
Don't worry, we'll never share your email.
Let's stay connected! FACEBOOK – TWITTER – PINTEREST – INSTAGRAM