Golden and crispy on the outside, sweet and chewy on the inside, Chocolate Dipped Coconut Macaroons are perfect make-ahead cookie treats for the Holidays! You'll be on Santa's good side if you leave him a plate of these cookies!
Coconut Macaroons
My favorite blog day is here! What day is that you say? It's our blog hop when I get to share a yummy new recipe from one of my pals!
I'm so excited (I know I always am, right?) BUT it's just so much fun. The event is called Freaky Friday and this time I drew An Affair From the Heart!
You see Michaela is the creator of the Freaky Friday Blog hop!
She works so hard on this event. Choosing the assignments, making sure we are all on track. Pretty sure coordinating all of us is like herding cats!
When we're given our "assignment" it's always fun to dive into the blog and find a favorite and it's always hard to choose!
Because this is a virtual cookie exchange went right to the sweet treats and I tell you, I had my eye on the Grinch Fudge. It's such a fabulous holiday recipe!
I really hard time choosing between this recipe for Chocolate Dipped Coconut Macaroons and her Gingerbread Cookie Recipe.
These cookies are tender and delicious. Gingerbread is such a classic recipe! In the blog she shares a heartfelt story about her sis-in-law. I'm not going to spoil it though! Make sure you click over and read this blog!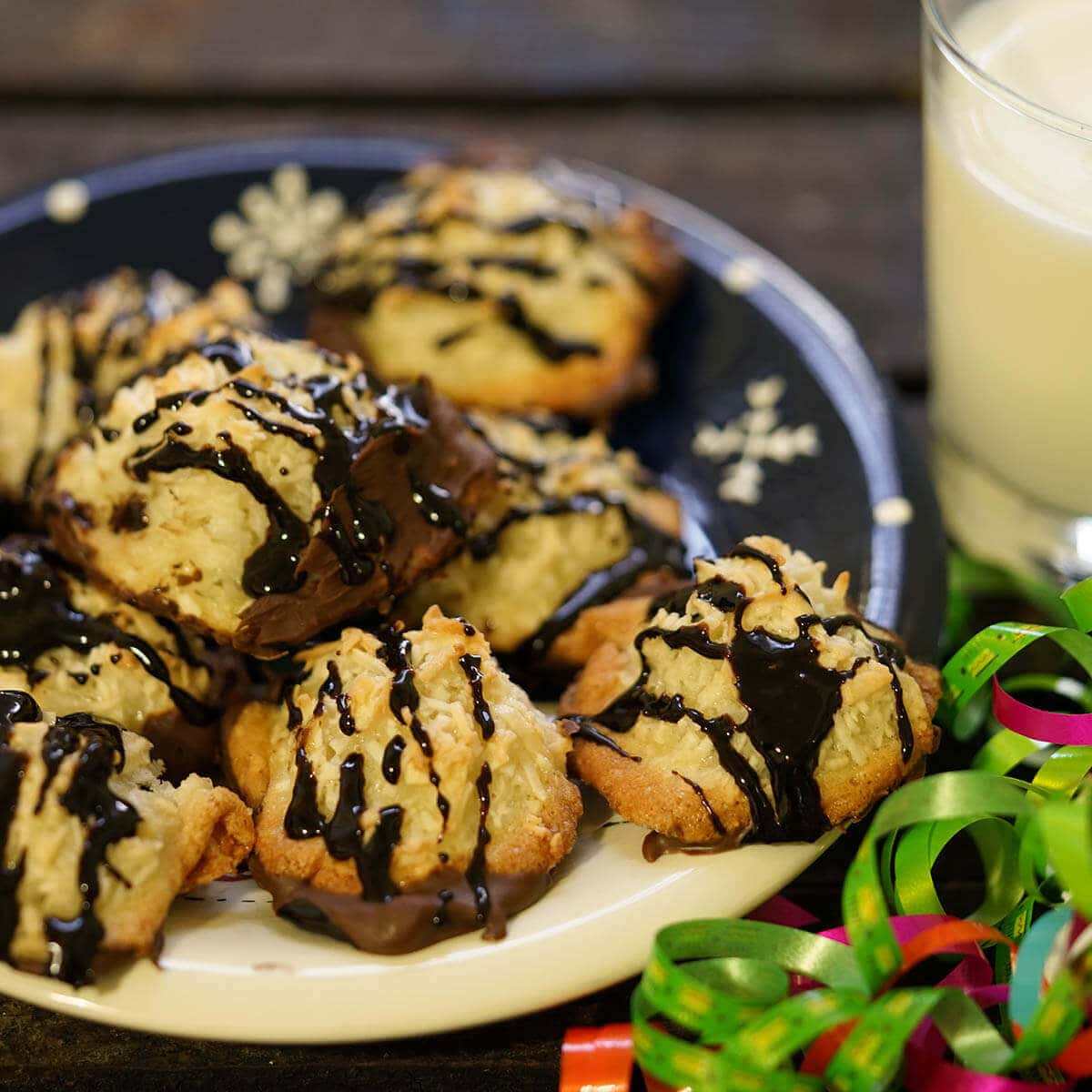 Dark Chocolate Dipped Coconut Macaroons
Ingredient for Macaroons
Coconut – I used flaked coconut, but shredded would also work.
Pure Cane Sugar – perfect for baking.
All-Purpose Flour – just enough helps hold the cookies together.
Eggs – you'll use just the egg white, save the yolks for another recipe.
Salt – just a pinch will balance the sweetness of this recipe.
Vanilla – balances the flavors perfectly.
Dark Chocolate Chips – the bitterness of the dark chocolate balances the sweetness. Dunking these cookies in dark chocolate is the perfect finish for these cookies!
How long do Coconut Macaroons last?
They will last on the counter a couple of days. I prefer to refrigerate them. You can also freeze the cookies.
They will last about a month in the freezer. Not in my house of course. 😋 But I'm saying if you want to freeze them they could last that long!
Easy Coconut Macaroons Tips
Using egg whites to make the macaroons yields a light yet chewy texture that isn't too sweet or too dense – it's really the perfect combination.
You'll want to bake the cookies until they just turn golden. Overcooking them will result in crispy edges. If you don't want those crunchy edges you can always trim them off.
How to make Chocolate Dipped Coconut Macaroons
Preheat the oven.
Line a baking sheet with parchment paper.
In a bowl combine the coconut, flour, sugar and salt and stir until combined.
Beat the egg whites and vanilla until thick and frothy, about 2-3 minutes.
With a cookie scoop or two spoons, scoop the macaroons into 1″ balls.
Place on the baking sheet, bake for 22-25 minutes, or until the macaroons are golden brown.
Take a look at all of our 2019 Freaky Friday Holiday Cookie Exchange Recipes:
Again, many thanks to Michaela! She does such an amazing job putting all of this together!
More of my favorite holiday cookies!
If you're looking to put together a platter of cookies for gifts – be sure and include this amazing Easy Homemade fudge. It's so simple to make and will melt in your mouth! A few more to consider are:
You may need
I am a participant in the Amazon Services LLC Associates Program, an affiliate advertising program designed to provide a means for us to earn fees by linking to Amazon.com and affiliated sites.
Some of the items below contain affiliate links, however, I only promote things that I love and think you will love, too. For more information, please see my Disclosure Policy.
Don't forget to check out my Amazon storefront for some of my favorite products! 🛍️
When you make this please be sure to tag me on Instagram @bowl_me_over or #bowlmeover – I'd love to see your pictures! And if you get a chance, please comment and leave me a ⭐⭐⭐⭐⭐ rating below!
Chocolate Dipped Coconut Macaroons