What is it about this time of year that makes us crave warm, cozy food? As soon as the weather gets chilly, I start making all of my favorite apple dessert recipes!
The enticing smell of cinnamon and apples baking in the oven instantly transports me back to childhood memories. The warmth of the kitchen feels comforting, nostalgic, and calm.
Apple pies and apple crisps are just the beginning. There are so many delicious ways to enjoy this versatile fruit as we kick off fall and head toward the holiday season.
So, let's narrow down the best apple desserts and find options that your whole family will enjoy. You might even start a new autumn tradition!
Jump to: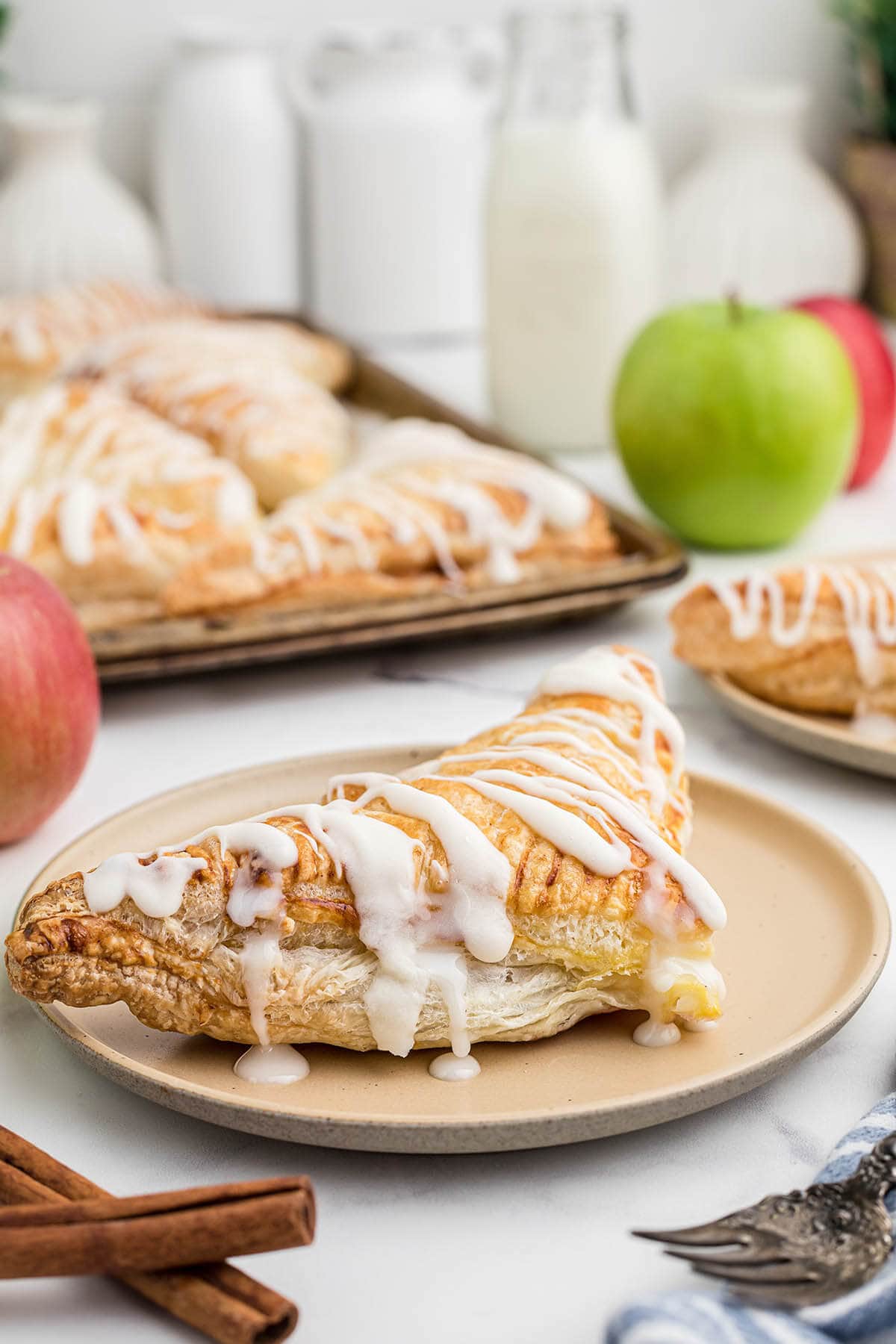 1. Apple Turnover Recipe
Get ready to indulge in a scrumptious apple dessert with golden brown, flaky crust and a tender, cinnamon fruit filling. These Apple Hand Pies with Puff Pastry are so delicious that, after one, you will not be able to resist another.
One thing (among many) that I love about this recipe is that you can make them ahead of time. They're a great freezer-friendly option for unexpected guests or late-night sweets cravings.
Plus, these turnovers start with store-bought dough, so prep is simple and effortless. They're the best way for any apple lover to satisfy a sweet tooth.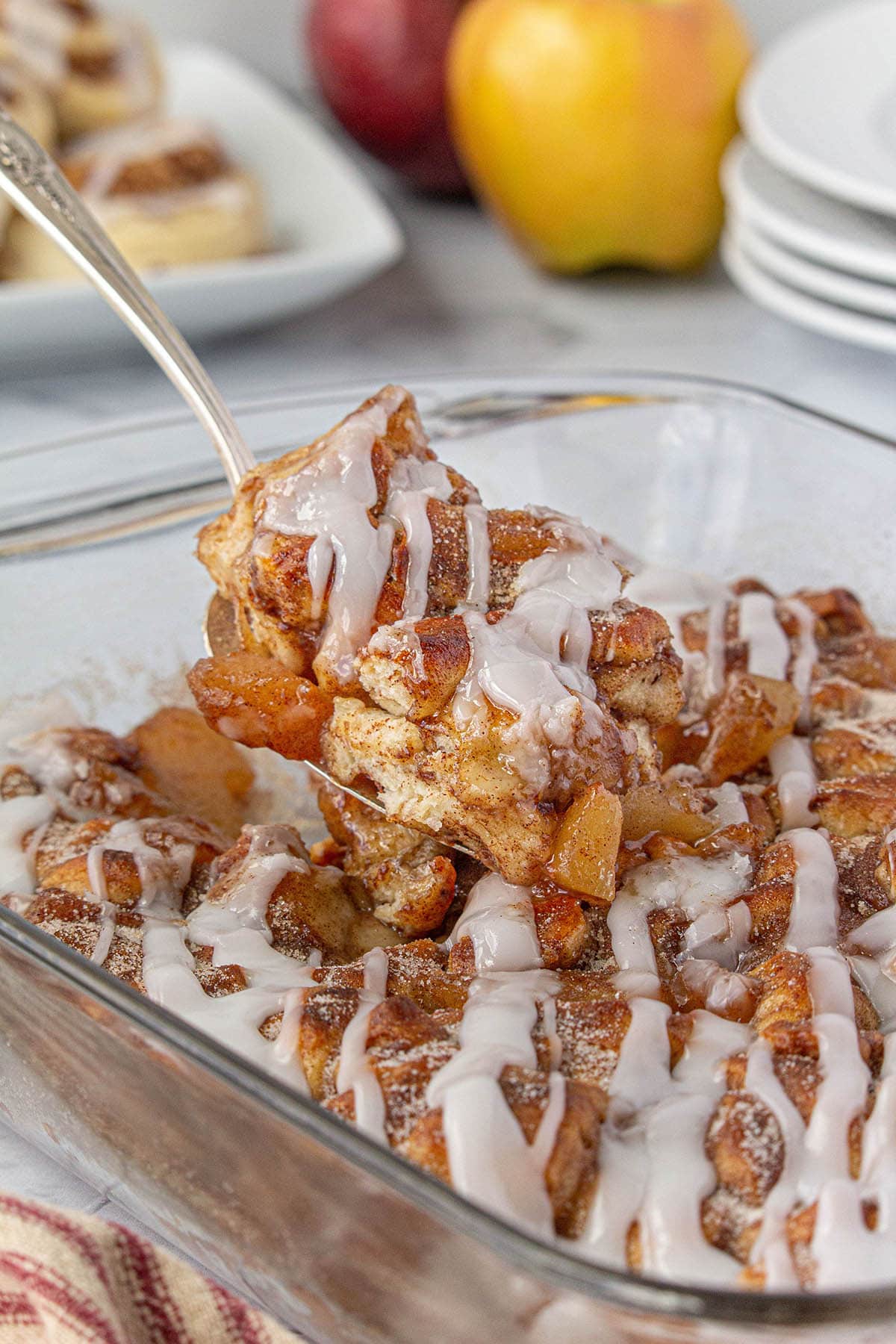 2. Three Ingredient Apple Cobbler
Apple Cobbler is a great way to stay ahead of the dessert game this holiday season. Just throw three simple ingredients together and enjoy the easiest of easy apple dessert recipes.
This sweet treat is a go-to when I need a quick party dessert. Not only will it make your mouth water, but it's easy to scale so that you can cook for a crowd.
Plus, you don't have to decorate anything. Just dump it in the pan, and you're done! No effort, but all the deliciousness.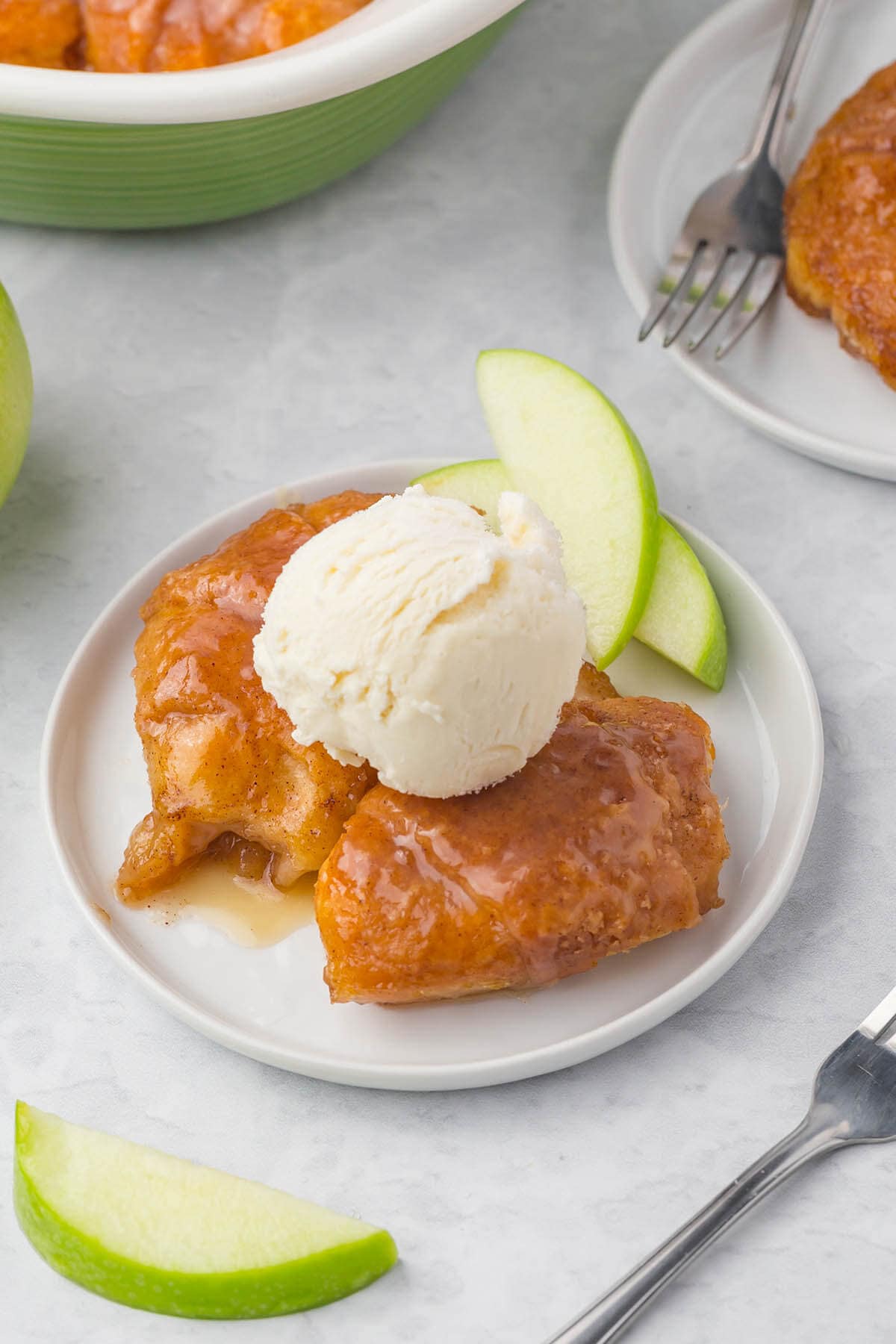 3. Apple Dumplings
Your family will crave this simple fall dessert over and over again. It's made with fresh apples and refrigerated dough, so you won't mind obliging!
Apple Dumplings with Crescent Rolls are perfect for cozy autumn evenings by the fireplace, and they are easy to transport to parties or chili cook-offs.
There is one easy, secret ingredient in this recipe that might surprise you. So, find out for yourself and prepare to be wowed by this all-time favorite apple recipe.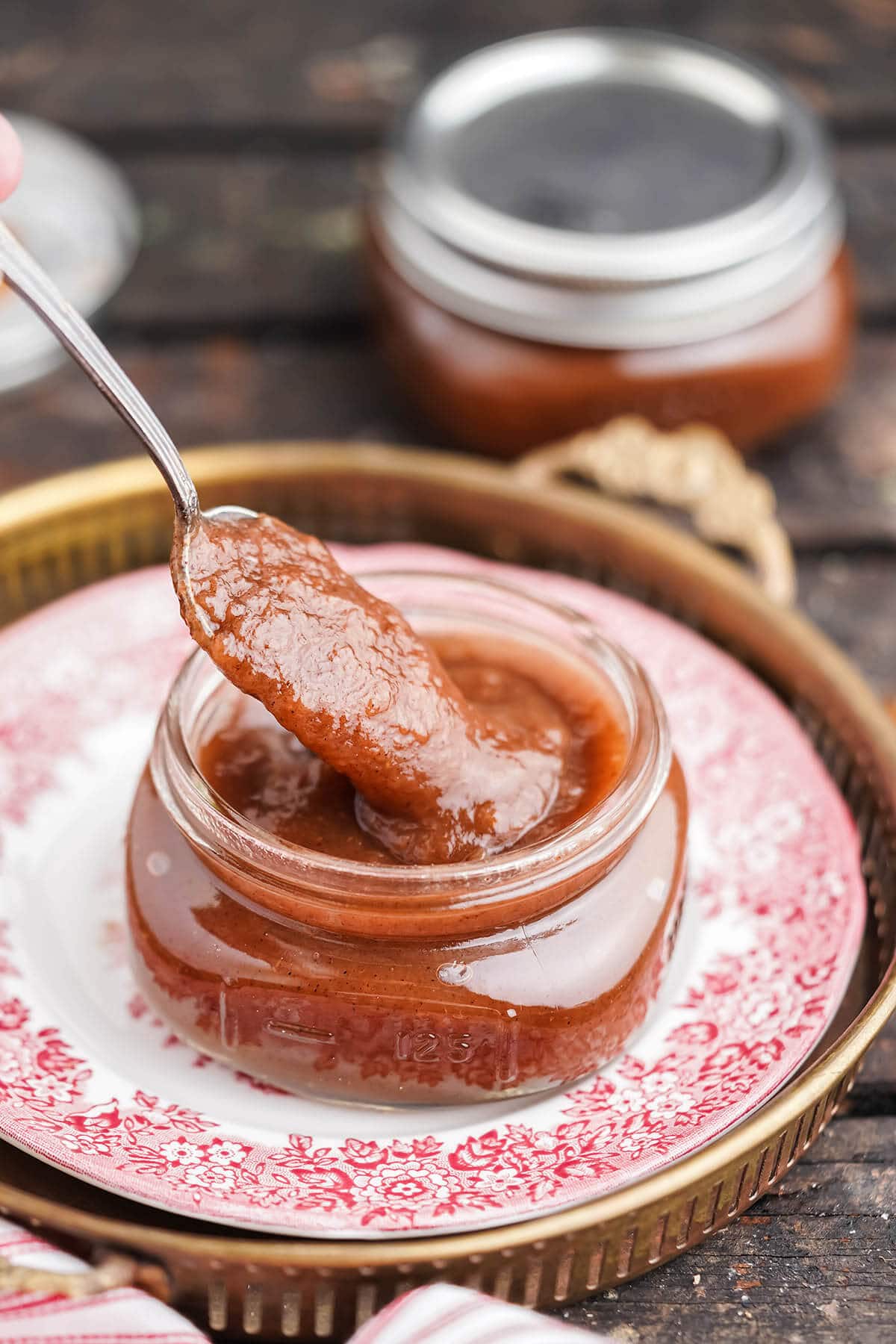 4. Apple Butter
There are several reasons why this Instant Pot Apple Butter is so good.
First, it's a versatile spread that can be used in a variety of ways—as a topping for toast, pancakes, and waffles or as a filling for pies and cakes.
More than that, you will love the rich, sweet, and slightly tangy apple flavor that is perfect for adding a touch of sweetness to any dish.
Plus, feel free to use whatever apple varieties you enjoy or have on hand. It's a great way to make your apple-picking bounty last all winter long!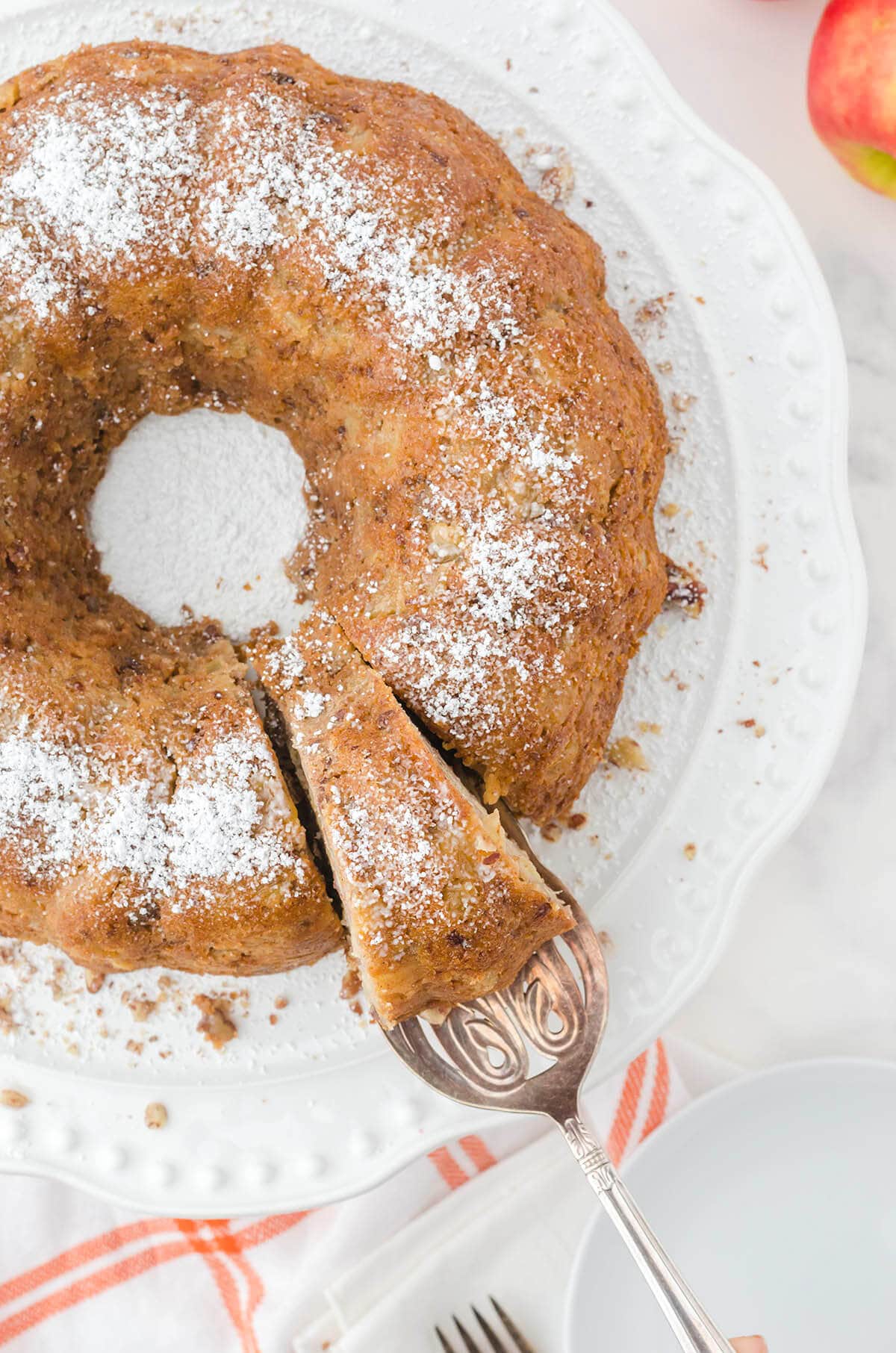 5. Applesauce Bundt Cake
This Applesauce Bundt Cake is moist, delicious, and full of fall flavor. The best part? It starts off with a box mix, so prep is a breeze.
There's no fussing with messy flour or measuring out finicky baking powder—just all the taste of apple and cinnamon that you could want.
Don't let the box fool you, though. You'll add apple pieces, nuts, extra moisture, and delicious autumn spice for a creation that will taste better than homemade.
(Plus, you can still call it homemade. Your secret is safe with me!)
6. Homemade Caramel Apples
Homemade caramel apples are a timeless fall dessert. Not only can you have them ready to eat in minutes, but you can also customize them with your own flavors, toppings, and pretty decorations!
Serve Caramel Apples for dessert at any fall-themed dinner, or give them as party favors! They look gorgeous as centerpieces on a dessert table, too.
Dipping and decorating caramel apples is a fun weekend activity to enjoy at home with your kids. It will definitely be a core memory they'll cherish for years to come.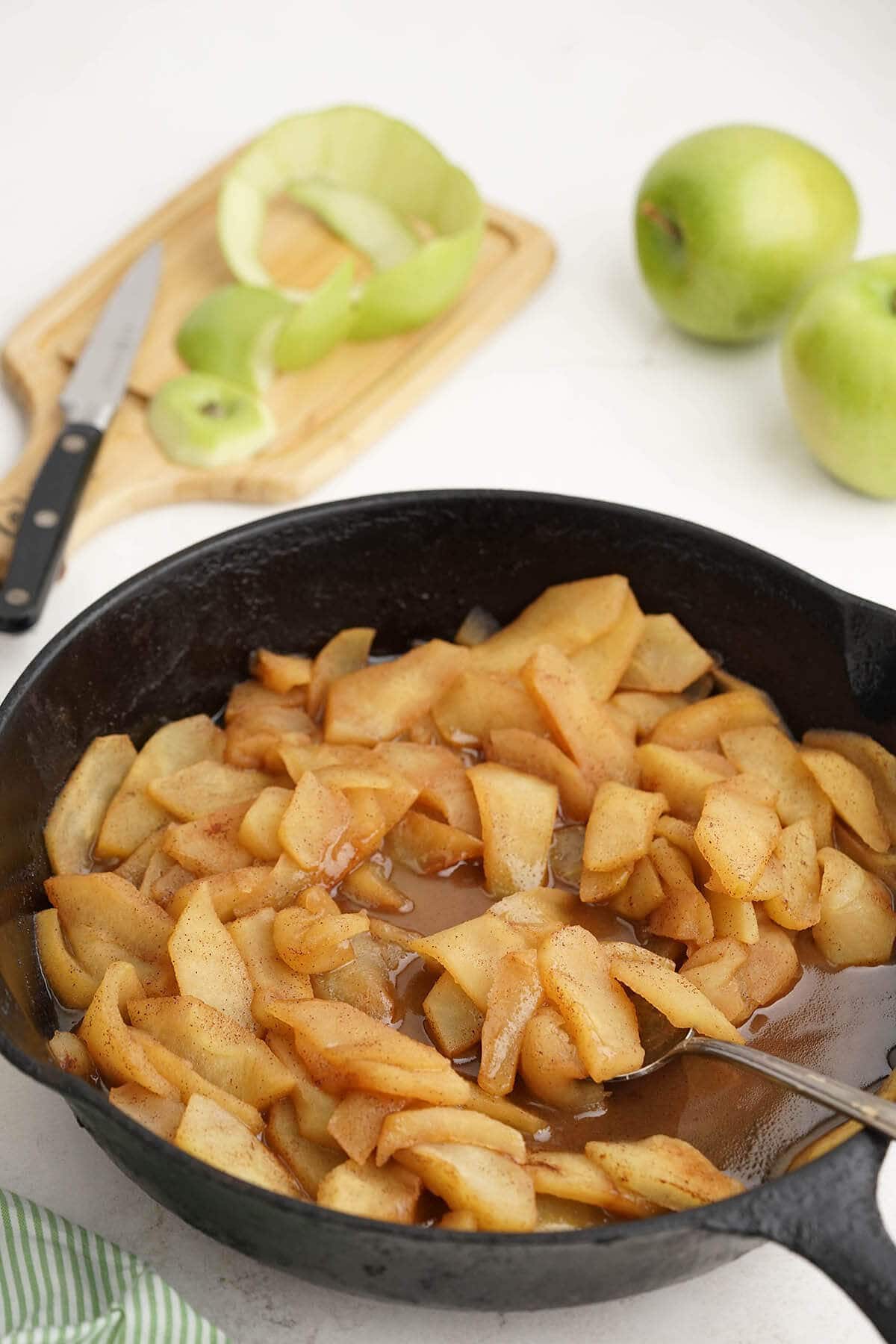 7. Cracker Barrel Fried Apples
Take inspiration straight from your favorite homestyle restaurant. These Cracker Barrel Fried Apples are a classic dish—they just melt in your mouth! It's a perfect option for both dinner and dessert.
Ready for more good news? This recipe takes less than 30 minutes to whip up without sacrificing delicious flavor. Give these fried apples a try—it's one of my favorite versatile apple recipes.
8. Candy Apple Pie
The Red-Hot apple filling in this Candy Apple Pie is simply to die for! You'll enjoy the classic, sweet apple flavor but with a spicy cinnamon kick. It will have everyone coming back for second helpings.
Be sure to keep this recipe in your back pocket—it is the perfect option for any holiday party. The color is so festive, and the flavor is second to none.
And, if you're a hostess? Your guests will be raving about this apple recipe for months. Be ready to share your recipe... or don't! Your choice!
9. German Apple Pie
Another favorite apple recipe in my household is classic German Apple Pie. This nostalgic recipe features a creamy, sweet apple pie filling inside a warm, flaky pie crust.
Enjoying a slice of this apple dessert with the family is the best way to spend a fall evening. Be sure to use a blend of sweet and tart apples for the best flavor.
Don't waste any leftovers—this recipe almost gets better overnight. You can enjoy the last slice warmed up the next morning with a steaming hot cup of coffee. Those are the perks of waking up early, after all!
10. Amish Apple Fritter Bread
This Amish Apple Fritter Bread is the perfect after-school snack. If you're not careful, you and your kids will devour it in minutes.
Make an extra batch because fritter bread is an ideal grab-and-go breakfast idea for rushed mornings. You can incorporate your favorite sweet apples in this delicious recipe to use up what you already have at home.
Baking and snacking on the sweet, buttery bread (with a classic apple pie topping, of course!) might be the best part of your chilly day at home. Fire up the oven and give it a try.
11. Country Apple Pie Recipe
This Country Apple Pie recipe is sweet and easy to prepare. Plus, it requires only a few simple ingredients.
You'll be surprised at how stress-free it is to make. So, it's great for kids who like to help out and is an excellent way to bring the family together!
This old-fashioned apple pie recipe is mom-friendly: short and sweet—literally. It takes advantage of refrigerated pie crusts you can find at almost any grocery store to make prep smooth and quick.
12. Salted Caramel Apple Pie Bars
There are so many good things to say about these Salted Caramel Apple Pie Bars—but I'd rather stuff my mouth with them instead.
These decadent bars feature a sweet apple crumble topping that blankets a tart apple mixture, all supported on a buttery shortbread crust underneath.
Enjoy a whole-day event by taking the family apple picking at your local apple orchard to find a combination of apples to bake with. Then, huddle around the kitchen and enjoy the caramelly, apple fragrance wafting through the warm air.
I guarantee these bars won't last long once they're out of the oven!
13. Apple Dump Cake
Also referred to as apple cobbler with cake mix, this Apple Dump Cake couldn't be easier to make. With simple, effortless steps, you can tackle your sweet tooth fast.
Plus, once you know how to make a dump cake, you can add your own spin! Customize this recipe throughout the year with different variations—add nuts, candy, caramel, and more.
This easy apple dessert recipe is definitely a baking game-changer. It's gooey, sweet, warm, and feels as good as putting on your favorite fall sweater.
14. Apple Cinnamon Crumb Cake
This Cinnamon Apple Crumb Cake will have your guests and family convinced you spent hours working on it. Spoiler alert: it's done in less than two.
The buttery, brown sugar crumb topping is the key to your new favorite apple cake recipe. Plus, moist texture and sweet flavor make it incredibly hard to resist!
I love this crumb cake recipe because it gives you the opportunity to get good use out of just a few apples—great if you have a few harvest stragglers left over. It's not super finicky, so feel free to use whatever type of apples you have!
15. Apple Cream Scone
Looking for a quick and easy breakfast or an afternoon pick-me-up? Bake up a batch of delicious Irish Apple Cream Scones!
These tasty morsels are moist and buttery, packed full of tart apples, and have that signature crumbly scone texture. They're best served warm out of the oven.
Add a sprinkle of turbinado sugar for a crunchy topping that adds just the right amount of sweetness. They're so good with a cup of tea and so simple to make. You'll wonder why you didn't try them sooner!
16. Caramel Apple Cookies
Caramel apple cookies are a unique, fun fall treat to make and share with friends. You won't be able to get enough of the caramel sauce drizzled over these little bites of heaven.
Unlike some cookies, this recipe has more of a chew to it on the top layer. Then, on the bottom, you'll experience moist cookie goodness, thanks to a hint of apple butter mixed in the dough.
If you like desserts with some chew and texture, this cookie recipe will become your new go-to treat. They're great for holiday cookie swaps and giving in care packages too!
17. Caramel Apple Danish
My favorite thing about these Caramel Apple Danishes is that they allow you to cheat a little bit. You can start out with a store-bought dough, and let me tell you, it saves the day!
Once your kids know you're making these, they won't rest until they get their bellies full of them. The tart apple filling paired with sweet caramel sauce and icing will absolutely blow your mind!
18. Apple Cider Donut Muffins
If you are obsessed with apple cider donuts (like me) but find the process a little overwhelming (guilty) you'll love these Apple Cider Donut Muffins.
With just a few ingredients, you can have these treats ready to eat—and in hardly any time at all. They are the perfect choice for a snack or when you're craving a little something sweet for breakfast.
Plus, since they're baked, you don't have to deal with any messy frying. However, they come out of the oven perfectly soft, tender, and warm—so no one will miss that tricky step, anyway!
19. Apple Pie Filling
This Homemade Apple Pie Filling is going to make your entire home smell incredible. I can eat this mixture by the spoonful as a side, but it's a great hack for making other fall recipes, too.
Wrap it up in some crescent roll dough, toss it into a pie shell, or slather it over some brioche bread in the morning. You really can't go wrong.
I like to throw in a mix of tart Granny Smith apples and sweet Honeycrisp apples for the perfect blend of flavor. However, feel free to use your favorite varieties.
If you're tired of apple recipes by the time September ends (I can't relate, sorry!) freeze this filling and use it later in your Thanksgiving pies.
Apple Brownies
Okay—you may be thinking, "apples and brownies?" Let me assure you, these Apple Brownies (AKA blondies) will change the minds of any and all skeptics!
This blondie recipe features a lovely crunch from pecans and a slight spicy touch of cinnamon. They're buttery, chewy, moist—all the goodness you could want from a fall recipe.
I promise that if you give them a try, they will rock your world. Happy fall!