Cucumber Tomato Salad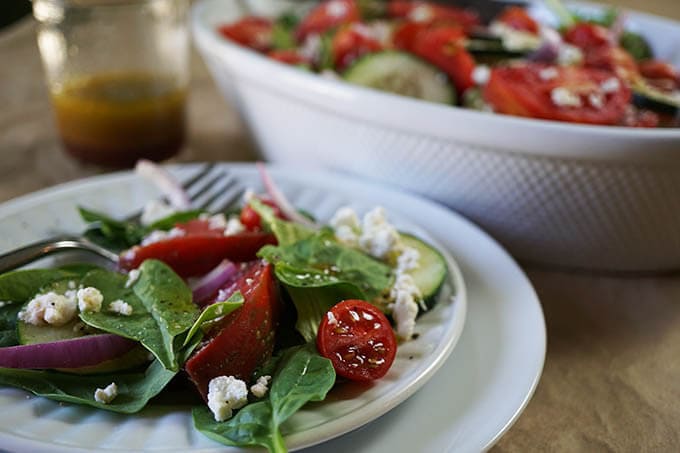 I admit it – I've shared a lot lately of recipes lately about corn….and now tomatoes….but I try and eat the calendar. Not the calendar per say 😀 but we like to enjoy bright fresh beautiful food when it's at its peak!  I visit my local farmer's market quite often – usually every Wednesday and pickup what looks best.  That is also how I plan our meals.  Living here in the bread basket of California, Fresno is rich in agriculture and our opportunities are more abundant.  I take advantage of that and hence…another tomato salad!  😀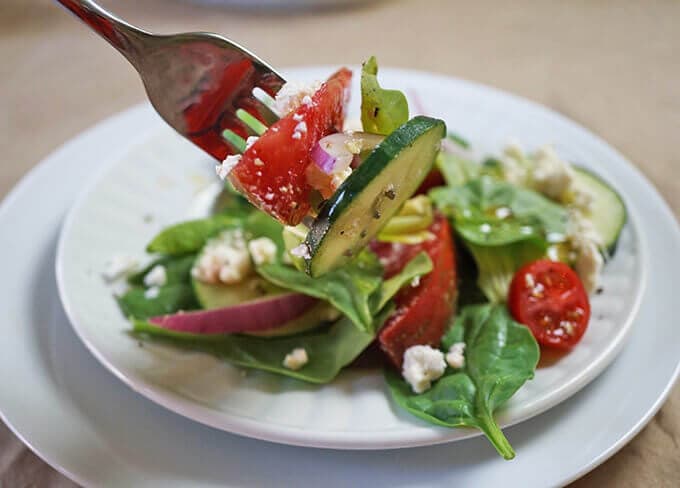 Bright beautiful & fresh sums up this Cucumber Tomato Salad.  This is a salad you often see it at the deli department, but it's so easy to make, why not make it yourself and enjoy all of these super fresh ingredients while they are at their peak?!!
You'll only need a few ingredients – cucumbers, tomatoes, onions, arugula & feta cheese.  The vinaigrette is simply (good) olive oil, red wine vinegar, salt & pepper – that's it!  Less than 15 minutes to toss together and you have a perfect salad that goes with most any meal.  Tomatoes are in abundance right now so why not enjoy summer's bounty when it's at it's best?!!!
Lastly, tomatoes are best when served at room temperature so if you're having a bbq, picnic or potluck – this is the perfect salad to bring or serve!!
Cucumber Tomato Salad
Bright, fresh and delicious this is another great recipe to enjoy the veggies straight outa your garden!
Ingredients
1

English cucumber

2

lbs

tomatoes

assorted sizes

1/2

red onion

3

oz

feta cheese

crumbled

1/4

cup

good olive oil

3

tablespoons

red wine vinegar

1/2

teaspoon

salt

1/4

teaspoon

pepper
Instructions
Slice the tomatoes into wedges. Small tomatoes, simple slice in half into bite-sized chunks. Thinly slice the cucumber & red onion. Place these ingredients in a bowl.

Mix olive oil, red wine vinegar, salt & pepper well - I use a small jar, combine all of the ingredients and shake it really well - drizzle over the top of the salad. Top with crumbled feta cheese - simple & fabulous summer salad