It's time to get your grill on with this savory Lemon Pepper Chicken Marinade. Why shake it from a jar when you can make it at home with ingredients you have on hand that are delicious and fresh. PLUS it tastes 100 times better than what you buy at the store! 
Lemon Pepper Chicken Marinade
Here in Fresno we LOVE grilling and I'm thinking you do too. Winter is finally over, spring is here and the weather slowly improving in (most) places and soon everyone will be breaking out their grill! Aren't you looking forward to an evening on the patio?
Did I tell you we got a new grill?
<
Dan has been a fan of charcoal grilling since long before we met and let me tell you he is the BEST griller I know! We do a ton of grilling all year round. We love the flavor and that great char you get when grilling, but at times it can be a bit of a production.
We recently received a gas grill and so now we have the best of both worlds! Now, don't think for an instant he's giving up charcoal grilling… but the gas grill has made it so we can enjoy delicious grilled flavors weeknights too! Definitely the best of both worlds!
Homemade Lemon Pepper Marinade for Chicken
So I've been putting together some great marinades.
My newest recipe is lemon pepper marinade! We all have a jar of lemon pepper marinade in the cupboard, right? It's mostly a ton of salt and preservatives and really not that much flavor. I missed that bright lemon taste! You're going to love this recipe. It is super tasty on chicken, pork and also veggie kabobs!
What's extra special about this marinade is the addition of yogurt to help tenderize the meat. It's a great make-ahead marinade – make it in the morning or evening the day/night before.
Here's a great tip – make this marinade and pour it over pork or chicken in a ziplock bag. Wrap it tightly in and seal it well. Tuck it in the freezer. When you're ready for a great night of grilling, pull it out of the freezer and allow it to unthaw the night before. The meat will be full of delicious lemon pepper seasoning with little effort!
Grocery list for lemon pepper marinade
plain yogurt
lemon
garlic
parsley
dill
The rest of the ingredients you'll grab from your pantry. Next up is putting the marinade together. Let me walk you thru the steps.
Lemon Pepper Chicken Grill Marinade
Does lemon tenderize chicken?
Lemon will impart flavor to the meat, but surprisngly does not tendorize the chicken. Because it's so acid, it may actually toughen the meat.
Can I marinate chicken in lemon overnight?
No, really the longest it should marinade is two hours in the refrigerator. Longer than that and the acids begin to "cook" the chicken and it ruins the texture of the meat.
What is lemon pepper used for?
Not only for chicken, you can also use this marinade on pork, shrimp or fish!
What goes well with lemon chicken?
How to make lemon pepper marinade
zest and juice a lemon
mince the garlic
mince the parsley and dill
add these ingredients to a jar, bowl or even a ziplock bag
add the remaining ingredients and whisk or mix together well.
Marinade chicken or pork for one hour
Another great tip – double the recipe and before adding the meat pour half of it into your blender. Whirl it up and pour it over your green salad! Great flavors, this makes for an excellent salad dressing!
Lemon and Pepper Chicken Marinade
More Recipes using Lemon Pepper 
Some of the items below contain affiliate links; I am a participant in the Amazon Services LLC Associates Program, an affiliate advertising program designed to provide a means for us to earn fees by linking to Amazon.com and affiliated sites. However, I only promote things that I love and think you will love, too. For more information, please see my Disclosure Policy.
A must for every grill!
Are you ready to get grilling? Get started by making this easy marinade. It's made-ahead from fresh ingredients you have on hand and will store in the refrigerator for up to three days. I know you're going to love how easy this is to make and the delicious flavor from this meal.
Love this recipe? Be sure to leave a comment and give it a five star rating below!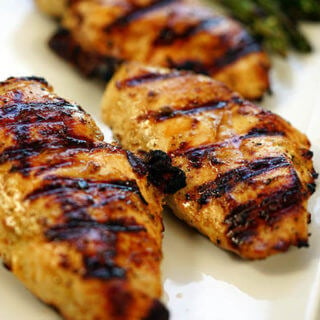 Print
Lemon Pepper Marinade
It's time to get your grill on with a savory and tasty Lemon Pepper Marinade. It's easy to make at home and tastes so much better than store bought. Made from fresh ingredients you have on-hand it's perfect for grilling season.

Ingredients
1/2

cup

plain greek yogurt

1/2

cup

olive oil

1

lemon

zested and juiced

2

cloves

garlic

minced

2

tbsp

parsley

minced

2

tbsp

dill

minced

1/4

tsp

red pepper flakes

1

tsp

salt

1

tsp

pepper

fresh cracked pepper preferably, it will have more flavor
Instructions
Zest and juice the lemon.

Mince the garlic,

parsley and dill.

Add these ingredients to a jar or a ziplock bag.

Add the remaining ingredients and whisk or mix together well.

Marinade chicken or pork for one hour
Nutrition
Calories:
1063
kcal
|
Carbohydrates:
17
g
|
Protein:
12
g
|
Fat:
108
g
|
Saturated Fat:
15
g
|
Cholesterol:
5
mg
|
Sodium:
2380
mg
|
Potassium:
332
mg
|
Fiber:
3
g
|
Sugar:
6
g
|
Vitamin A:
850
IU
|
Vitamin C:
69.2
mg
|
Calcium:
160
mg
|
Iron:
1.9
mg
Sign up for emails here!
Don't worry, we don't share emails!